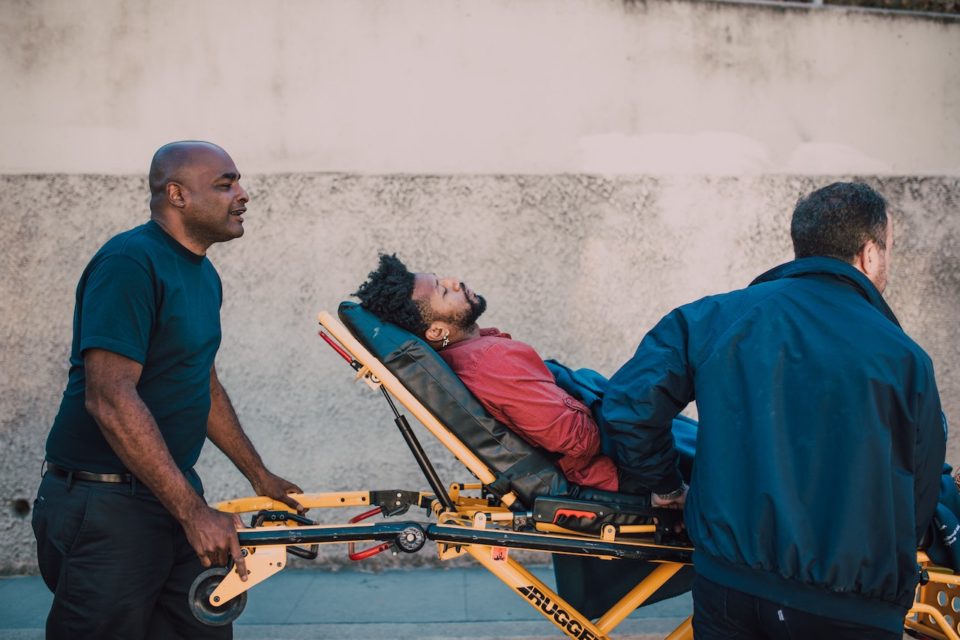 Health Care and Homelessness
Downward Spiral of Health Care and Homelessness
One study conducted by the Boston Health Care for the Homeless Program showed that the average life expectancy for people experiencing homelessness in select cities was between 42 and 52 years.
Among homeless populations, rates of diabetes, hypertension, heart attack, HIV, depression, and Hepatitis C are significantly higher than housed populations.
Pain, chronic illness and disability can prevent individuals from being able to secure income and housing. In this way, burdened by medical bills and unable to work, poor health can be the primary cause of homelessness.
Alternatively, health issues can also be caused by the brutal and often traumatic nature of homelessness or can make pre-existing issues much worse. In this way, health and homelessness can compound the negative consequences of both, making overcoming homelessness even more difficult for the people we serve.
Use of Emergency Services
Unfortunately, many homeless people lack a source of primary care, and instead rely on acute services, like emergency medical care and hospitals.
Because of the harsh nature of homelessness –
– our neighbors living without shelter for long periods of time will more often need emergency medical care and psychiatric assistance.
Unfortunately, the current hospital system is set up to treat the immediate medical concerns of people experiencing homelessness and then immediately release them to the streets.
This creates a cycle of people being released and readmitted repeatedly because they don't have the facilities and resources to recover on the streets and hospitals are ill equipped to address the underlying health and housing issues.
This cycle of people going to hospitals and emergency rooms, to the streets and back again, results in thousands of dollars in medical bills.
Access to Behavioral Health Care
Since the loss of federal funding for mental health hospitals in the 1980's and the loss of tens of thousands of beds in State Hospitals, behavioral health services in California have been woefully underfunded, resulting in long wait times for patients who need immediate care.
The San Diego Business Journal reported that patients waited an average of nearly 14 days for post-hospital behavioral health care in 2018–a number that had been steadily increasing since 2014.
Although similar data is not available for 2021, we know that the need for behavioral services and understaffing has only increased during the COVID-19 pandemic.
Across Federally Qualified Health Centers in San Diego, for example, there has been a significant waitlist for therapy appointments due to staffing shortages and an increase in community need.
Sadly, there is also a portion of the population who suffer from Serious Mental Illness and are unable to seek help, even if it was readily available. Furthermore, they are unable to address their immediate needs, living in squalor and hunger on the streets.
Due to the severity of their illness, many of these neighbors do not have the capacity to make informed decisions about their health and wellbeing.
Health Care Solutions for Homelessness
Recuperative Care
Recuperative Care provides people who are experiencing homelessness with temporary shelter following a hospital discharge, to prevent them from falling back onto the streets while ill and recovering.
Father Joe's Villages currently offers 28 beds of Recuperative Care and contracts with all seven health plans in San Diego to provide care. Residents receive nursing support from the Village Health Center and residential case management to help them toward securing long-term housing.
The goal of recuperative care, which costs significantly less than extended hospital stays, is to save taxpayer dollars and to result in fewer hospital readmissions.
Street Health Services
Street Health is when health care professionals travel out to the streets to provide expert care directly to people experiencing homelessness, including treating wounds, infections, chronic disease, and other conditions.
Father Joe's Villages started the first Street Health program in San Diego in order to bring health care to neighbors living without shelter who do not or are unable to access brick-and-mortar health services.
Street Health allows Father Joe's Villages to build relationships with these patients over time while also addressing their immediate health needs.
In 2022, Father Joe's Villages is piloting a two-part Street Health program expansion, incorporating psychiatry for those living with mental illness and medication-assisted treatment for those with substance use disorders.

Expanding Behavioral Health
The rate of serious mental illness in California increased by more than 50 percent from 2008 – 2019, and the pandemic has likely only exacerbated those rates further in the past year (SAMHSA).
More robust behavioral health service options are critically necessary to meet this rising need, not just to benefit people experiencing homelessness but all Californians.
Crisis services, community-based living options, same-day services, and early intervention programs for children need to be built out in our community so that people are able to get critical care that will help them maintain self-sufficiency and wellness.
Conservatorship
San Diego needs better tools to intervene in severe cases of human suffering.
Under conservatorship, a judge appoints a caretaker to oversee a person's medication, financial decisions and other activities when they have consistently demonstrated that they cannot care for themselves.
Father Joe's Villages has long advocated for a better conservatorship option in San Diego that could provide comprehensive and compassionate services to individuals living with Serious Mental Illness who are unable to support their own basic needs.
Viewing Housing as Healthcare
The concept of "housing as healthcare" supports the idea that homeless people must get housing to improve their health.
Often the social issues that people face, such as extreme poverty and food insecurity, are inseparable from their health issues. For example, one of the biggest challenges those on the streets face is a lack of personal safety.
They constantly must worry about being attacked or having their things stolen or lost.
Medications are frequently lost or stolen, making managing acute and chronic health issues challenging.
At Father Joe's Villages, we work with patients of our Village Health Center first and foremost to get housing so that medications are not lost or stolen and so that their health conditions don't worsen from the exposure and stress of the streets.
In this way, obtaining that housing is often a critical step to achieving better health outcomes or even to saving a life.