Though these are difficult times, it is often during unprecedented crisis that heroes are made. In the face of a pandemic, Father Joe's Villages' dedicated staff remain on the frontlines, continuing to provide critical services 
such as shelter, health care, meals and hygiene services 
to people living on the streets.    
---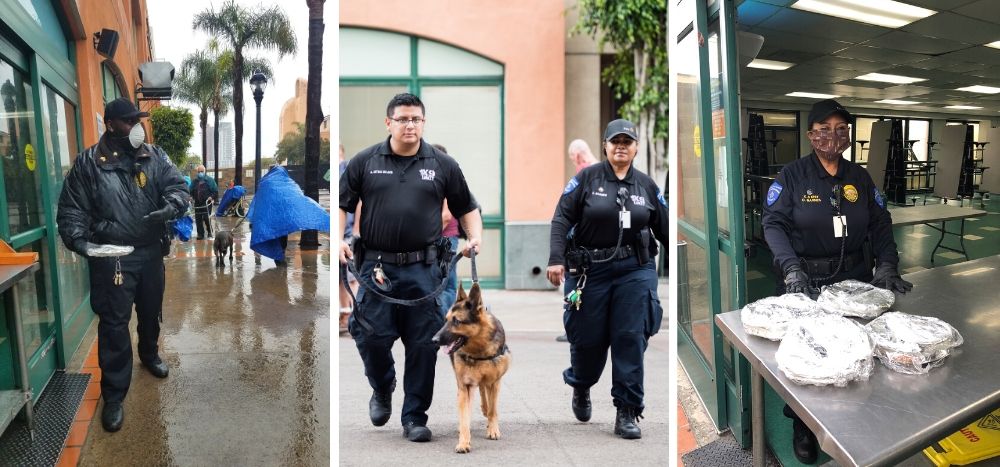 Protecting San Diego's Most Vulnerable
At Father Joe's Villages, our Security staff wear many different hats. They each play the role of guardians, psychologists, teachers and even, in some cases, nurses. Father Joe's Villages' Security team members receive extensive training to guarantee that they're prepared for whatever comes their way. While a global pandemic may not have been on the course curriculum during training, our Security team hasn't hesitated when it comes to protecting neighbors in need during the COVID-19 crisis. 
Even though California Governor Gavin Newsom issued a stay-at-home order to California residents, Father Joe's Villages has been deemed an emergency service and continues to provide health care, meals, shelter and more to those who need it most.
To assure the security of residents, volunteers and employees at this time, our Security team continues to be on-site 24 hours a day. Now more than ever, they are committed to maintaining a supportive and safe environment for Father Joe's Villages' East Village campus, as well as its other locations.  
Village Security Staff on the Front Lines
Although this is a trying time for many, K-9 Security Officer, Carol, is not one to back down when times get tough.
"I don't walk in fear. My job here is to uplift and empower. Our people need us," Carol says. 
Carol and the Father Joe's Villages' Security Team have become a beacon of hope to those in the shelter, reassuring residents that they won't be abandoned during this frightening time. Every day, Security continues patrolling the facilities to enforce current safety protocols like social distancing. To guard themselves and others against the disease, they now wear face masks and gloves, which they replace frequently during their shifts.
"A lot of our clients have told me that they appreciate that Security is still here trying to help them get through this rough time," Carol explains.
Providing a Sense of Safety in a Frightening Time
The Security team have become first responders in the fight against COVID-19. If someone living on the streets of the community is exhibiting symptoms of COVID-19, they direct them to the Village Health Clinic to be tested. Carol and her team also supervise the Franklin Antonio Public Lunch program, one of the few remaining food options for those on the streets, to ensure people remain six feet apart when lining up for their packaged meals each day. 
On behalf of Father Joe's Villages leadership, donors and neighbors in need, thank you to Carol and the entire Father Joe's Villages Security Team for continuing to provide protection and compassion to people experiencing homelessness during these uncertain times. Their hard work, professionalism and commitment to Father Joe's Villages' mission to end homelessness truly highlights their roles as Village Heroes.