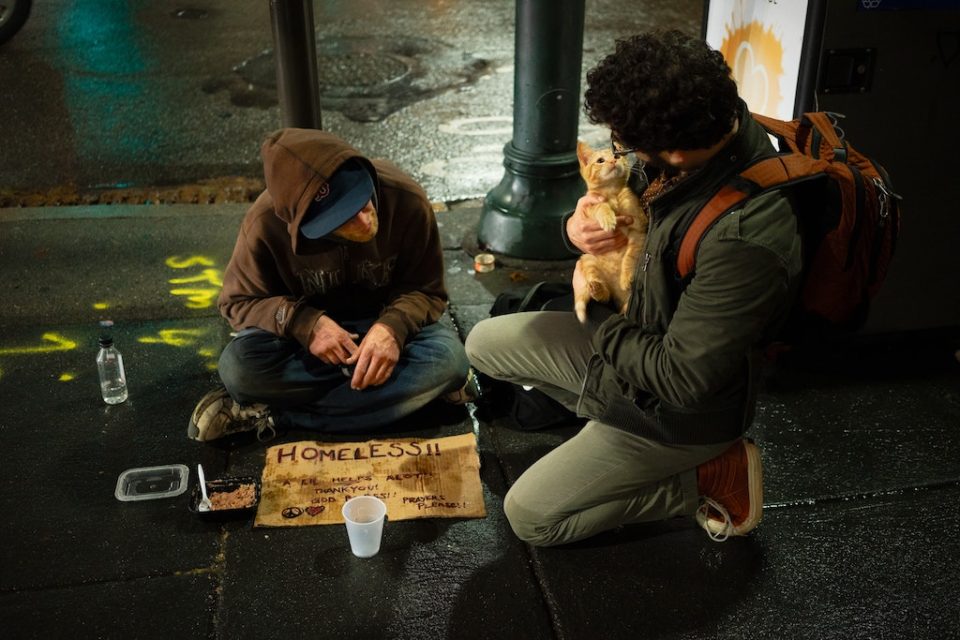 Imagine sleeping outside in the rain and extreme cold of winter. This is the reality each night for many of our neighbors experiencing homelessness.
Father Joe's Villages Offers Shelter from the Storm
For our neighbors in need, rain means little sleep, wet blankets and clothes, and dangerous health consequences.
For people living on the streets of San Diego, hypothermia can occur in temperatures lower than 50 degrees Fahrenheit. On top of the threat of hypothermia, cold and rainy weather makes neighbors experiencing homelessness more susceptible to negative health outcomes and chronic illness.
How many people who are homeless die in cold weather?
People living on the streets have a much higher risk than the general population of developing fatal cases of hypothermia or frostbite. Each year, 700 people at-risk or experiencing homelessness are killed from hypothermia in the United States.
In fact, due to exposure, people who experience homelessness have an average life expectancy of around 50 years of age, almost 20 years lower than people who are housed.
What do people living on the streets do when it rains, hails, and/or snows?
No one deserves to be left out in the cold.
That's why, Father Joe's Villages provides as many as 2,500 neighbors in need with a safe, warm place to sleep each and every night. In 2020, we provided nearly 280,000 nights of safe, warm short-term shelter to men, women and children experiencing homelessness.
Additionally, when extreme cold or rainy weather occurs, we set up additional inclement weather beds in our dining rooms and common rooms to bring as many homeless individuals as possible out of the cold. People who are homeless rely on overnight shelters to escape bad winter weather like rain, hail or snow.
Father Joe's Villages' Inclement Weather Shelter provides life-saving protection from the harsh elements our neighbors can endure living on the streets.
Inclement Weather Shelter
An "Inclement Weather Shelter" is a shelter that opens only when regional weather meets certain conditions.
In partnership with the City of San Diego and the San Diego Housing Commission, Father Joe's Villages' Inclement Weather Shelter, however, offers emergency shelter overnight when there is a possibility for dire weather conditions.
Typically, San Diego Housing Commission calls for Inclement Weather Shelter to open when:
The temperature is 50 degrees or below and there is a 40 percent chance of rain;
The temperature is 45 degrees or below regardless of a chance of rain; or
In extreme weather conditions, such as one or more inches of rain within 24 hours and sustained high winds.
During these conditions, Father Joe's Villages transforms its dining rooms into a warm, dry shelter for additional homeless individuals living on the streets.
How the Inclement Weather Shelter Works
The call to open Inclement Weather Shelter is made by 10 a.m. on the day of inclement weather.
This prompts Father Joe's Villages' staff to begin intake at 4 p.m. at the Joan Kroc Center. Staff then work to clear the Joan Kroc Center and Paul Mirabile Center dining rooms by 7:15 pm to make way for cots that will provide a safe, warm haven for neighbors escaping the wet and cold.
Upon check-in, individuals admitted will receive a hearty, nutritious meal and a dry place to sleep with clean linens and a cot or sleeping pad. They may also take a shower, if needed, and have access to a change of warm, dry change of clothes.
Because of the unpredictability of severe weather, Father Joe's Villages cannot rely on volunteer support. For these homeless shelter preparations, our staff must work additional hours to ensure that each neighbor is warm and safe from the extreme cold temperature.
How is an Inclement Weather Shelter different from other shelters?
Unlike Father Joe's Villages' emergency/transitional shelters and the Bridge Shelter (TBS), the Inclement Weather Shelter is only open overnight. People check-in for the emergency shelter at 4 p.m. and must leave the next morning by 5 a.m. Their temporary sleeping quarters will then be remade into dining rooms serving meals to people in need.
Father Joe's Villages' emergency/transitional and Bridge shelter, on the other hand, are open 24-hours a day. Clients in these programs receive a bed in the program and keep that bed throughout their stay.
These clients stay in our shelters for a limited amount of time while they get back on their feet. They use this time to search for employment and housing, utilizing Father Joe's Villages comprehensive services during their stay.
The length of time a person stays in the program depends on their goals and progress towards meeting those goals.
What do homeless people need in cold weather?
It's important to remember that our neighbors living on the streets are especially vulnerable during the Winter season. To help them endure rainy, cold weather, people experiencing homelessness depend on donations of winter coats, warm hats and gloves, socks and blankets.
Warm, nutritious meals are also crucial for those in need to help combat the negative effects of cold weather. Healthy food helps to strengthen the body's immune system and stave off diseases that could be caused by frigid environments.
That's why Father Joe's Villages' Food Services program provides access to nutritious meals for people in need.
Each winter, Father Joe's Villages assures those most vulnerable that we are there for them– rain or shine. Each and every night, we assist as many as 2,500 individuals in need by providing them a safe, warm place to sleep, as well as access to a nutritious meal and comprehensive services.