Father Joe's Villages' staff encourage mental health awareness during Mental Health Awareness Month.
---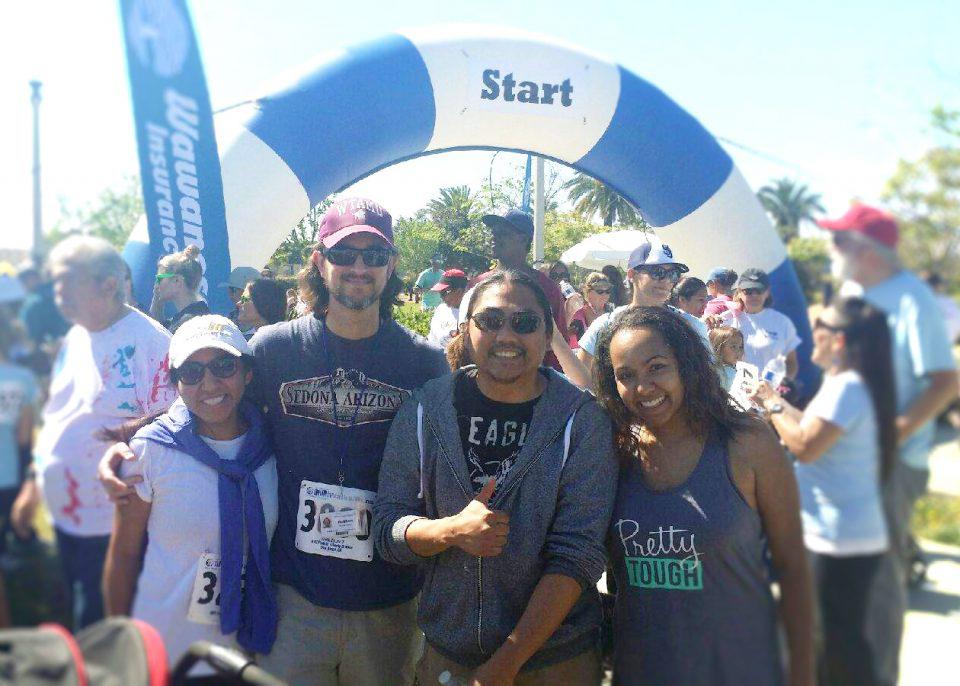 Each May, people throughout the country team up with the National Alliance on Mental Illness (NAMI) for Mental Health Awareness Month.
Father Joe's Villages' staff participates by raising awareness through events (such as the NAMI walk), wearing green on Fridays and spreading the word in the San Diego community.
According to NAMI:
"A mental illness is a condition that affects a person's thinking, feeling or mood. Such conditions may affect someone's ability to relate to others and function each day. Each person will have different experiences, even people with the same diagnosis.

One in 5 adults experiences a mental health condition every year. One in 17 lives with a serious mental illness such as schizophrenia or bipolar disorder."
According to the Substance Abuse and Mental Health Services Administration, between 20% and 25% of people who are homeless in the United States (1 in 4 people) lives with a serious mental illness.
At Father Joe's Villages, 54% of adults served in Interim or Transitional Housing in 2016 reported having a long-term physical or mental health disability.
Living with a mental health condition makes everyday tasks—like going to work, spending time with friends and getting out of bed in the morning—more difficult. Homelessness and the stress that comes along with it, only exacerbates the challenges.
However, proper tools and support can help individuals living with a mental health condition live happy, healthy lives. Specialized programs, such as those offered through our Village Family Health Center in San Diego and Mental Health Services, can help provide people the resources individuals need to manage their mental health symptoms instead of having their symptoms manage them.
With the right therapy and professional help, the results can be powerful. As one of our senior mental health clinicians, Terri, recounted:
"A man once told me that after participating in weekly therapy sessions, gaining insight into his mental health symptoms and learning coping skills to better manage those symptoms, he was able to take public transportation for the first time in years and he was able to think about a better future which he hoped would include employment."
Mental health awareness not only encourages compassion and empathy within the community, it can also help those struggling with mental illness understand that they are valuable and that help is available to them. Mental health services team member, Brandon, highlights this particular benefit of awareness:
"People readily obtain care for physical ailments such as diabetes or cancer but feel shame around seeking help for illnesses such as depression or anxiety, even though these disorders also have physiological underpinnings. Building awareness for mental health can combat this stigma and help people understand that mental illness is no one's fault nor is it a sign of character weakness. It is my hope that seeking treatment for mental illness will someday be viewed as a source of strength within our culture rather than a source of shame."
Mental health awareness allows all of San Diego to shine by fostering each individual's ability to contribute to the greater good, have healthy relationships with others and help build a functional, productive community.
You can help spread awareness.
Open up dialogues with family, friends and co-workers

Extend an open ear, hand and heart to those experiencing mental illness

Learn more about mental health in the U.S.

Support organizations that offer mental health resources
Infographic: https://www.nami.org/NAMI/media/NAMI-Media/Infographics/GeneralMHFacts.pdf