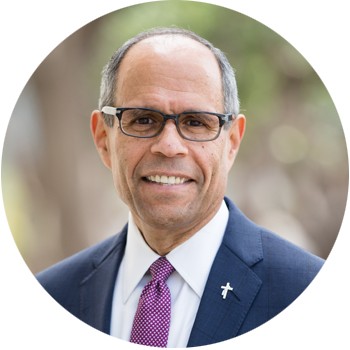 Deacon Jim Vargas
President & Chief Executive Officer
Deacon Jim Vargas, OFS, as President and CEO, oversees all facets of Father Joe's Villages, the largest homeless services provider in Southern California. An array of services are available through the agency's portfolio of affordable housing, Therapeutic Childcare Center, Health Clinic, and Employment Center. The comprehensive services, shelters, and housing programs are tailored to meet the basic needs of individuals, invest in children, prioritize health, and strengthen the self-sufficiency of neighbors as they prosper on their journey out of homelessness.
Deacon Jim brings to Father Joe's Villages 40 years of broad management and human resources experience.
Prior to Father Joe's Villages, he oversaw Human Resources operations for 5,000 employees across a chain of newspapers of The Copley Press, Inc., with news bureaus in multiple U.S. locations and Mexico. He also served in various director and vice president positions of Human Resources at Citicorp/Citibank.
He is a deacon of the Roman Catholic Diocese of San Diego serving the community of Mary, Star of the Sea in La Jolla, previously having served the community of Our Lady of Angels in downtown San Diego.
Deacon Jim holds degrees from New York University. He is the current Secretary on the Board of the Regional Continuum of Care on Homelessness in San Diego, a member of the Board of the Downtown San Diego Partnership, and The San Diego County Taxpayers Association. He is the past Chair of the Board of Rady Children's Hospital of San Diego Foundation, founding chair of Epiphany Prep Charter School of San Diego, and is past Chair of Casa Cornelia Law Center.
Deacon Jim lives in La Jolla with his wife and has three adult children.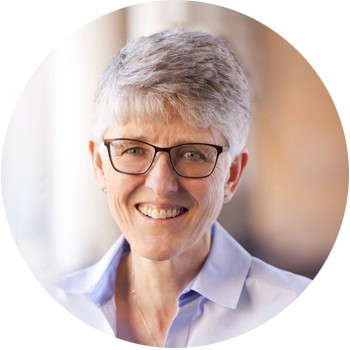 Ruth Bruland
Chief Programs Officer
Ruth Bruland, Executive Director of St. Vincent de Paul Village, has worked for Father Joe's Villages since 1998.
Ruth was a parish pastor within the Evangelical Lutheran Church in America but left parish ministry to train as a Bureau of Alcohol and Drug Administration intern. After, she became the founding Executive Director of the Las Vegas Interfaith Hospitality Network, an emergency shelter program for families.
Through this program, Ruth became acquainted with Father Joe and Harvey Mandel, which eventually led to her becoming the Executive Director of Father Joe's MASH Village, a then-sister program to St. Vincent de Paul Village.
In 2002, after Father Joe withdrew as operator of MASH Village, Ruth moved to San Diego where she became the Division Director of St. Vincent de Paul Village.
In 2012, she became Executive Director of the Village and in this capacity is responsible to the President/CEO for all of the St. Vincent de Paul Village programming occurring in San Diego.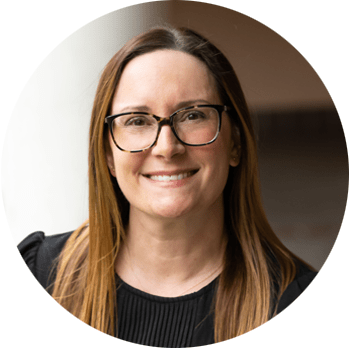 Megan Partch, PhD
Chief Health Officer
Dr. Partch has worked in the field of mental health and substance use disorder treatment for nearly 20 years. She earned her bachelor's degree in Psychology from San Diego State University, her master's in Clinical Mental Health Counseling from the University of San Diego, and her PhD in Counselor Education and Supervision at Oregon State University.
Dr. Partch joined Father Joe's Villages in 2015 as the Behavioral Health Program Manager providing oversight for FJV's Mental Health and Substance Use Disorder treatment programs. In 2018, Megan joined the Village Health Center, FJV's onsite federally qualified health center (FQHC) and healthcare for the homeless clinic, as the Clinic Director, where she was responsible for the administrative, clinical, and quality teams as well as health center policies, procedures, hiring, compliance, reporting, internal & external relationships, contracting, grants and budgets. In 2023, she accepted the role of Chief Health Officer.
Additionally, Dr. Partch is a part-time faculty member at San Diego City College in the Alcohol and Other Drug Studies (AODS) department where she teaches 'Intro to Substance Use Disorder Counseling' and 'Co-Occurring Disorders.' She serves on the Healthcare Advisory Board Member for Happiness Advantage (Orange Frog). Outside of work, Megan enjoys time with her daughters, Katie and Allie, spoiling her pets, baking, and spending time outdoors in the San Diego sun.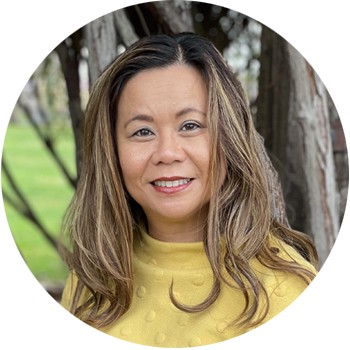 Ann Wieczorek
General Counsel
Ann oversees responsibilities of the legal department, helps coordinate the development and implementation of legal processes and policies for Father Joe's Villages, and provides counsel to all departments within the organization. She provides counsel to the executive management team and Board of Directors on a wide range of issues including contracts and grants, trademark and copyright, labor and employment, and general non-profit corporate and governance matters.
Prior to joining Father Joe's Villages, Ann was in private practice for over ten years where she specialized in corporate law, counseling clients on numerous aspects, as well as preparing and negotiating a broad range of contracts and agreements. She has also worked extensively in intellectual property law at a bio-pharmaceutical start-up company.
Ann is a graduate of the University of New Hampshire School of Law (formerly known as Franklin Pierce Law Center) and holds a Bachelor's Degree in Biochemistry from the University of California at Davis. She is currently a member of the California Bar and the United States Patent and Trademark Bar. Ann is an active member of Sacred Heart Church of Ocean Beach.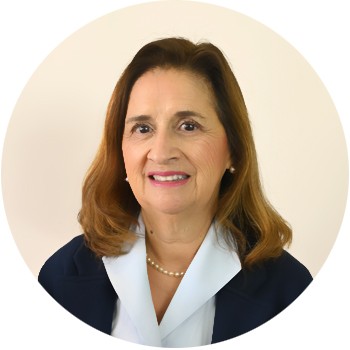 Rocio Hammershaimb
Chief Administrative Officer
Rocio brings over 25 years of leadership experience to Father Joe's Village, focusing on operations management expertise in operational process improvement, margin growth, cost containment, and human capital development. Prior to joining Father Joe's Village, Rocio served in various leadership capacities while at Starwood Hotels & Resorts, supporting over 700 hotels worldwide, ranging from limited service to high-end luxury. She also led the Global Sustainability & Citizenship efforts at the company, working with hospitality leaders across the world to improve the environment and communities surrounding the hotels.
At Father Joe's Village, Rocio provides leadership & strategy for the Retail division, which includes four thrift stores, an online store, and three retail auctions. In addition, she oversees the Information Technology, Facility Operations, Security, and Property Asset Management divisions, all while collaborating with senior leadership to enhance and improve system-wide planning and outcomes.
Rocio holds a Bachelor of Science degree in Hotel & Restaurant Management, a Master of Business/Quality Management degree and is a certified Six Sigma Green Belt. In her spare time, she enjoys time with her family, including her husband, four children and grandchildren. She has completed many full marathons, half marathons and is a yearly participant of Father Joe's 5K run. She is an avid reader and gives back to the community by knitting children's sweaters for the World Vision organization. Rocio hopes that her work at Father Joe's Village will make a difference in someone's life.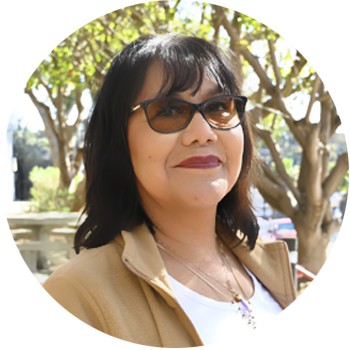 Lupita Moncada
Senior Director of Human Resources
Dr. Lupita Moncada, joined the organization in January 2023.  She brings more than 25 years of extensive expertise in human resources. Prior to her tenure at Father Joe's Villages, Lupita held various leadership positions, allowing her to develop a broad perspective and a deep understanding of the intricacies involved.
 Since joining Father Joes Village, she has been entrusted with overseeing all aspects of human resources and management, including employee relations, talent acquisition, performance management, training and development, legal compliance, and benefits administration. Her comprehensive knowledge, strategic mindset, and dedication to the well-being of employees contribute to creating a thriving work environment where individuals can reach their full potential.
 She holds an MBA/HR Mgmt. from the University of Phoenix and earned her Doctoral degree in Business Administration/International Business in 2015. Her unwavering commitment to fostering a nurturing and inclusive work environment ensures that every team member feels supported, valued, and inspired to thrive. In her spare time, Lupita enjoys sharing her wealth of knowledge through coaching and mentoring initiatives, empowering emerging leaders to rise to their fullest potential. Her radiant charisma and passion for uplifting others make her a beacon of inspiration within the human resources community.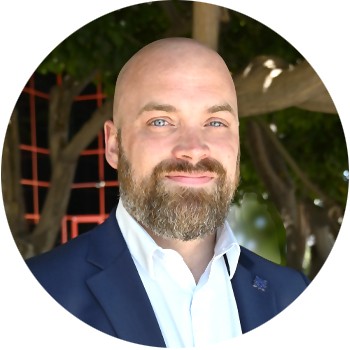 Joshua Bohannan
Sr. Director of Government Relations and Public Affairs
Josh is a committed public servant with expertise in the nonprofit and government sectors. He earned a Bachelor of Arts in Sociology from Sacramento State and a Juris Doctorate from the McGeorge School of Law with a focus on advocacy, legislation, and policy. While in law school, Josh worked at a domestic violence shelter writing restraining orders and preparing survivors for their court cases. He also spent a year working at the Department of Justice aiding in the prosecution of elder abuse cases. When he moved to San Diego, Josh joined the Alzheimer's Association as the Public Policy and Advocacy Manager to influence legislation that supports people living with dementia, and their caregivers.
Prior to joining the team at Father Joes Villages, Josh was the Health Policy Advisor for then Chair of the County Board of Supervisors, Nathan Fletcher. His issue areas focused on addiction, mental health, the continuum of care, eligibility programs, CalAIM, the behavioral health workforce, and vulnerable populations including veterans, transitional-age youth, and people living with substance use disorder. Most notably, Josh crafted the County's opioid framework that prioritized community programs and incorporated harm reduction principles throughout the County enterprise.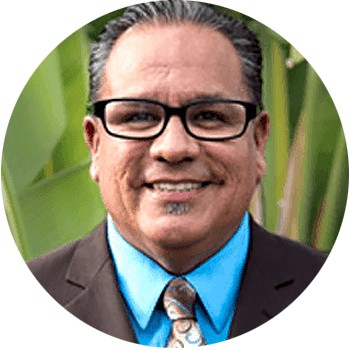 Frank Paredes
Director of Information Technology
Frank Paredes joined Father Joe's Villages in July 2016 after a successful career in public education.  Frank Paredes is Director of Information Technology and is a member of the Senior Leadership for Father Joe's Villages.  He has overall responsibility in aligning the departments technical strategy with the organizations strategic plan and overall mission.
Frank is an award-winning, 31-year technology veteran with his experience focused on Information Technology and Business Management in public education. Frank championed state-of-the-art technology and robust infrastructure to support students and staff for the San Ysidro School District. In addition to his technology experience, Frank brings a wealth of experience in securing funding for technology, from 1998 to 2016, he secured over 15 million dollars in federal funding for telecommunications, internet access, and internal connections for the school district.
Frank's leadership and creative approach to Information Technology have been recognized as a top innovator in technology in San Diego.  In 2012, 2013, 2014, and 2017 Frank was nominated for the San Diego Magazine's – Top Tech Exec Awards. In 2015 Frank Paredes was an Honoree and received the Top Tech Exec Award for his outstanding leadership and efforts in innovation in the area of technology/education.
Frank is a natural leader who continues to inspire innovation and creativity bringing a skill set that will make significant impact to Father Joe's Villages business endeavors.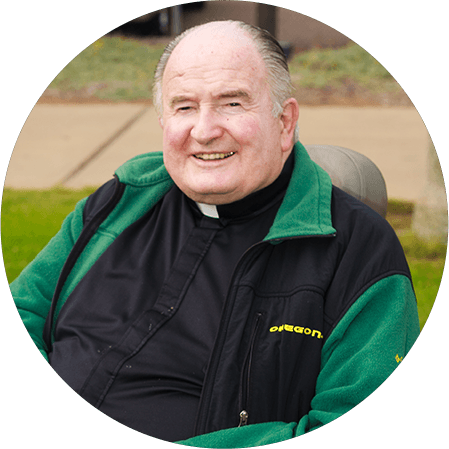 Father Joe Carroll
In Memoriam - April 12, 1941 – July 11, 2021
Father Joe Carroll was assigned to be the Director of the Saint Vincent de Paul Village Center in 1982. Later, he would become President and CEO. In 2012, he retired and became President Emeritus. During his tenure, Father Joe's tenacity, innovation and kindness changed thousands of lives and grew Father Joe's Villages from a small chapel and thrift store to become one of the most comprehensive homeless services organizations in the country. In July 2021, Father Joe Carroll passed away, leaving behind a monumental legacy of hope and compassion. At Father Joe's Villages, we honor his memory through continued service to those most in need in San Diego.