How can we prevent homelessness?
There are many methods in which together, as a society, we can prevent people from ever having to experience homelessness.
First, we can work to create a more equitable society where some groups of people do not experience extreme levels of poverty and all people have access to housing they can afford and job opportunities with adequate pay.
This enables families and individuals to be able to fund the housing, food, and other basic necessities they need to survive, as well as additional room in the budget to save for emergencies.
Secondly, we can create a safety net for individuals and families who do find themselves at risk of homelessness by providing temporary support through diversion, financial assistance, counseling or other services that prevent individuals and families from entering into homelessness.
Preventing Homelessness Once Individual/Family Falls into Risk of Homelessness
Homeless Prevention
As evident in the name, homeless prevention works with people before they lose housing.
It is an approach to solving possible homelessness by empowering a person to identify safe, immediate, and appropriate alternatives to entering the homeless services system, such as shelters.
An organization helping with diversion will work alongside a person or to family brainstorm possible solutions to the issue(s) threatening their housing stability, with an emphasis on trusting the person to be an expert in their own solution as they regain control over their housing crisis.
Homeless Prevention strategies range from connecting a neighbor to rental support available in the community, helping a neighbor apply for social support like disability, medicare, or food stamps to help them meet their budgetary needs, or helping them connect with family or friends who can provide them a place to stay while they back on their feet.
Sometimes an organization works with a landlord to ensure that a neighbor can stay where they are currently residing, to work through any issues that could result in eviction, or organize a payment plan for repayment of missed rent.
The organization can then act as a mediator to develop a resolution that will allow the household to stay in their current housing. The goal of diversion is the lightest touch possible so community resources are available to those who need them most.
Homeless prevention is often a preferable approach to immediately placing someone in a shelter because it can be more cost-effective, it can ensure necessary shelter beds are available for those who need them most, but most of all, it prevents an individual or family from experiencing the trauma of homelessness.
Employment & Education Services
Job readiness training and job-seeking support offered to people at risk of homelessness can help neighbors achieve higher wages and higher quality jobs.
When a person is working one or two minimum wage jobs, they often have little leftover in the monthly budget (after rent, food, utilities) for emergencies or rental increases.
That's why employment services can be a critical tool for helping people compete in the modern job market and obtain jobs that pay above minimum wage.
People experiencing poverty and homelessness can encounter a number of factors that can prevent them from gaining quality employment including ​​limited education and skills, varied job histories, misplaced legal documents, limited access to transportation, cosmetic difficulties, such as missing teeth, and physical and behavioral health conditions.
According to San Diego's Point-in-Time count report (2018), 30% of individuals polled reported a loss of job as the primary cause of homelessness.
Through hands-on training, education, and job development, employment programs, such as Father Joe's Villages Employment & Education Center, foster empowerment and provide tools for facing the complicated, competitive world of employment.
Preventing Homelessness by Creating Housing
There are thousands of organizations across the world implementing solutions to alleviate poverty and inequality.
At Father Joe's Villages, we help to reduce and prevent extreme poverty by working to expand affordable and supportive housing opportunities in our community.
Affordable Housing
Housing becomes less affordable when the housing supply cannot keep up with the demand for housing in a region.
When housing becomes less affordable, the budgets of low-income families and individuals are squeezed, leaving little room for anything but survival. In fact, half of all San Diego homeowners don't make enough money to meet the region's cost of living, with 60% of local renters falling short by thousands of dollars per year.
By building more affordable housing in the community, organizations help to reduce the pressure on low-income neighbors and provide more affordable options for those that need it most.
Affordable housing enables folks to maintain housing long-term because the housing stays within a price range that is proportional to their income bracket.
Through the Turning the Key initiative, Father Joe's Villages committed to adding 2,000 units of affordable housing dedicated to neighbors overcoming homelessness, on top of the over 400 affordable units already offered by the organization. Learn more here.
Supportive Housing
Supportive Housing, sometimes referred to as Permanent Supportive Housing, is housing that is reserved for people with a physical disability, mental illness or long-term substance use disorder who need regular support to maintain housing stability.
While Supportive Housing is provided to people who have been homeless, this type of program prevents ongoing and future homelessness for at-risk individuals with a history of chronic homelessness.
Residents of supportive housing communities receive a long-term rental subsidy that is sensitive to their income and ongoing support services to help them maintain their housing.
At Father Joe's Villages, for example, Case Managers help clients set and achieve goals and get connected to resources, while Tenant Services Coordinators teach life skills and host social activities that build community.
A Registered Nurse provides wound care, patient education, and medication management.
Supportive housing is a compassionate and dignified solution to homelessness for people who would otherwise struggle to maintain housing on their own. Often, supportive housing is the best solution for addressing or preventing chronic homelessness amongst people with severe mental illness and debilitating disabilities.
However, communities often don't have the resources to provide supportive housing to all the individuals who may benefit from it.
For that reason, building and raising funding for new supportive housing communities can be critical for preventing homelessness for people most in need.
In Conclusion
Homelessness prevention programs and associated initiatives are often a cost-effective and compassionate approach to preventing individuals and families from living without shelter on the streets and entering into the cycle of homelessness.
Not all heroes wear capes — some volunteer.
Nothing is more noble than wholeheartedly devoting your life to doing good deeds for others without expecting anything in return. Despite the challenges posed by the pandemic, the determination to provide assistance to vulnerable communities has not wavered.
For this reason, volunteers are the backbone of nonprofit organizations. Nonprofits heavily rely on volunteers, and without them, they are unable to function efficiently. That's why it's critical to share our utmost appreciation for volunteers who make such a substantial difference in the lives of the people nonprofits, like Father Joe's Villages, serve.
At Father Joe's Villages, we accept all types of volunteers and volunteer groups: individuals, families, children over 10 years old, religious organizations, community groups, military groups, corporations, local businesses and more. In fact, over 10,000 volunteers give more than 140,000 hours of support annually and we couldn't do it without them.
What is Volunteer Appreciation Week?
Volunteer appreciation week is a nationwide event that is held once a year to celebrate the efforts of the many volunteers in our communities, from sports to politics, from environmental initiatives to human rights.
This year, from April 19th to April 24th, thousands of organizations around the world will join together to thank their volunteers for their dedication.
How Do I Participate in Volunteer Appreciation Week
In addition to simply thanking volunteers, many organizations also hold events to raise awareness of the vital role volunteers play in the communities they serve. These events include volunteer appreciation luncheons, open houses, volunteer recognition days and more.
Volunteer Appreciation Week is week-long celebration to honor the volunteers. You don't have to go all out, but make sure you come up with unique and creative ways to say thank you. You can make small gestures for them each day of this week.
What are Creative Ways to Thank Volunteers?
Volunteer appreciation can take many forms. There are countless ways to express your gratitude to them, ranging from simple thank you notes to elaborate gestures such as award presentations. Allow your imagination to run wild and be as creative as possible. Please make the most of the opportunity to let them know that no good deed goes unnoticed.
In celebration of Volunteer Appreciation Week, we've assembled a list of ways to show gratitude to your volunteers.
Tell them how grateful you are for what they do
Trying to come up with the right words to express your gratitude is the most straightforward process, but it is also one of the most sincere. You may express your respect and appreciation for their contributions through various mediums.
We've mentioned a few suggestions below to give you some ideas.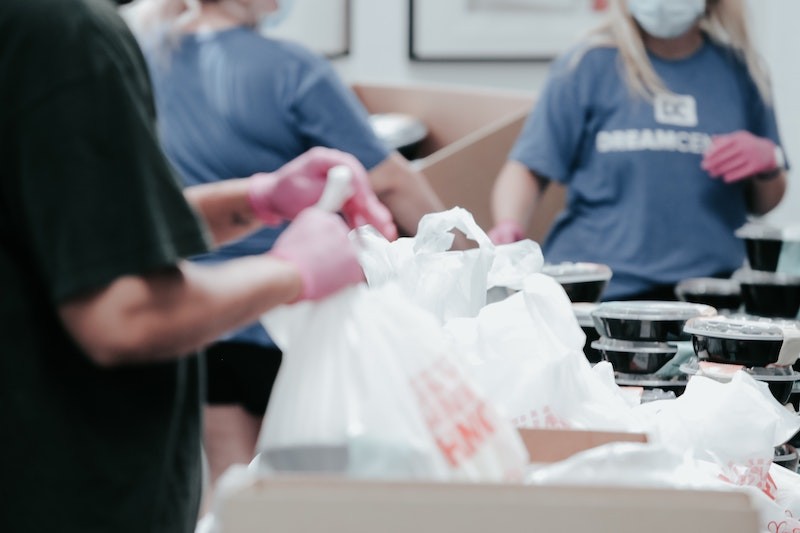 1. A good ol' thank you note
This is a classic, even if it's a little dated. Write a heartfelt thank you message stressing the importance of their involvement and expressing your gratitude. It doesn't have to be long, but it should be sincere and meaningful.
You may get it typed, but handwriting it on scented stationery can make it truly memorable!
2. Text messages, e-mails, & phone calls
Since we live in the digital era, you can quickly write a text message or an email, hit send, and they will receive it right away. You can even speak to them over the phone if you have the time.
This shows how much you care for them.
4. Schedule a virtual hangout session
Since it's challenging to meet up in person due to the pandemic, a virtual hangout is a perfect alternative.
Use video conferencing platforms to share the impact their work has had on the organization. Share volunteer numbers from the year prior and how volunteers helped make your work possible.
This could help you form a stronger bond. Most importantly, they'll appreciate the fact that you've taken the time to get to know them.
5. Have everybody sign a card
Pass a physical card around and ask everyone to write a brief thank-you on it. What could be better than getting a compilation of messages thanking you for everything you do?
This will show them that you made a conscious effort to express your gratitude as a team, which they will undoubtedly appreciate.
Post a few of their best photos on social media with a sincere and succinct caption describing what they do, the effect it has, how vital it is, and, of course, that they are valued. Or, highlight their accomplishments as well as the causes they support on your website.
Reward them with something tangible
Even though volunteers do not expect anything in exchange for their efforts, giving them a token of appreciation is still one of the most effective ways to recognize their hard work. Here are a few great suggestions on what you could offer your volunteers.
7. Give them a one-of-a-kind present
When you know a gift was personalized, it holds more sentimental value and meaning. As opposed to buying something off the rack, this shows them that a lot of thought and effort went into the gift.
You can make them personalized cards, knit them a scarf, a beanie, or a mitten, or bake them delicious treats. It takes some time to create custom things, but the fact that you took the time to do so will surely warm their hearts.
8. Swag kits
Assemble a gift bag for your volunteers with promotional pieces from your nonprofit such as t-shirts and stickers. People can be made aware of and talk about your nonprofit if they use these items. Advertising at no cost!
9. A raffle or lottery drawing
Place the names of the volunteers in a container and draw a lottery. Prizes as simple as $10 in gift cards or a candy bar may be given away. This way, you can show them how much you care by rewarding them, and it's also a lot of fun. Make sure to follow the raffle guidelines in your area.
Organize events or gatherings to celebrate them
Host an event and create a program centered on their recognition. This could also be an excellent opportunity to take a break and have some fun with them. You can do the following get-together and event ideas.
10. Awards Ceremony
This is the day for special awards to be presented to volunteers in front of a large crowd. You may show your appreciation by giving away certificates or plaques of appreciation. Being recognized in front of such a huge audience would make volunteers feel validated.
11. Make plans for a trip that all of you will enjoy together
A trip that you will all enjoy will promote positive connections and provide an opportunity to form camaraderie. Conduct a survey to determine which activities volunteers want the most and schedule the trip accordingly.
12. Birthday celebrations
Celebrate the day they were brought into the world. Have everybody sing "Happy Birthday" to them, give them presents, and buy them a birthday cake. Making them feel special on their birthday would bring them joy.
13. Take them out to dinner
Make a dinner reservation and treat them to a meal. It's a perfect way to have in-depth discussions while enjoying good food.

Intangible rewards
Nonmaterial incentives can also be used to show your gratitude. These are intangible assets that could aid in their personal and professional development. A few examples can be found below.
14. Education and training
By providing career training to your volunteers, you can help them reach their full potential. Education is a priceless commodity. This will let them know how valuable they are because you provide them the opportunity to improve themselves.
15. Meditation or yoga classes
Set up meditation or yoga courses for your volunteers to unwind and calm their minds. This will make them feel refreshed and ready for another day of hard work.
16. Leadership opportunities
Allow them to take the lead and climb up the ranks. If you entrust them with bigger responsibilities and the ability to make critical decisions, they will feel important. Let them carry on the tradition and inspire a new generation of volunteers.
17. Recommendation letters
This will be very helpful to your volunteers who are looking for work. Emphasize their good attributes, achievements, and strengths. Many employers are looking to recruit people who have volunteering experience.
Cultivate a culture of gratitude
Don't wait for Volunteer Appreciation Week to give them the recognition they deserve. Encourage everyone to maintain a thankful attitude towards your volunteers—practice gratitude regularly.
Create an atmosphere in which everyone feels respected and appreciated for their contributions. Gratitude has been shown to increase productivity in several studies over the years.
Volunteers who are satisfied with their work are more efficient and are more likely to continue volunteering in the future.
Bottom Line on Showing Appreciation for Volunteers
Even though volunteers are not financially compensated for their services, they continue to show up and dedicate their time to helping others. That being said, they are more than worthy of being praised for their efforts.
As you've seen, volunteers can be thanked in a variety of ways. The goal is to ensure that their emotional and motivational needs are fulfilled. Volunteers must believe that they are an integral part of the organization and genuinely make a difference.
Do You Want to Make a Difference as a Volunteer?
Father Joe's Villages has a wide variety of options to meet nearly every need and interest. Volunteers are critical to our success. With your help we can give our neighbors in need a new start.
For general information, please contact Father Joe's Villages Volunteer Services Coordinator at (619) 645-6411 or volunteer@neighbor.org or find out how to lend a hand.