At Father Joe's Villages, we could not succeed in our mission to prevent and end homelessness without the help of compassionate, hard-working volunteers.
---
In 2020, Father Joe's Villages helped nearly 12,000 San Diegans struggling with homelessness, providing warm meals, showers and short-term shelter in the process. This work is only possible because of the over 10,000 dedicated volunteers that give their time each year to help Father Joe's Villages serve San Diegans who are homeless. In honor of National Volunteer Appreciation Week, we've highlighted some of our all-star volunteers who help make Father Joe's Villages' mission possible.
Rodney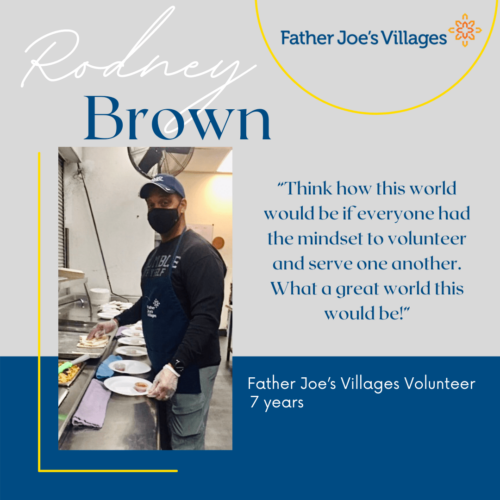 Rodney has been volunteering with Father Joe's Villages for 7 years. Despite the COVID-19 pandemic, Rodney continued to show up every Thursday morning to prepare and serve breakfast for hungry neighbors in need. Rodney believes in the importance of lifting up those most vulnerable in the community.
"Everybody at some point in their life will need help," he says. "We should all 'Pay-It-Forward.'"
Lina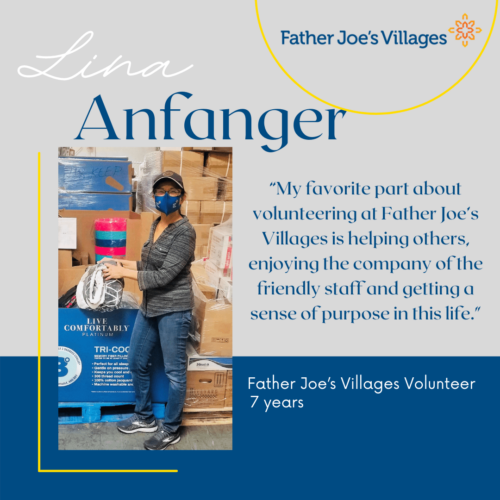 After seeing a need to help those struggling in the community, Lina began volunteering in Father Joe's Villages' Sunday brunch program with Congregation Beth Israel. That was 7 years ago, and since her retirement in 2020, Lina has been dedicated to volunteering with us 6 days a week! She currently serves lunch through the Franklin Antonio Public Lunch program and assists with food distribution at Father Joe's Villages' Super Food Pantry.
"Volunteering is so important to help make your community a better place," Lina says.
Victor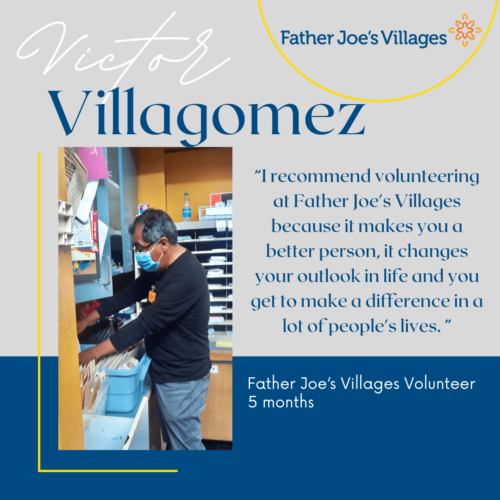 Victor began his journey with Father Joe's Villages volunteering in the Chaplaincy program. He currently helps at the San Diego Day Center where he distributes mail, hygiene packages, blankets, and more to those living on the streets of our community.
"My favorite part about volunteering is seeing the expression on a neighbor's face when I give them what they desperately need to make it through another day," Victor says.
Sara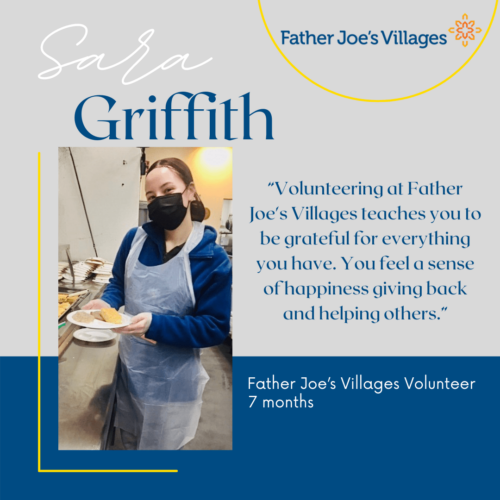 A senior at Serra High School, Sara is one of Father Joe's Villages' youngest volunteers. Since September, Sara has volunteered twice a week for the Food Services program serving breakfast to people struggling with poverty and homelessness.
"There are too many people living on the streets of downtown San Diego that live in constant hunger," Sara says. "Spending a few hours volunteering at Father Joe's Villages is helping hundreds of people."
Carlos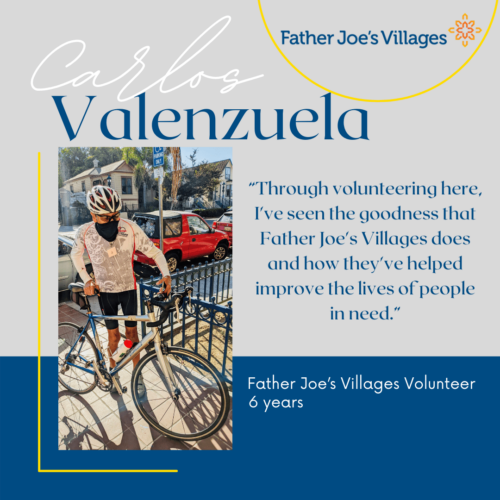 As a Cycling enthusiast, Carlos understands the importance of staying active. After hearing of the need for volunteers to assist with Father Joe's Villages' Health & Wellness Cycling Club, Carlos jumped at the chance to give back. Since then, Carlos has led an hour-long bike ride on Monday mornings with residents staying in Father Joe's Villages' Shelter program.
The ride offers residents a healthy escape from the reality of homelessness while also building a sense of community. Not only does the Cycling Club promote good health, but Carlos and his fellow volunteers teach those in need how to build and repair bicycles— a skill they can then use to find a job.
"Throughout life sometimes, there are difficulties. Cycling helps take those in need away from that for a while," Carlos says. "It feels really rewarding helping someone who is struggling."
Thank You Volunteers!
To all of our thousands of selfless volunteers: Thank you for your dedication to those we serve at Father Joe's Villages. Your devotion to helping our community's neighbors in need provides hope for a better future. Together, we can end homelessness in San Diego.
Looking to make an impact and help those in San Diego who need it most? Learn more about how you can help support those in need by volunteering at Father Joe's Villages.