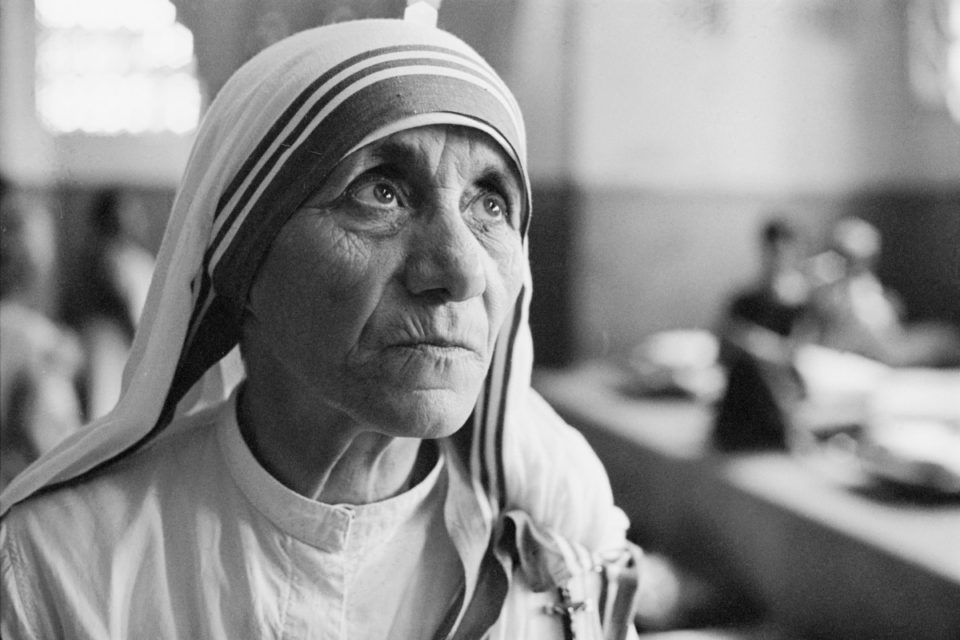 Mother Teresa Facts, Biography, and Inspiration
On February 10th, 2022, Father Joe's Villages celebrated the opening of the affordable housing community, Saint Teresa of Calcutta Villa. Hundreds of community members, city officials, donors, residents and Father Joe Villages' staff and volunteers came together to inaugurate this monumental achievement with a ribbon cutting ceremony and tours of the grounds.
As the newest project in our Turning the Key initiative, Saint Teresa of Calcutta Villa will prevent and end the homelessness of more than 500 seniors, families, veterans, and people with disabilities.
This new 14-story affordable housing community provides 407 units of critical supportive housing paired with comprehensive services to neighbors overcoming homelessness.
The name of the building itself–Saint Teresa of Calcutta Villa– inspires hope and conveys a message of faith and convalescence.
Who is Saint Teresa?
Saint Teresa of Calcutta (known as Mother Teresa) was an Albanian-born Indian Roman Catholic missionary and nun who devoted her life to helping those most in need.
She founded the Missionaries of Charity in India in 1950, and for over 45 years, she ministered to the poor, sick, orphaned and dying. At the time of her death she ran over 500 missions in over 100 countries, including hospices and homes for people with HIV/AIDS, leprosy and tuberculosis; soup kitchens; family and children's counseling programs; orphanages and schools.
Mother Teresa served those who were most vulnerable and made many sacrifices in order to help others. She devoted her life to serving those in need without judgment. That's why Terry Caster, the premier private funder of Saint Teresa of Calcutta Villa, decided to honor her legacy by naming our recent affordable housing community– Saint Teresa of Calcutta Villa– in her name.
The Early Life of Mother Teresa
From a young age, Teresa was fascinated with the exciting stories of missionaries who had served in Bengal, India. These stories were greatly influential to her, and by the time she was 12-years-old she had decided to commit herself to a life of religion. At the age of 18, Teresa joined the Sisters of Loreto at Loreto Abbey in Ireland with the intent of becoming a missionary.

A year later, Teresa arrived in India to begin her novitiate and took her first religious vows on May 24, 1931. She chose to be named after Thérèse de Lisieux, the patron saint of missionaries, but because a nun in the convent had already chosen that name, she opted for its Spanish spelling– "Teresa".

On May 14, 1937, Teresa took her solemn vows and began teaching at the Loreto convent school in eastern Calcutta. There she served for nearly twenty years and was appointed as headmistress in 1944.

Mother Teresa's Calling
It was during her time teaching at the Loreto convent school that Teresa became aware of the immense suffering of those around her.
While traveling on a train from Calcutta to the Himalayan foothills for a retreat, Teresa experienced what she later described as "the call within a call." The idea that all people are God's children gripped her, and she heard Jesus telling her to quit her teachings to help those most in need by living amongst them.
Inspired by Jesus' words in the Gospel, "I was hungry and you gave me food, I was thirsty and you gave me drink, I was a stranger and you welcomed me," Mother Teresa worked to serve "the poorest of the poor" on the streets of Calcutta. She gave away all of her possessions and lived in dire poverty with them in hopes of being better able to serve them.
Mother Teresa's work was not easy. The conditions of the streets were deplorable and the poor she sought to help had no way out of their situations. She took it upon herself to provide those in need with a path forward. She did this by teaching them valuable skills that gave them a way to earn money and get back on their feet. She taught them tailoring, soap-making, basket-weaving, and candle-making, so they could earn money for themselves and their families.
Driven by compassion and a strong sense of duty, Mother Teresa began to teach those she encountered how to care for themselves and others during illness. She opened a hospice in Calcutta to care for people suffering from cholera, leprosy and tuberculosis who were too poor to afford medical treatment and cared for them with her own hands.
After only a few years, the Missionaries of Charity had opened an orphanage, daycare center and a number of schools throughout Calcutta, all run by volunteers working under Mother Teresa's guidance.
Why We Named our Affordable Housing Community in Honor of Mother Teresa
During her lifetime, Mother Teresa became the world's most recognizable symbol of selfless charity.
She dedicated herself to lifting up the vulnerable people that had been cast out and overlooked by society. Mother Teresa treated everyone with compassion and supported them regardless of their religious beliefs or social status. Her efforts helped millions of people who were suffering from disease, poverty, homelessness and starvation.
Her work made a difference.
Donor Terry Caster and his family chose to name this building after Saint Teresa of Calcutta to honor her life's work of service to those in need throughout the world. Terry and his beloved wife, Barbara worked with Mother Teresa in several of her worldwide charity projects. Terry gifted a treasured relic of Saint Teresa of Calcutta—a letter written in her own hand—to be a blessing to all who reside in the Villa.
By providing affordable housing and comprehensive services tailored to each individual's needs, Father Joe's Villages has helped hundreds of thousands of neighbors off the streets and into homes of their own. In this way, Father Joe's Villages continues Mother Teresa's lifelong work.
In naming our new affordable housing building after Mother Teresa, we honor the compassion and selfless love she imparted on those most in need throughout her life.
Through her spirit of love and compassion, Saint Teresa believed that one should "Let no one ever come to you without coming away better and happier."
Saint Teresa of Calcutta Villa was founded in that same spirit. May all who come through these doors find the opportunity for a better and happier future.