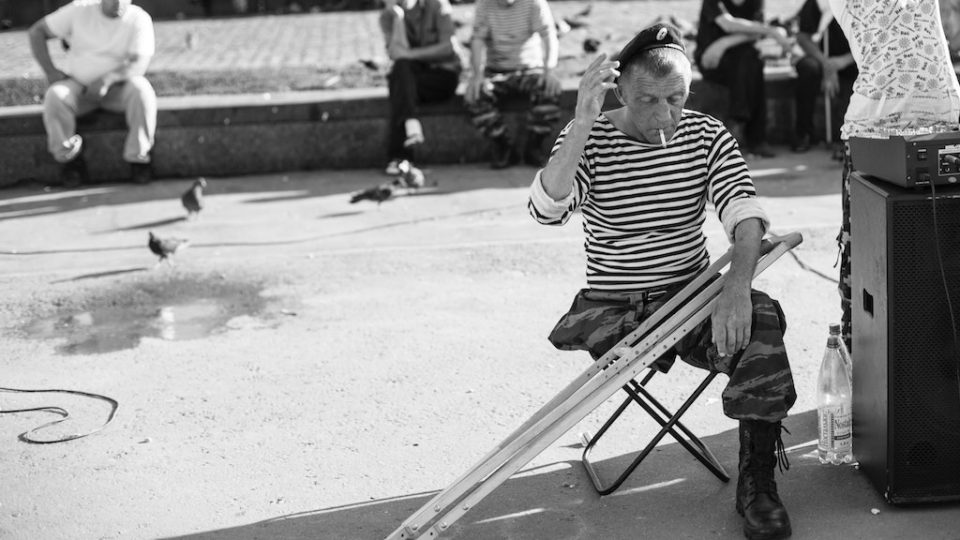 At Father Joe's Villages, we believe that our nation's veterans deserve to be granted every opportunity to create a bright future for themselves and their families. 
When veterans don't have access to secure housing and integrated services, they are denied the chance to thrive in civilian life.
On any given night, there are more than 11,000 veterans experiencing homelessness in the state of California—many of them living with disability and mental illness.
San Diego County has one of the largest populations of veterans experiencing homelessness in the nation. According to the Regional Task Force on the Homeless 2020 WeAllCount survey, 8% of unsheltered individuals in San Diego are veterans.
These brave men and women who have committed their lives to protecting our country can face exceptional challenges when trying to adapt to life after service.
Unique Challenges
According to the U.S. Department of Veterans Affairs, half of homeless vets become homeless within three years of being discharged. This highlights the difficulty of adjusting to civilian life after active duty.
Veterans can suffer from distinctive issues that make it difficult for them to find and maintain employment and permanent housing. These issues include:
1. Veteran post-traumatic stress disorder
Veterans experience high rates of post-traumatic stress disorder and traumatic brain injury. It is estimated that 87% of veterans have been exposed to traumatic events. In a 2017 study involving 5,826 United States veterans, almost 13% were diagnosed with PTSD.
Veterans experiencing Post Traumatic Stress Disorder suffer from changes in cognition and mood, flashbacks, anxiety and intrusive thoughts. These symptoms can make daily tasks seem impossible, and it can be difficult for PTSD sufferers to maintain employment leading to housing insecurity.
2. Veteran Substance use disorder
Veterans dealing with trauma are more likely to suffer from substance abuse disorders.
Studies show PTSD and substance use problems are strongly related in people who served in the military. Without treatment, substance use disorders can cause other health problems—both physical and emotional.
Consequently, veterans dealing with trauma may have more difficulty reconnecting with their friends and family, leaving them without reliable support systems.
3. Nontransferable skills
The skills learned through military occupations and training are not always transferable to the civilian workforce.
For veterans, especially those who served in the Gulf, Afghanistan and Iraq wars, the struggle to find stable employment is further complicated by limited exchangeable skills and no civilian job experience.
How Father Joe's Villages helps veterans experiencing homelessness
With a vision to prevent and end veteran homelessness in San Diego, Father Joe's Villages provides customized solutions to address each unsheltered veteran's unique needs.
Our programs and services ensure that our heroes are able to enjoy the freedoms they fought to preserve.
In 2020, we provided critical services, including meals, stable housing and medical care to more than 1,400 of our nation's veterans. By providing these comprehensive services and support, we give hope to our heroes that they won't be left behind.
Veteran Housing Programs
Veterans receive priority entry to most of our housing programs.
These housing options include Interim Housing, Transitional Housing, Rapid Rehousing, Permanent Supportive Housing and Affordable Housing.
Multidisciplinary Team Case Management
It is crucial that veterans receive assistance tailored to their unique needs.
Our Case Managers and Tenant Services Coordinators assigned to military veterans in need use compassionate, evidence and strengths-based approaches to help veterans develop and actively achieve individual goals.
Veteran Employment & Education Services
To help bridge the unemployment gap that many veterans encounter after active duty, Father Joe's Villages provides access to computers, job coaching, skills training, resume guidance and interview preparation.
Veteran Behavioral and Physical Healthcare
Our state-licensed clinic provides full-service primary and specialty care, mental health treatment and preventative and restorative dentistry.
Through our behavioral health services, struggling unsheltered veterans have the opportunity to treat any behavioral or substance use disorders with licensed professionals.
Daily Meals for Veterans
Food Services supplies three free meals a day for Interim and Transitional Housing veterans and free lunches to neighbors in need.
Unhoused Veteran Outreach Services
The San Diego Day Center provides basic dignity services for adults who are homelessness, while also working to connect them with Father Joe's Villages' programs. The San Diego Day Center is often the first resource utilized where veterans experiencing chronic homelessness can be directed to life-saving services.
Never Leave a Person in Need Behind
Our nation's service men and women have committed their lives to protecting our country's values and our liberties. Every person has dignity and deserves a warm place to sleep at night. Every person deserves to be able to feed themselves and their families.
But especially deserving of these things are those who have sacrificed to serve our country.
At Father Joe's Villages, we are committed to protecting the health and well-being of our nation's veterans, so they can enjoy the freedoms they helped to preserve.
Here are just a few ways you can also help those experiencing homelessness!