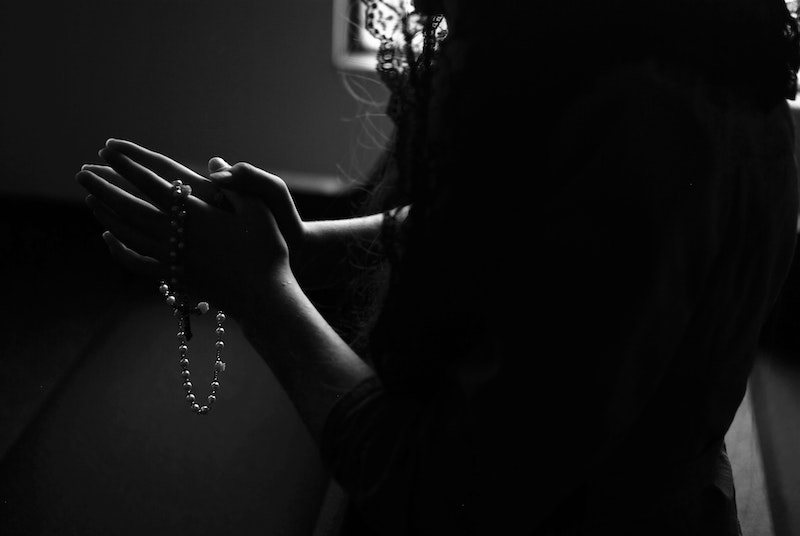 Lent is a solemn period of six weeks leading up to Easter. A major part of Lent is almsgiving, which is donating one's time, money, and possessions to those who are less fortunate.
Let's explore the significance of Lent and what makes Father Joe's Villages an ideal recipient of your almsgiving.
What is Lent?
Lent's origins lie in the season that the early Christians called Great Passion Week (or "Holy Week").
For Christians worldwide, notably those of the Anglican, Catholic, and Orthodox traditions, Lent is as important to Advent, the lead-up to Christmas.
Beginning on Ash Wednesday and ending six weeks later on the day before Easter Sunday, Lent focuses on prayer, repentance of sins, self-denial, and almsgiving.
When is Lent 2023?
Lent 2023 will begin on Wednesday, February 22 and will end on Thursday, April 6.
Historically, Lent has varied from a week to three weeks to the present configuration of 46 days.
Why is Lent important?
For Christians, Lent is a time to observe and commemorate the final 40 days of Christ's life. It is a time to reflect on one's religious practice, strengthen one's connection to God, and embody the lessons of Christ.
What do people do during Lent?
There are three main things that Christians do during Lent.
1. Fast and Abstinence
Giving something up for Lent is the thing most people know about Lent — It's called the Lenten sacrifice. It's a way for Christians to embody the sacrifice and self-discipline practiced by Christ during his journey into the desert for 40 days.
While there are prescribed days of fast and abstinence called Ash Wednesday and Good Friday, and the days of abstinence every Friday of Lent for Catholics, many Christians and Catholics choose to pursue additional penitential practices for the entire Time of Lent.
To truly honor the spirit of Christ's sacrifice, what one gives up for Lent should be something of substance and not something that's easy to do.
You shouldn't give up working out if your barbells are collecting dust. At the same time, don't give up something that will make your life significantly worse, like an important hobby. Instead, choose something that you can do without that will be challenging.
Popular choices are:
social media
video games
meals after 8 pm
alcohol
coffee
chocolate
etc.
2. Go to Mass and Pray
Attending mass and prayer is less about checking things off a list than it is about strengthening one's connection with God. For this reason, if going to church regularly is difficult for you, find other ways to incorporate reflecting on what your faith means to you. Prayer, meanwhile, is about expressing hope, gratitude, and finding meaning in life's challenges.
3. Almsgiving
Giving alms is about donating your time, money, services, or resources to others. The primacy of almsgiving in Christianity is pretty clear. "Whoever cares for the poor lends to the Lord, who will pay back the sum in full" (Prov. 19:17).
Almsgiving is an important way of embodying the teachings of Christ during Lent, but it's one that gets less attention in popular culture. Although, almsgiving is meant to be social because it's about strengthening our bonds to others.
What is Almsgiving?
A simple definition for Almsgiving is the act of giving charity to another. Almsgiving has been around for thousands of years and is referred to as charity, philanthropy, or giving to the poor.
Giving (alms) is the primary means by which many Christians and other faith traditions express faith. Some Christians tithe 10% of their income (or something close to it) to the church, give offerings to pastors and missionaries and attend camps, retreats, and mission trips.
Giving alms, or giving to the poor, is another way someone can express their faith and is a way in which they can put "love our neighbors as ourselves" into action.
That said, giving to the poor is not about giving handouts, nor is it about charity; it is about sharing one's blessings with those experiencing poverty.
How can I practice almsgiving?
As it's written in the New Testament, "It is easier for a camel to go through the eye of a needle than for someone who is rich to enter the kingdom of God." (Mark 10:25)
You don't have to give away all your possessions, but your almsgiving should be meaningful. What's meaningful depends on each person's situation. Not everyone has time, money, services, or goods they can donate.
Luckily, there are enough ways to support Father Joe's Villages to fit every person!
Why is Father Joe's Villages ideal for almsgiving?
"And if thou draw out thy soul to the hungry, and satisfy the afflicted soul; then shall thy light rise in obscurity, and thy darkness be as the noonday." (Isaiah 58:10)
Father Joe's Village makes it easy for you to help people experiencing hunger and struggling with homelessness. We have many opportunities for you to donate your time, money, vocational skills, and goods.
How to make Father Joe's Villages the recipients of your almsgiving?
Whether you're volunteering or making a donation, make sure you know whether your company offers gift matching— that way you can increase your contribution! You may even suggest a corporate in-kind donation, which is when a company provides a charity with a good or service for free.
Even shopping at one of Father Joe's Villages' thrift stores is a way to practice almsgiving (our thrift stores are also a great opportunity to make your donations as well).
Examples of Almsgiving with Father Joe's Villages
There are at least 15 ways to help end homelessness. Here are just a few ways you can make Father Joe's Villages the recipient of your almsgiving:
Bottom Line on Giving Alms
There are many reasons why we say "people who are homeless": to prioritize the humanity of others. Lent is the perfect opportunity to do that because it's a period of time dedicated to embodying the tenants of Christianity, which, at its core, is about recognizing humanity as an expression of God's will and, as a result, inherently valuable and deserving of help when in need.
Giving alms can be not only money but also clothing, food, shelter, etc. Almsgiving is not an act of selfless giving but an act of self-service and should be given from charity or generosity.
In stories about Christ, what consistently stands out is his commitment to helping people living in poverty. By making Father Joe's Villages the recipient of your almsgiving, you can do the same.