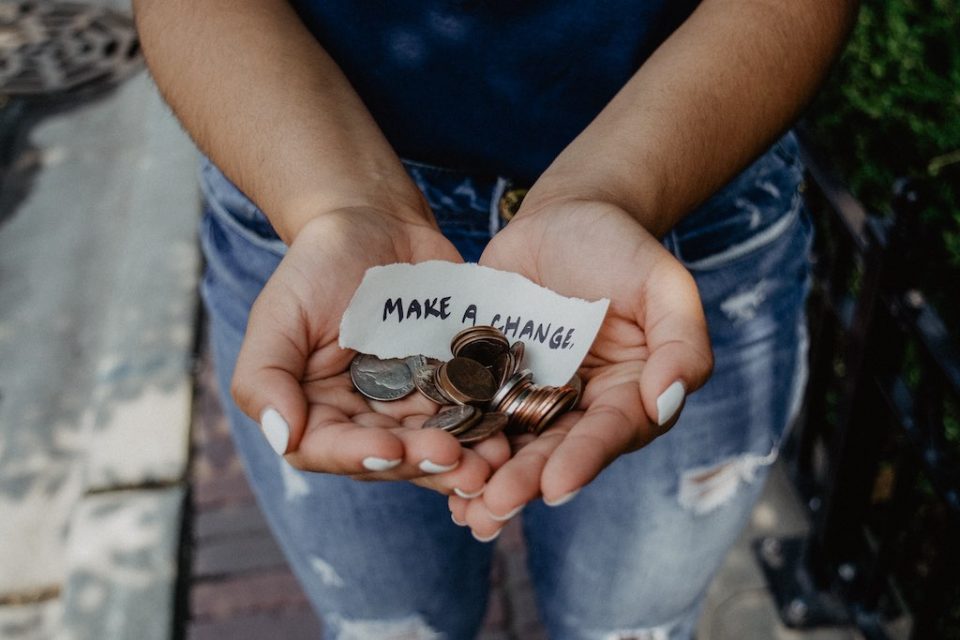 Father Joe's Villages' mission of elevating people out of homelessness and poverty greatly benefits from matching gift programs.
If our mission is important to you, find out if your company has a matching gifts program. These matching contributions help us accomplish our goals.
What are matching gifts?
Corporate matching gift programs are set up by companies where employee donations to eligible nonprofits are matched by the company. The first program of this type was started in 1954 by the GE Foundation, which created the Corporate Alumni Program. This program matched employee donations to schools and colleges.
How do matching gifts work?
Either you can make your donation first and then see if your donation meets the criteria of your company's matching gifts program, or you'll use the company's matching gift program criteria to inform how you make your donation.
Alerting your company of your donation usually entails filling out a form or having a conversation with a representative of the program. The representative of your company's matching gift's program will determine if your donation meets their criteria and will direct the plan to take the appropriate action.
However, not all companies have matching gifts programs. Additionally, many employees don't know whether or not their company has a matching gifts program.
According to Double the Donation, which helps companies build their matching gifts programs, $4 to $7 billion in matching gift contributions go unclaimed each year.
Ask your Human Resources representative for more information about your employer's matching gift program.
What are the benefits of matching gifts for non-profits?
Matching gifts through your workplace are a great way to double your donation to a charity of your choice. You can maximize the impact of your gift with support from your employer.
At Father Joe's Villages, this means that your donations will fund twice the number of life-saving programs for people experiencing homelessness in the San Diego community. By funding critical services such as meals, housing, health care and more, you can help neighbors in need build self-sufficiency and end their homelessness for good.
Why do companies match donations?
No-Cost Donations For Employees: Companies want to encourage their employees to give back to their communities. Employees are able to make a more significant donation because the amount matched by the company is directed toward the nonprofit of their choice. This creates greater motivation for charitable giving.
Trust in Employers: Matching gift programs generate trust in the company by employees, friends, families and the general public. After all, when you see a company match a donation, you're more likely to have positive associations with that company.
How much do companies give?
Most companies will match their employees' donations at a one-to-one ratio. It is not unheard of, however, for some companies to match as high as four-to-one. The size of the match may depend on whether you're a part-time or full-time employee.
Companies generally set aside a budget per employee that they will donate from year-to-year. The minimum amount can be as low as one dollar but typically falls between $25 and $50. Some companies also have caps on how big the donations can be, such as $1,000 or $100,000 caps.
These caps can also vary from employee type to employee. A retired employee may have a different cap from one that's currently working, for example.
What are some companies that match charitable donations?
Here are some samples of ways in which companies structure their matching gift programs.
Google: 1:1 match for donations between $50 and $6,000. Google also has a separate matching gift program for donations made to disaster relief that operates under the same guidelines.
Chevron: 1:1 match for many nonprofits. Current employees can donate between $25 and $10,000, while retired employee's donations can range from $25 to $3,000.
American Express: 1:1 match for current employees ranging from $25 to $8,000. Employees who serve on a nonprofit's board are eligible for having their donations matched 2:1.
General Electric: 1:1 match for current employees ranging from $25 to $8,000. Employees who serve on a nonprofit's board are eligible for having their donations matched 2:1.
What are the most common types of corporate giving programs?
Fundraising Matches: These are programs wherein the company will match an employee's overall contribution to a charity that is accomplished using events such as walks, runs, and bike rides. Father Joe's Villages' popular Thanksgiving Day 5K is a great example of such an event. [Link]
In-Kind Donations: This is when a company donates a product or service at a lower price or for free to a nonprofit. These donations may take the form of goods, services, consultations, or food.
Volunteer Grant Programs: These are programs where companies donate to nonprofits in amounts equal to the number of hours that an employee has volunteered at that nonprofit.
Team Volunteer Grants: These are just like volunteer grants, except that for the nonprofit to qualify for the matching gift program, a team of employees has to work together for a predetermined amount of hours. This is also a great team-building exercise, and it increases the number of volunteers and monetary contributions a nonprofit gets.
What are some other types of corporate giving programs?
Dollars for Doers: Often known as "individual volunteer grants," this is a common type of corporate match program wherein companies donate a predetermined amount of money for every set of a predetermined number of hours volunteered at a nonprofit. The thresholds to activate a donation and the size of the gift can vary from business to business.
Community Grants: This when the money a company offers has to be asked for by the nonprofit itself. Usually operating within the context of specific guidelines, this is typically set up by companies who want to make a positive impact in their community in particular. Disaster relief is often a focus of such programs.
Automatic Payroll Deductions: This is when a company allows employees to regularly donate a portion of their paycheck to a nonprofit. Similar options include automated withdrawals via personal credit card or bank account withdrawals.
Annual Grant Stipends: This is when a company gives every employee a predetermined amount of money to donate to a nonprofit every year. These stipends tend not to be large and don't require volunteer hours to activate. They're just a sum of money the company allocates for every employee to donate as seen fit.
Internal Employee Fundraising: This is when a nonprofit encourages its own workforce to direct volunteer hours toward itself. This has the bonus of potentially encouraging more people to do the same since volunteering gains visibility.
Annual Giving: This is when a company encourages donations at predetermined times of years, like the end of the year or during particular holidays. One of the advantages of this structure is that it provides employees with the opportunity to incorporate donations into their yearly budgets. Nonprofits are encouraged to keep track of companies that have annual giving programs so that they can benefit from them.
Employee Product Donation Programs (EPDP): This is when a company encourages its employees to offer discounts on the company's products and services that are donated to nonprofits. Although not limited to tech companies, EPDPs are popular in the tech world. Companies may restrict who's eligible for such discounts, but EPDPs is still an effective way to benefit the surrounding communities and nonprofits in general.
How do I know if my employer will match my donation?
To find out if your company has a matching gifts program, talk to your HR department, coworkers, or supervisor, or consult your employee handbook. Don't be shy.
How do I request a matching gift?
Most often, the donor starts the conversation about participating in the matching gift program. You'll most likely fill out a form or have a brief discussion with the matching gift program rep before finalizing the arrangements.
Learn more about Father Joe's Villages Cash donation options
If your company has a matching gift program, you can make Father Joe's the recipient of your charitable donation. This way, you'll help people survive and escape homelessness and poverty in San Diego.
Cash donations can be made online via credit, debit card or Pay Pal by visiting our secure donation form or you can send a check payable to Father Joe's Villages to our administrative office:
Father Joe's Villages
3350 E Street
San Diego, CA 92102
Together, we can change lives!