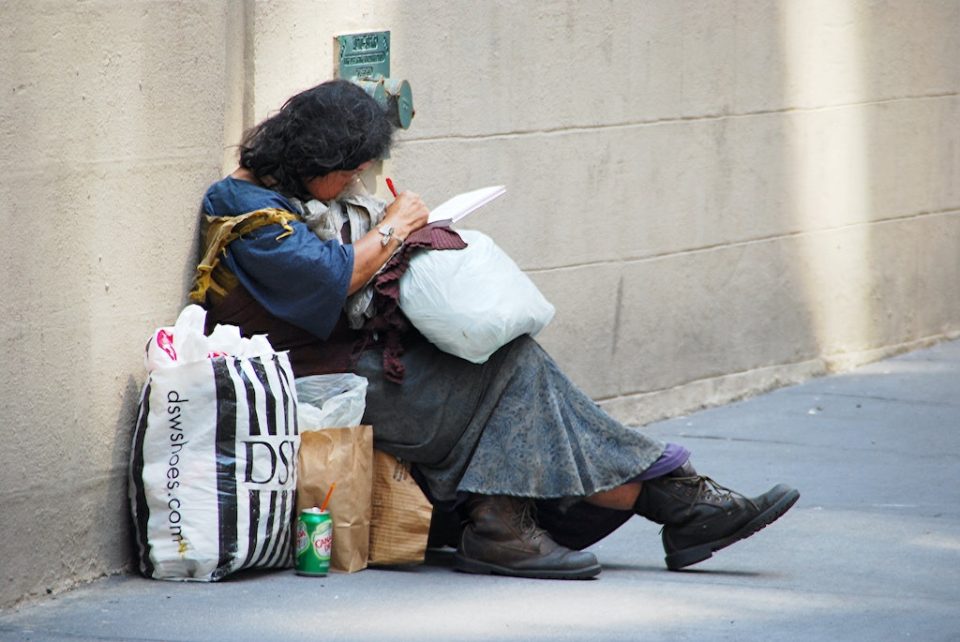 Throughout our society, there is a misconception that homelessness is only experienced by men with mental health or substance abuse issues. 
This stereotype is not only misleading, but harmful, as it overlooks the many women currently struggling while living on the streets of our country.
Compared to other industrialized nations, the United States has the largest number of women and children experiencing homelessness— and that number continues to rise.
In fact, women and families are the fastest growing segment of the homeless population, with 85% of those homeless families headed by single women.
What causes the risk of homelessness for women?
While there are many reasons women may become homeless, the main contributing factors revolve around interpersonal violence, gender inequality, and stigma.
Domestic violence is the leading cause of homelessness among women
Approximately one homeless woman in four is homeless mainly because of her experiences with domestic violence.
According to Safe Housing Partnerships, thirty-eight percent of all domestic violence victims become homeless at some point in their lives. Many abuse survivors don't have a strong support system they can rely on and must therefore seek supportive affordable housing and health care resources from state-run agencies or organizations.
In 2016, the National Network to End Domestic Violence recorded over 41,000 adults and children across the country fleeing domestic violence found refuge in an emergency shelter or transitional housing program.
Those escaping abusive conditions would rather take their chances in a homeless shelter or on the streets than remain trapped in consistently violent homes.
Gender inequality plays a role in women becoming homeless
It is no secret that women encounter discrimination in the workplace that can affect their employment status and financial situation.
Besides being paid less than their male coworkers, women in the workplace can be passed over for promotions, face sexual harassment, experience discrimination against during pregnancy and have a higher chance of being laid off than men in similar positions.
Consequently, women can experience a high rate of unemployment and financial instability making it impossible to afford basic needs or permanent housing— especially as single mothers.
What challenges do women who are homeless face?
Women who are homeless encounter unique challenges from men experiencing homelessness.
Due to the stereotype that the homeless population is made up of mainly men, women struggling with homelessness are generally overlooked.
This means that the differentiating situations unsheltered women cope with on the streets go unheeded.
Unique Challenges Faced by Women Experiencing Homelessness
1. Mental illness
According to one Los Angeles study, the average homeless woman experienced as much major gender based violence in a year as the average American woman experiences in her entire lifetime.
Often, the trauma of abuse compounded with the stress and shame of homelessness can be overwhelming for adult women leading to increased occurrences of mental illness.
In fact, about 75% of women who are homeless struggle with mental health issues and mental disorders such as anxiety, depression and schizophrenia.
2. Limited access to menstrual products
According to the National Organization for Women, the average woman spends about $20 on feminine hygiene products per cycle, adding up to about $18,000 over her lifetime.
Living on a fixed income means that women experiencing poverty and homelessness often have to choose between buying food and buying menstrual hygiene products.
Alternative methods to managing their periods—such as using socks, plastic bags, strips of cloth—puts unsheltered women at a high risk for infection.
3. Pregnancy
The lack of access to healthcare means that pregnant women living on the streets don't receive the quality of support needed for a healthy pregnancy.
For pregnant women who are homeless, the inability to maintain a nutritious diet and have regular visits with a doctor increases the risk of pregnancy complications– putting their health and the health of their baby at risk.
4. Violence
Women living on the streets are even more susceptible to violence and exploitation.
Unsheltered women face profound danger and higher rates of physical, sexual violence and emotional abuse than unsheltered men.
Unfortunately, women living on the streets rarely report these abuses for fear of not being believed or due to distrust in the justice system.
How Father Joe's Villages helps women experiencing homelessness
In total, Father Joe's Villages served over 3,500 women through our programs in 2020.
We offer 108 beds of Interim Shelter specifically designated for women, and women make up 68% of the adults in the families we serve through the Family Living Center.
In partnership with the San Diego Housing Commission and the City of San Diego, Father Joe's Villages is actively working to end homelessness in San Diego by providing 28 women a safe place to stay in the Bishop Maher Interim Shelter.
Women staying at the shelter receive support and access to comprehensive wraparound services to help them get back on their feet and become self-sufficient.
Additionally, Father Joe's Villages launched a new program that supports young mothers who are experiencing or at-risk of homelessness. The Saint Margaret of Cortona's Harbor program serves new mothers of children 6-months or younger, or expecting mothers between the ages of 18 to 24, as well as their children.
Services of the program include:
on-site, licensed therapeutic childcare
case management
nutritional education
housing navigation
a private room in the Family Living Center at the Joan Kroc Center
prenatal care and classes
At Father Joe's Villages, we understand the unique vulnerabilities women living on the streets experience. We believe that every woman deserves the chance to thrive.
This is why we offer an array of comprehensive programs and services that allow women struggling with homelessness to build a better life for themselves and their families.