At Father Joe's Villages, we believe every person is deserving of respect and dignity. That is why we opened Village Clips, a hair salon that will provide free haircuts to men, women and children who are homeless.
---
Village Clips: Haircuts for People Experiencing Homelessness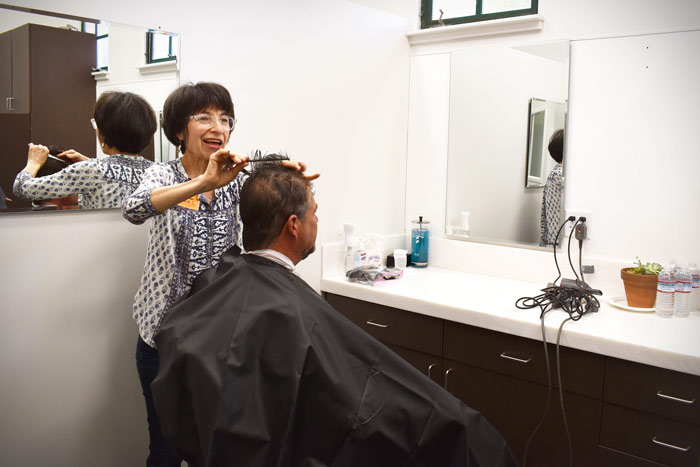 Too often, individuals experiencing homelessness do not have access to things that many of us take for granted, like having a place to clean up or being able to access clean water. That's why Father Joe's Villages opened Village Clips, a hair salon where people who are homeless can have a hot shower and get a haircut.
"The basics of food and water and shelter are very, very important… but then there are simple things—things like laundry services… things like showering…and there's something like getting a haircut," said Deacon Jim Vargas, underlining the importance of providing comprehensive services for neighbors in need.
The hair salon was made possible by long-time board member Bob Leone, President of MRC — Smart Technology Solutions, who had the idea for Village Clips several years ago and offered the financial support necessary to make his dream a reality.
"It's all about helping people down on their luck a little bit and helping them build their self-esteem… When you feel groomed and you look good, those feelings really permeate through," Bob said during the salon's grand opening.
Additionally, the City of San Diego provided a grant supporting Village Clips and the remodel of the shower facilities located just outside the salon. We thank both the City and Leone for their support of this project. Father Joe's Villages has provided showers right across the hall from the salon for over 15 years. Last year alone, we provided more than 29,000 showers to our neighbors in need.
"At Father Joe's Villages because you believe in hope, in dignity, and in human potential. We are grateful to be able to add haircuts to the list of services that we can provide our neighbors in need," said Deacon Jim.
On the day of the grand opening, one neighbor said he was heading to a job interview right after his haircut.
"It looks great," he said afterward, running his hands through his hair. "I feel good."
We always appreciate the support from additional licensed stylists. Click here or call 619-645-6411 to inquire about volunteer opportunities for stylists.
---
Looking for a shower and a haircut? Visit our Get Help page for more information >>
Village Clips Hours: Monday – Sunday 8:30 am to 10:15 am, Monday – Friday 12:30 pm – 2:15 pm
Shower Hours: Monday – Friday 8:30 am – 10:30 am and 12:30 pm – 2:30 pm; Saturday – Sunday 8:30 am – 10:30 am