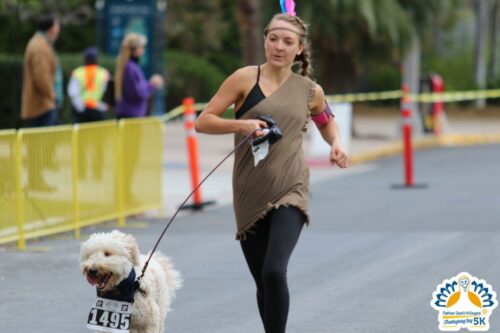 1. You get to spend the morning exploring Balboa Park.
Spend Thanksgiving morning with the family taking in the beautiful, lush scenery of Balboa Park. A place many locals may take for granted, Balboa Park is truly a unique location from its colorful gardens to its elaborate architecture.
2. You can bring your canine companion.
Our Thanksgiving Day 5K is one of the only pet friendly 5K's in San Diego. This is the perfect opportunity to get your pup some exercise—maybe they'll even be too tired to beg for that leftover turkey bone.
3. It's a place where childhood dreams come true.
Forget the trek to the Magic Kingdom this holiday season. Avoid the traffic and crowds, and bring your kids to our Post-Race Festival to meet their favorite Disney-inspired characters—not to mention they can enjoy face painting, games, crafts and more.
4. You can (pretend to) be healthy before Thanksgiving dinner.
Whether you walk or run the 5K, you can counteract some of the delicious calories to come. Or put those calories right back on by grabbing a fresh homemade pie, baked by our Culinary Arts Program, on your way out.
5. There's something for everybody.
How do you plan family activities when your aunt is a health nut, your cousins want to sip on brews and your grandpa just wants to relax and enjoy the atmosphere? At our 5K, everyone can find something fun to do—whether it's competing for a race medal, enjoying our beer garden or sitting back and listening to live blues music.
6. You can help us serve over one million meals to our homeless neighbors in need.
Most importantly, our 5K gives you the opportunity to give back. While many of us will be enjoying a warm meal with our loved ones on Thanksgiving, others are struggling to provide food and shelter for their family. Help Father Joe's Villages serve over one million meals to homeless individuals and families in San Diego.
Click here to register today for the Thanksgiving 5K.