Father Joe's Villages honors employees who demonstrate Compassion, Respect, Empathy, Empowerment & Dignity for neighbors in need.
---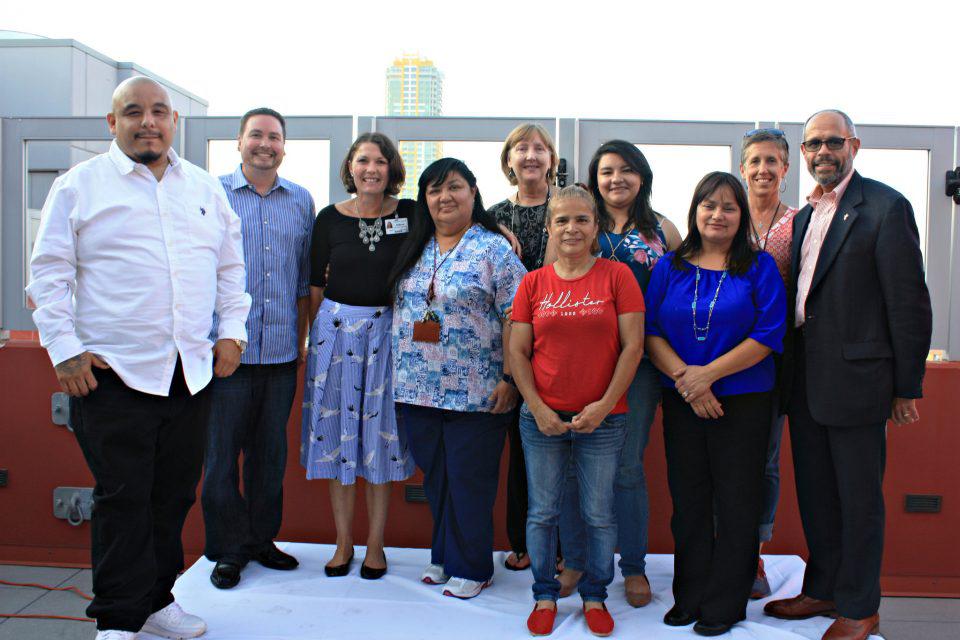 Exemplifying the CREED
On Tuesday, July 29, Father Joe's Villages held the 3rd annual Living the CREED Recognition Dinner, honoring recipients of the Living the CREED award.
Father Joe's Villages presented the award to nine individuals—all of whom were nominated and selected for exemplifying the values of Father Joe's Villages' CREED:
Compassion: Concern for others and a desire to assist.
Respect: An act of giving particular attention or special regard.
Empathy: Understanding, an awareness of and sensitivity to the feelings of others.
Empowerment: Helping others to help themselves.
Dignity: Counting all people worthy of our esteem.
Together, the nine individuals represent the diverse skill sets and disciplines that make up Father Joe's Villages. However, each staff member was nominated because they share the ability to practice genuine empathy and compassion while serving our neighbors in need. They treat each neighbor with respect, while also helping them become more self-sufficient and supporting each clients' abilities, hopes and dreams. Because of their amazing dedication to our mission, they were selected to be honored with food, celebration and congratulations at the Living the CREED Recognition Dinner.
---
Recognizing Excellence
During the dinner, each awardee was served a three-course meal, complete with appetizers, an entrée and dessert prepared by the Freddie Evarkiou Culinary Arts Program. They were also greeted by their supervisors, who commended them for their work.
The program of the night consisted of a short speech from Deacon Jim Vargas. Addressing the awardees and their families, he said:
"[The Living the CREED award is about] always recognizing… that there's potential in each and every single individual—no matter what. And that's what you do. That's what you exemplify."
Afterwords from Deacon Jim, Elva Espinoza, our Human Resources Corporate Manager and the event organizer, spoke of the process for nominating and choosing the honorees.
Finally, each staff member was invited up to the stage individually to hear their nomination and be given an award by Deacon Jim.
---
2017 Living the CREED Honorees
It is with great pride and appreciation that Father Joe's Villages honored the following staff for leading the way in supporting our efforts to transform lives and end the cycle of homelessness:
Elisa Uriarte – Housing Navigator
"Elisa has a wonderful heart. She has a great desire to assist her clients to become successful in terms of getting an income and successfully exiting the program. One of the many examples is assisting a client who has terminal illness get into housing as soon as possible, so the client can enjoy life having a place he can call his own."
Jacqueline Skewes – Medical Assistant
"Jackie has shown to be a leader, taking on organizational tasks and taking extra steps for work efficiency that benefits the clinic and the patients. Because of Jackie's creed like behavior she boosts everyone's self-esteem and makes those around her feel worthy!"
Dr. Kathryn Wiens – Mental Health Clinician
"Kathryn treats everyone she interacts with in a CREED-like manner. She demonstrates a clear passion for supporting our homeless neighbors in need and has expertise in trauma, emotion regulation, and managing crises… She creates a safe, calm space for her clients and peers whenever they are in need, regardless of the many challenging things that occur in her own day personally and professionally."
Leopoldo Medrano – Security Officer
"Security Officer Medrano, Leopoldo is always there to back up his fellow officer. Every day he shows the strength and courage needed for the job and has excellent people skills. Medrano's dependability, bravery and excellent public relations are all a testament of his CREED."
Lidia Martinez – Custodian
"Lidia exemplifies the CREED aspects of Empowerment and Dignity. She empowers clients to change every day by showing them what work ethic is. She works tirelessly and goes above and beyond with her positive attitude and productivity daily."
Linda Pitzer-Donato – Employment & Education Services Instructor
"Our clients come from all over; some are residents of Father Joe's, and some come from the streets. I have witnessed Linda help all clients with resumes and interviewing, and working on the computer to print an income or a bank statement. Even when Linda is busy, if she sees a client needs help going from one floor in the PMC to another floor, Linda will stop what she is doing to help."
Scott Gibson – Lead Computer Tech
"As Network Administrator, Scott is barraged with questions, struggles, complaints, and frustrations of staff who have varying levels of understanding of computers and IT. Scott is ALWAYS patient, calm, and kind whether he is dealing with a simple question or a complex crisis."
Sonia Sueck – Customer Service Clerk
"[Sonia] responds to all people's thoughts and problems in the same warm, compassionate manner, every time leaving the person feeling heard and their dignity uplifted. With Sonia, every person is valid and their issues are valid."
Terri Hightower – Mental Health Clinician
"In addition to serving as a supervisor in her role, Terri tirelessly supports the families and children of FJV and lives out the values of the creed in both her words and behaviors. She is a skilled mental health clinician, offering compassion, respect, and empathy to these individuals. That this job is more than a job to Terri is clear, as she genuinely cares about the individuals she serves and always tries to empower them to make healthy choices in their lives."
Father Joe's Villages is proud to employ so many individuals who honor and exemplify our CREED. It is only through the spirit of our CREED, that Father Joe's Villages' was able to serve over 13,500 individuals last year. Thank you to all members of our staff who work so hard to further Father Joe's Villages' mission to end homelessness, one life at a time.