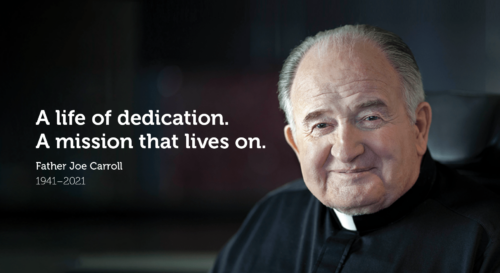 Father Joe's Villages' founder and President Emeritus, a San Diego visionary and leader, Father Joe Carroll, passed away from health complications on July 10th. His final moments were filled with peace and support.
As an icon of the Southern California region and beyond, Father Joe Carroll selflessly and tirelessly served our community for more than three decades. He dedicated his life to ending homelessness, and his efforts on behalf of poor and impoverished people in San Diego are legendary.
Born in the Bronx in 1940, Joseph Carroll grew up with his parents and seven brothers and sisters across the street from St. Joseph Catholic Church. Joe moved from the Bronx to Southern California in 1963, where he entered the seminary. In 1974, he was ordained a Catholic priest and devoted the next eight years to parish work, building a strong group of supporters who found his charisma and gregarious personality hard to resist.
Father Joe Carroll's Dedication to Address Homelessness in San Diego
Father Joe's efforts to address homelessness in San Diego began in 1982 when Bishop Leo Maher needed a new Director to take over St. Vincent de Paul Center. When Bishop Maher asked his clergy personnel board, "Who is the biggest hustler in the diocese?" Each member of the committee had the same answer: Father Joe.
"He can squeeze money out of a rock," said Monsignor Dennis Mikulanis, a longtime friend who was on the committee.
The Bishop offered Father Joe the position and charged him with finding a better option for the community's neighbors experiencing poverty and homelessness. Father Joe likes to say that he tried to politely decline the task, since he was unfamiliar with this type of work, but the Bishop insisted that he was the man for the job.
By all accounts, Father Joe rose to the occasion. He soon became known for passing out peanut butter sandwiches (sans jelly — they couldn't afford it yet!) to those who were hungry in the community. He also traveled the country researching homeless service providers and saw nothing that inspired him.
Father Joe Carroll's Revolutionary Approach
Father Joe's revolutionary approach began simply: by listening. He began to hear directly from people experiencing homelessness what they needed to move off the streets. What he heard was that men, women and children were facing countless issues just trying to survive and struggled to focus on obtaining housing and income—and they needed comprehensive services to truly achieve success.
In 1987, only 5 short years after taking the helm, Father Joe expanded his ministry from handing out peanut butter sandwiches to opening a $12 million facility known as the Joan Kroc Center. The first of its kind, the facility included housing for families and single adults, a medical clinic, childcare, meals, and job training all under one roof. The Joan Kroc Center was followed by the Bishop Maher Center in 1989 and the Paul Mirabile Center in 1994.
In addition to overseeing the construction of numerous buildings, Father Joe's Villages created innovative programs such as our Therapeutic Childcare Center, Employment and Education Services, the Village Health Center, our Transitional Housing Program for Families, and more. Father Joe also led the creation of three other locations: Toussaint Academy in San Diego, M.A.S.H. Village in Las Vegas, and Martha's Village & Kitchen in Indio.  The latter two are now both separate entities from Father Joe's Villages.
Father Joe Carroll's Life in Retirement
Upon his retirement in 2011, Father Joe had overseen the growth of one of the most comprehensive homeless services agencies in the country. Father Joe's Villages' campus includes multiple shelters and affordable housing communities, a federally qualified health center with a dental clinic and state-certified addiction and treatment center, a therapeutic childcare center, a public lunch program, and an employment and education center.
Father Joe's example has touched the lives of hundreds of thousands of people in San Diego and helped tens of thousands of neighbors end their homelessness for good. He kept our mission close at heart, and the spirit on which the organization was founded alive and well.
San Diego has been truly blessed to have such an exemplary model of compassion, respect, empathy, empowerment, and dignity in our community. The community can still feel the impact of Father Joe's boundless capacity for compassion as well as his unwillingness to take no for an answer when it came to fighting for those in need.
We will continue this legacy of love well into the future.