Though these are difficult times, it is often during unprecedented crisis that heroes are made. In the face of a pandemic, Father Joe's Villages' dedicated staff remain on the frontlines, continuing to provide critical services 
such as shelter, health care, meals and hygiene services 
to people living on the streets.    
---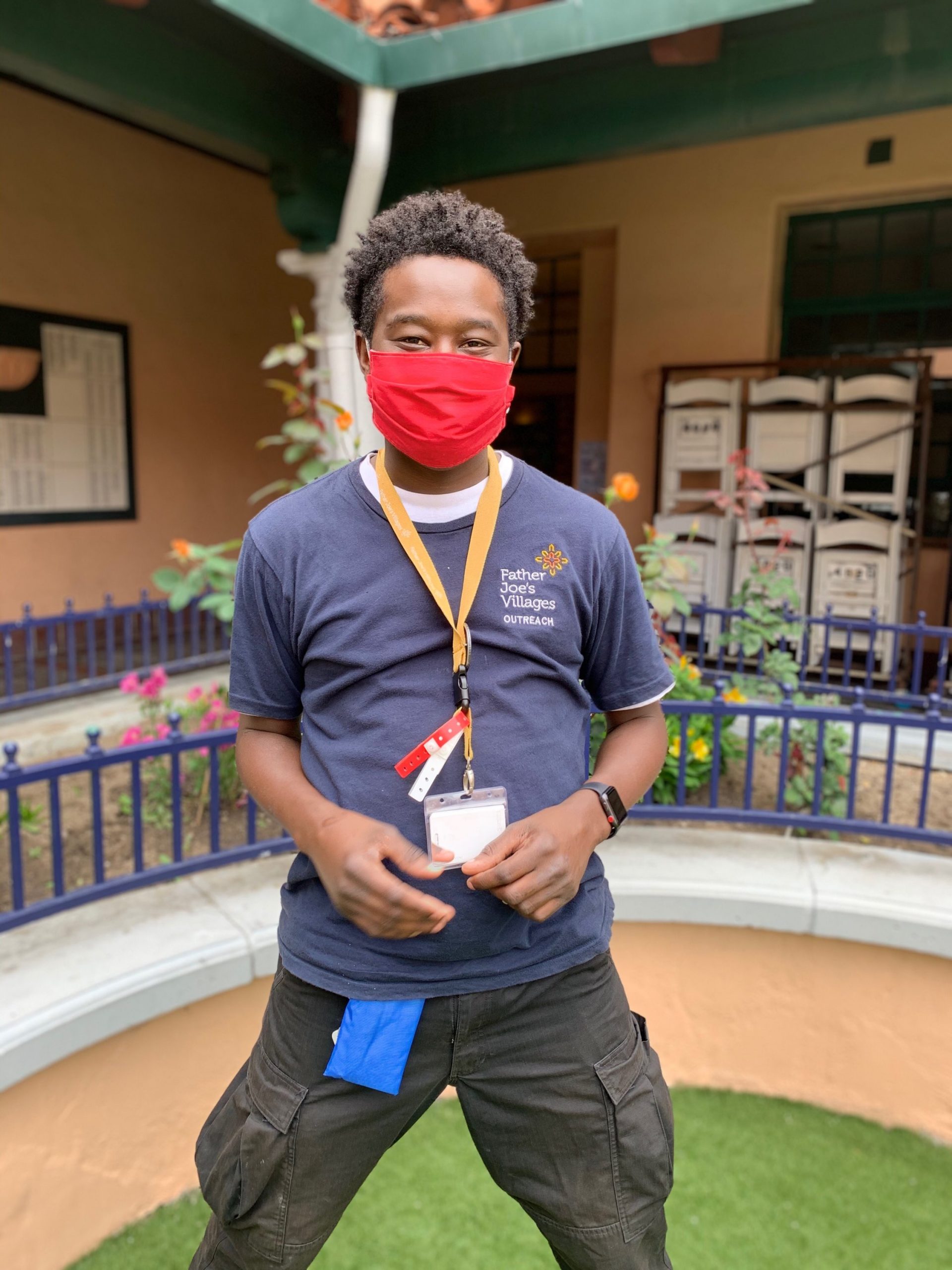 Reaching Out to a Community in Need
For 70 years, Father Joe's Villages has been there for those in need, providing compassionate and empowering programs that restore hope and change people's lives. Father Joe's Villages' effective solutions are more necessary now than ever, and our dedicated staff remain on the frontlines of the COVID-19 crisis protecting the health and safety of those most vulnerable in the community.
Neighbors experiencing homelessness are at a higher risk of serious illness and, without the comforts of a safe shelter, often have a difficult time recovering from sickness. Understandably, the uncertainty of this global health crisis has many people living on the streets at this time feeling worried, hopeless and alone. In the face of a pandemic, the dedicated Homeless Outreach Team at Father Joe's Villages continue to show up every day for neighbors in need, reassuring residents that they won't be abandoned during this frightening time.
Homeless Outreach workers Megan, Garrett and Deonte canvas the city of San Diego, building relationships with people living on the streets and connecting them to important resources. The Father Joe's Villages' Homeless Outreach Team canvass the streets of the East Village, Barrio Logan, Sherman Heights, Hillcrest and other areas looking to offer assistance to people experiencing homelessness. For those who want help, they offer them space in one of Father Joe's Villages shelters. They also work to connect them with other resources such as meals, showers, medical care and more that will help them out of homelessness and improve their quality of life. Megan, Garrett and Deonte understand that our homeless neighbors are experiencing challenging circumstances, and they approach each person with empathy and compassion.
"It's important to build trust with the individuals we talk to," Garrett says. "When we build a rapport with them, they are more likely to accept help."
Due to the ever-changing information regarding the pandemic, the Outreach Team's daily routines are constantly fluctuating. Even so, they remain flexible and diligent when it comes to helping those they serve.
"There are lots of day-by-day changes, and we are often coordinating with the County," explains Deonte. "I've been doing outreach for the new shelter at the San Diego Convention Center, for the most part, getting clients registered, providing them with medical screenings and making sure they eat. I just want them to feel safe right now."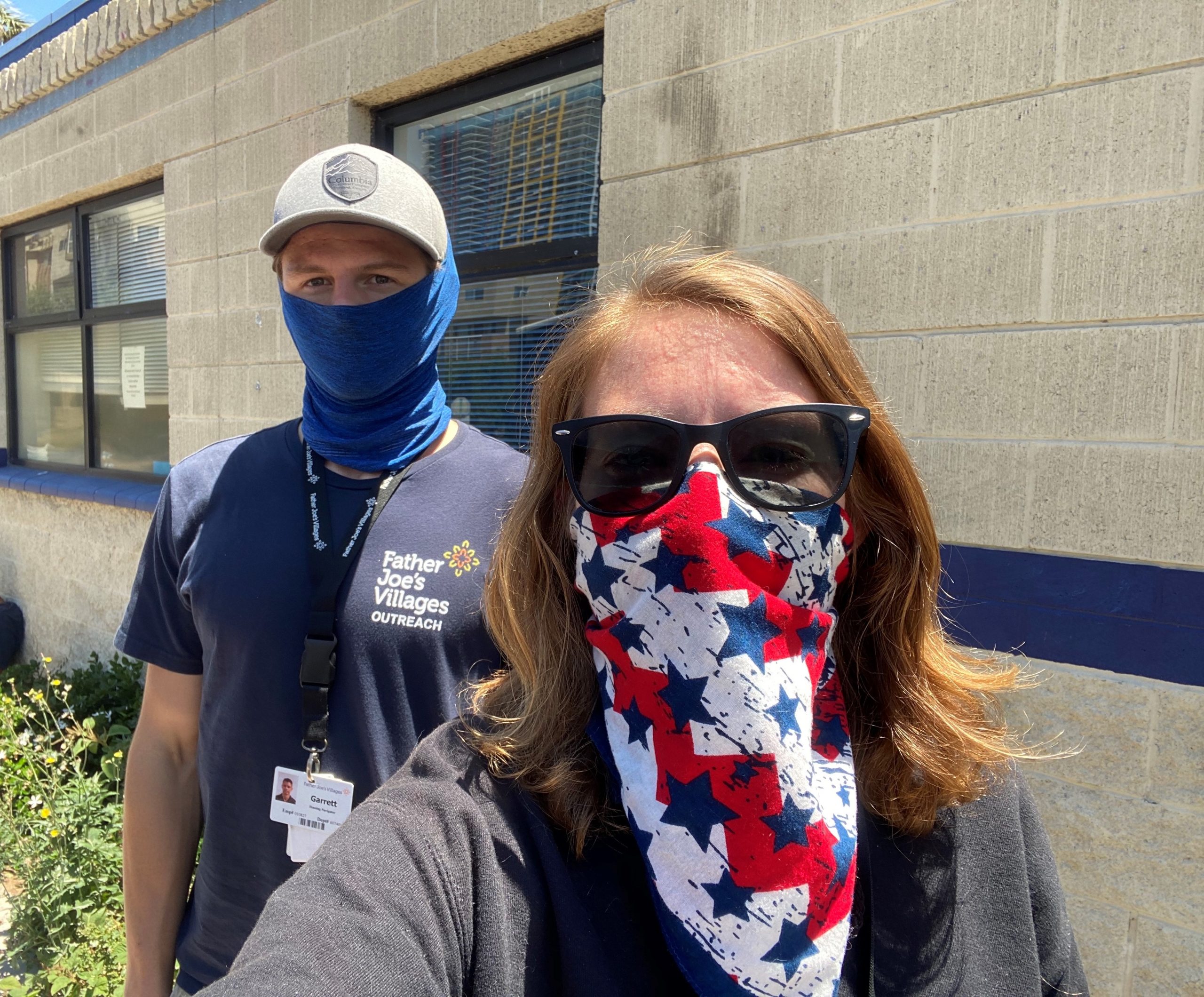 During the pandemic, the Outreach Team's responsibilities have grown. Megan and Garrett have been instrumental in spreading awareness for Father Joe's Villages' expanded food services locations, trying to ensure that none of our neighbors go hungry at this time. Additionally, the team has been distributing hygiene kits filled with critical essentials including toothpaste, toothbrushes, bottled water, masks and more.
"We are trying to protect everyone we can from getting the virus," says Megan. "It's important to make sure they have food and a safe place to go at this time. It's critical that we get as many people off the streets as possible." 
Keeping Our Neighbors Safe
The Homeless Outreach Team at Father Joe's Villages' are another example of how Father Joe's Villages selfless staff are helping homeless neighbors during the COVID-19 pandemic. By assisting them off the streets and into shelter, Megan, Garrett and Deonte aren't just keeping our neighbors safe during a health crisis, they are continuing to bring our neighbors in need one step closer to permanent housing. The compassion and respect our Outreach workers show to individuals who often feel forgotten by society is crucial in helping them continue their journey out of homelessness, even in this uncertain time. 
"I work with such an amazing team of people that are passionate about helping others," says Garrett. "It's an honor to be able to do what I do."