Though these are difficult times, it is often during unprecedented crisis that heroes are made. In the face of a pandemic, Father Joe's Villages' dedicated staff remain on the frontlines, continuing to provide critical services 
such as shelter, health care, meals and hygiene services 
to people living on the streets.    
---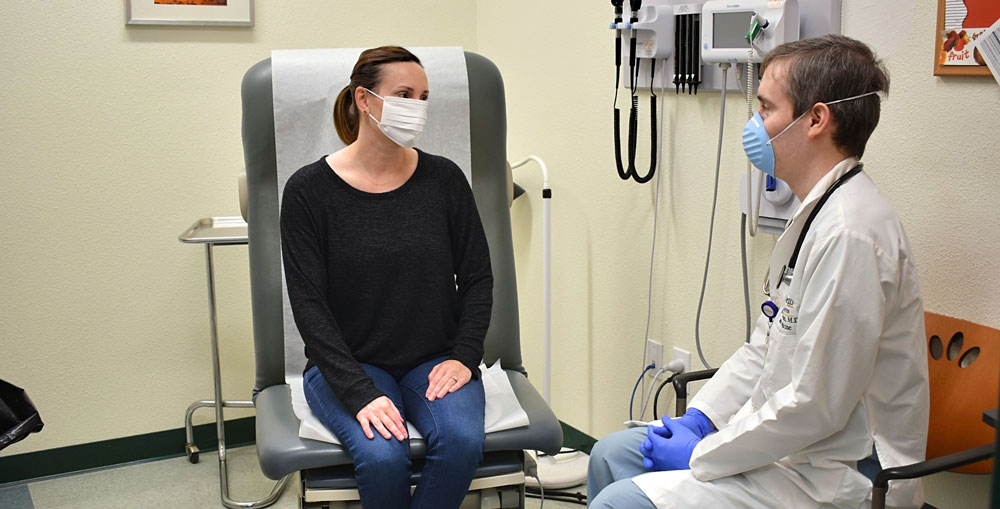 Village Health Center Staff on the Frontlines
For decades, our Village Health Center's medical, dental and mental health services have provided essential care to people experiencing homelessness. As a Federally Qualified Health Center, the clinic serves individuals regardless of their ability to pay and enables people who wouldn't otherwise have access to crucial health services to get primary care, dentistry, psychiatry, substance-use disorder treatment, medications, and other resources that they need to maintain health and wellness. 
Now, during the COVID-19 crisis, the life-saving efforts of our Village Health Center are more critical than ever. As the only homeless services provider also operating a health center, Father Joe's Villages' integration of homeless services and health care means the organization has been able to proactively screen residents and community members, rapidly isolate people who present with symptoms of COVID-19, and provide health care to those in the community who are most vulnerable to negative health outcomes. 
Triage Nurse Mary Jo Scarpitti and Patient Services Representative and Medical Assistant Shela Rocha are two health care professionals working on the frontlines to serve people in need. 
Health Services Are More Important Than Ever
"My job [as a Patient Services Representative] entails checking in, registering and scheduling the patients, providing patients with information on the many services that we provide here at the clinic," Shela said of her day-to-day work. "Registration is important because we're the first faces they see when entering the clinic. We are the front lines that help establish a rapport with clients, making them feel comfortable to come in and be seen." 
Right now, Shela recognizes that her work is more crucial than ever. "It's important that people know that we provide a lot of different services; that we're still here and can help them at any time." 
Mary Jo also underlined the increased importance of Village Health Center services. "We still need to serve these patients as best we can because we're their only source for health care," she said. "We still need to function in that capacity and keep our residents and our community safe. We have such a high-risk population, if they were to get the virus, it could be fatal. It would be detrimental to their community, as well as society at large. Keeping our residents safe, keeps our community safe." 
As a Triage Nurse, Mary Jo says her job is to "see what a patient might need and connect them to the services. We triage patients, get them in to see a doctor, administer wound care, medical administration, and, now, offer screening for COVID-19."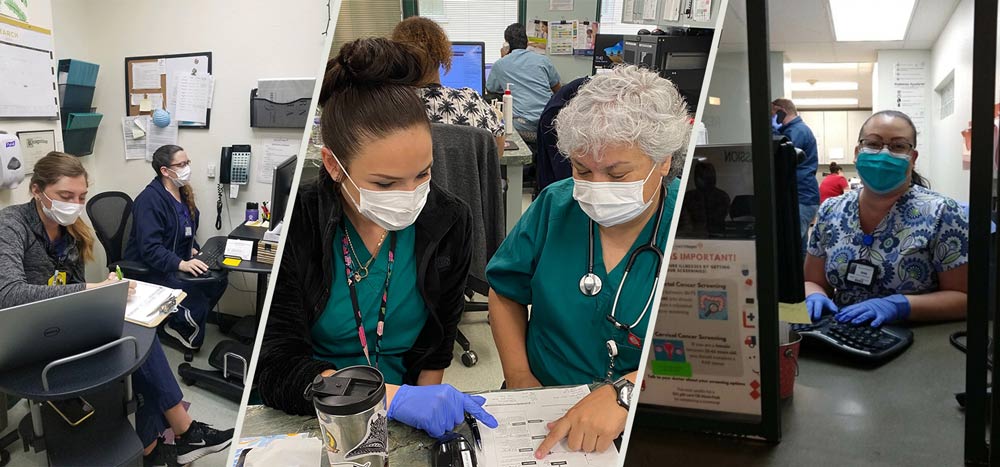 Adjusting Services During the COVID-19 Crisis
Father Joe's Villages is unique in that we are the only provider in San Diego that also operates a Federally Qualified Health Center. This integration of homeless services and health care means the organization has been able to proactively screen residents and community members and rapidly isolate people who present symptoms of COVID-19. In response to the outbreak, Village Health Center staff have been screening individuals for COVID-19 symptoms upon entry to the waiting room of our Village Health Center, on the streets through our Street Health program, over the phone through our RN triage line, and in Father Joe's Villages' shelters.  
"We're trying to get people seen and get their needs met while keeping the staff safe," said Mary Jo. 
Shela agrees that staff safety is a top-priority. "[The crisis] put up more awareness of personal protective equipment (PPE); masks, gloves, washing hands, screening patients before they walk in the clinic, so that the community stays safe." 
In addition to increased PPE protections for staff, Village Health Center team members have also adjusted some services at the clinic to provide for physical distancing and protect client safety as well. 
"We're offering telehealth visits. Clients don't have to go in if they don't want to. They can do their medical or behavioral health visits over the phone," stated Shela. "We help clients know that our pharmacy does offer delivery so they don't have to go to the pharmacy if they need a prescription." 
Additionally, the Behavioral Health team (mental health and substance use disorder treatment counseling services) are providing phone-based appointments in lieu of individual and group sessions. 
However, moving to telephonic services doesn't make them any less important. "A lot of times with patients who have mental health issues, [the COVID-19 crisis] puts them in a panic. We can provide comfort with the mental health services that we have. We can let them know that we're still here for them." 
Committed to Changing Lives
Amid all of these changes and the increased risk in the community, both Mary Jo and Shela continue to come in every day and offer life-changing care to neighbors in need. Even more, the crisis has only emphasized the devotion they have for their work. 
"I love my job. It's the reason I became a medical assistant. It's something I love to do," said Shela. "With a lot of people scared and panicked, it's more of a reason to come in every day to be there for those people and continue to provide services for those in need, especially during this crisis." 
Mary Jo agrees. "I've been really inspired by the team that we have in the clinic here. Everyone is still showing up. We still have the same, if not more motivation and drive to serve our patients. Everyone has really come together as a team."
"It's really inspiring to be a part of something like this. It feels so important. To have people at such high risk and high need. Being a part of [the emergency response efforts] is so special and so beautiful. I feel so lucky to be a part of a team doing such amazing things." 
On behalf of Father Joe's Villages leadership, donors and neighbors in need, thank you to Shela, Mary Jo and the entire Village Health Center team for bringing expert health care and compassion to people experiencing homelessness during these uncertain times. Their hard work, professionalism and commitment to Father Joe's Villages' mission to end homelessness truly highlights their roles as Village Heroes.