The St. Vincent de Paul Ladies Guild
Ladies' Guild History
Fr. Joe Carroll established The St. Vincent de Paul Ladies Guild in 1983. The Ladies Guild is a non-denominational service organization whose mission is to assist in the work of Father Joe's Villages and to help acquaint people with the facilities and programs available there. It is an all-volunteer group of approximately 250 women who raise funds dedicated solely to benefit the children at Father Joe's Villages. The Guild's annual fundraiser – a luncheon and silent auction – as well as the Autumn Craft and Bake Sale are the major events held to achieve the mission of preventing and ending homelessness in San Diego, one life at a time. Members of the Ladies Guild record their volunteer hours, which totaled 13,655 in 2016.
Ladies Guild Pledge
Assist staff at Father Joe's Villages by performing works of charity
Acquaint people with Father Joe's Villages facilities and programs for neighbors in need
Serve in a manner mindful of spiritual and religious values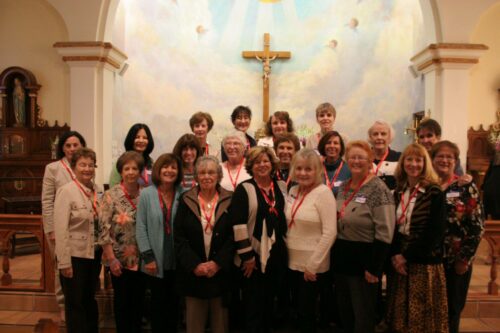 2017-2018 Officers
President: Kristi Keith
President-Elect: Trish DeLaRosa
Corresponding Secretary: Janet Lemon
Recording Secretary: Kathy Brown
Treasurer: Yvette Boodro
Co-Parliamentarians: Ann Link & Janet McDowell
Village Liaison: Laura Kojima
Upcoming Events
Village Ladies Guild September Membership Luncheon
You are cordially invited to attend our Annual Membership Luncheon.  Come learn about our volunteer opportunities that are easy, creative, and fun, while you meet the nicest group of women around!
Please join us and invite a friend to share the rewarding experience of volunteering with the members of the Ladies Guild.  We request that guests and new members RSVP by September 1 by contacting Margie Mills:  margie.r.mills@gmail.com or text/call 619.733.7410.
Date:     Monday, September 11, 2017
Time:     11:00 a.m.
Where:  St. Gregory the Great Catholic Church
               San Diego, CA 92131 (Scripps Ranch)
               (Plenty of parking available)
RSVP Deadline:     September 1, 2017 (Guests and new members only)
VLG Membership Chairs:
Linda Arviso       hgbacker@sbcglobal.net
Margie Mills       Margie.r.mills@gmail.com
October's SO FUN (SOcial FUNdraiser) for Ladies Guilders and Friends Benefiting the Children at Father Joe's Villages!
Grab a friend, head to Santee, and join us as we experience music, good times, and laughter in a series of one-act sketches "Variety Show" style! OffBroadwayLive.com is providing the fun and the venue – all we need to do is grab our tickets (by September 5!!), "show for the show," and enjoy!
Date:     Friday, October 20, 2017
Time:     7:30 pm
Where:   Off Broadway Live Theater
9490 Cuyamaca Street, Santee  92071
Ticket Cost:  $33 and $38 (benefits Ladies Guild & the children of Father Joe's Villages
Buy Tickets: Call the Box Office at 619-988-LIVE (5483) by September 5!
RSVP Deadline: September 1, 2017 (Guests and new members only)
Meetings
Held on the second Monday of each month at the Home Office, except for special occasions
Annual Events for Members, Prospective Members and Guests
February: Fundraiser/Silent Auction & Luncheon
March: Day of Recollection
May: Installation Mass & Luncheon
June: Potluck
September: Membership Coffee
October: Autumn Craft/Bake Sale
December: Christmas Luncheon
Volunteer Opportunities
Serve as Village docent
Provide clerical support
Assist with sales and stocking at Father Joe's Villages Thrift Stores
Host monthly birthday parties for Father Joe's Villages preschoolers
Serve holiday meals
Help at annual Father Joe's Villages events such as Thanksgiving Day 5K
Participate in Father Joe's Villages holiday shopping and wrapping event
Membership Options
Active: $30 and 50 hours of service at any Guild or Village event or project
Associate: $50 with no minimum service hours
Cards 'n' Scarves
These 4.5″x6" note cards and 14″x72" 100% silk scarves depict the 7-story glass mural on the west side of the Villa Harvey Mandel building. This massive signature art piece, among the largest of its kind in the world, was made specifically for Father Joe's Villages by Botti Studios and features the wide variety of services rendered through Father Joe's Villages to the San Diego community. We are pleased to make this art available in miniature and wearable form.
Suggested donation for packages of 10 cards with envelopes: $10 each
Suggested donation for Signature Scarves: $35 each for Ladies Guild members/ $45 each for non-members
For more information, contact alexihaag@gmail.com.
We welcome you to become a member! To do so:
Thank you for your interest and support!