Make this Thanksgiving one of the greatest days of the year… just follow these five tips! Father Joe's Villages' Thanksgiving Day 5K can help your family have the best Thanksgiving morning ever.
---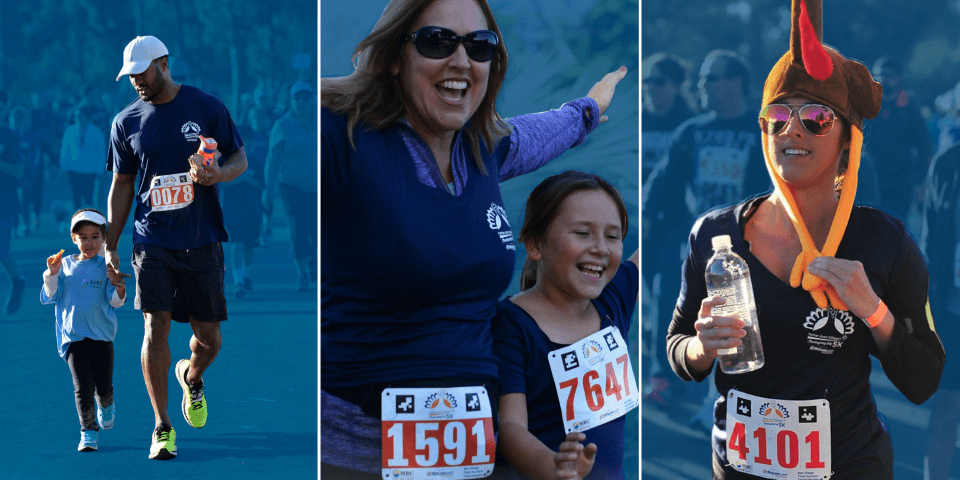 Offset the guilt with some exercise.
Aside from giving thanks and spending time with family, we all know that Thanksgiving is really about the food. As much as we enjoy eating big servings of turkey, mashed potatoes, stuffing and lots of pie, we all might feel a little guilty afterward. That's why taking part in Father Joe's Villages' Thanksgiving Day 5K can help relieve any self-reproach. You can run, walk or even sprint and still feel good about eating a big meal. After all, you're just carbo-loading, right?
Diversify your desserts.
Everyone has different pie preferences—especially the little ones! But who has time to bake 4 kinds of pie, plus a turkey and sides? Our Culinary Arts Program does! Our students prepare hundreds of pies so you don't have to. In fact, Father Joe's Villages' Thanksgiving pies are so delicious, they're now a San Diego tradition! You can get a scrumptious, freshly baked pecan, pumpkin, blueberry and apple pies for only $15 each: Bring home one of each and everyone will enjoy Thanksgiving dessert. Pick them up at the Thanksgiving Day 5K!
Plan some activities.
It can be difficult to guarantee family fun on Thanksgiving—especially since you have to spend so much time in the kitchen. Planning games and activities and getting out to enjoy the mild San Diego weather is essential to having a fantastic day with your family. That's where the Thanksgiving Day 5K comes in. After participating in one of San Diego's longest-standing Turkey Trot, enjoy a post-race festival with live music, a kid's area with Disney-inspired princesses, a costume contest and a beer garden. This year, you can guarantee that everyone will have a good time on Thanksgiving morning. The rest of the day is up to you.
Give your pup some love.
It's scientifically proven that dogs make us happier. So why not let Fido join the holiday festivities? You, your family and your pup can get some exercise by walking, running or sprinting our beautiful 3.1-mile course. Then, enjoy the dog-friendly post-race festival. Brighten your Thanksgiving day with some tail-waggin' fun and invite your dog along for the ride.
Give back.
Thanksgiving reminds us to be grateful for the things we have. It is also important to recognize that not everyone has the same privilege. There are over 9,100 people living on the streets of San Diego on any given night. We all have something to give to our neighbors in need. For that reason, the Thanksgiving Day 5K provides a fun atmosphere for people of all ages to participate in the beauty of giving back to others. Proceeds will help Father Joe's Villages prepare and serve 1 million meals to our homeless neighbors in need.
Join the movement to end homelessness in San Diego >>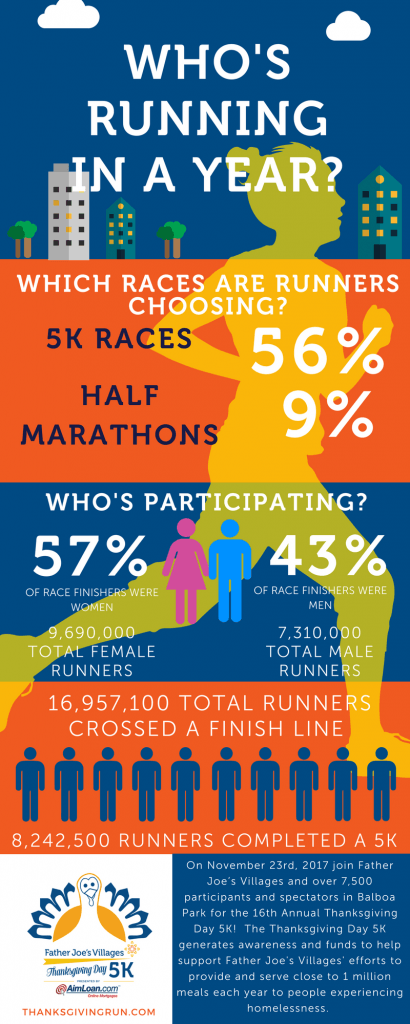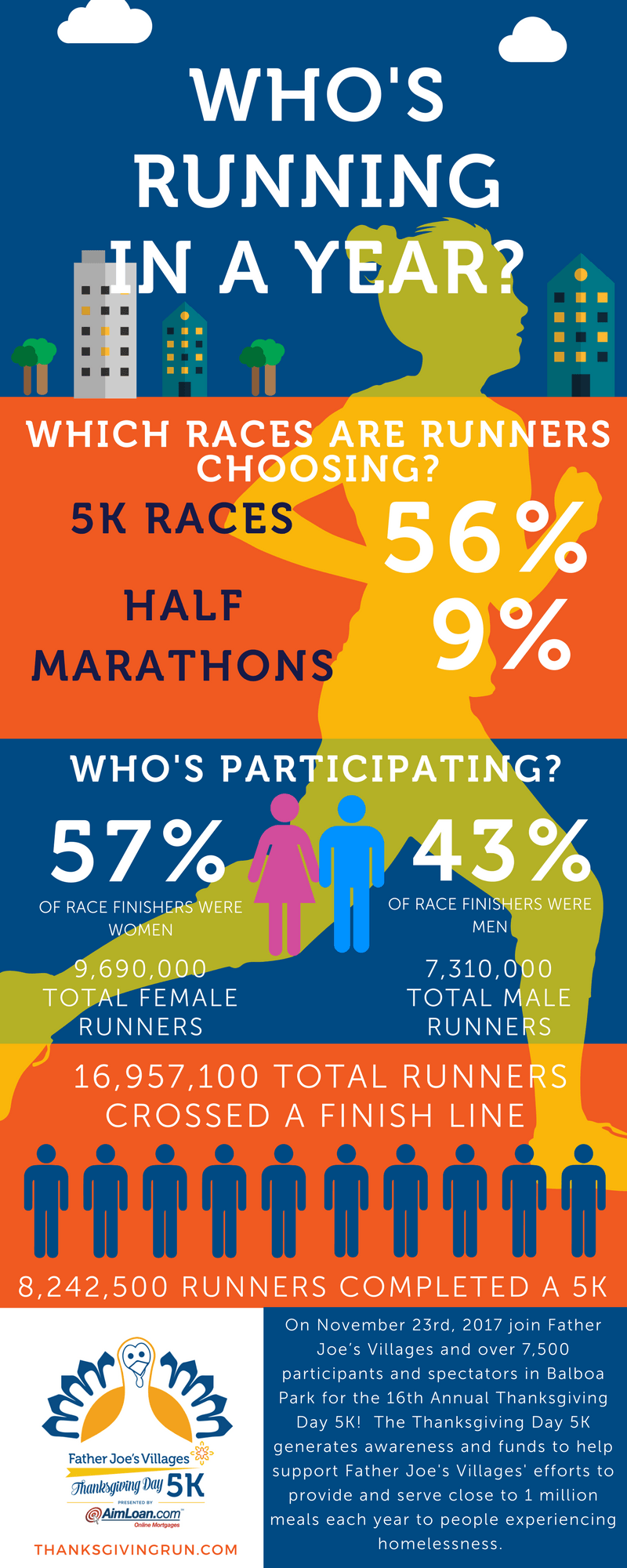 ---
Want to use this infographic on your site? Copy and paste this code!
<img class="aligncenter wp-image-5198 size-full" title="5K Infographic Running Infographic" src="https://my.neighbor.org/wp-content/uploads/2017/11/father-joe-5k-runner-infographic.png" alt="5K Infographic" width="800″ height="2000″ />
About the Thanksgiving Day 5K
Join over 7,500 participants and spectators for the 14th annual Thanksgiving Day run through Balboa Park on November 23, 2017. The course begins at the San Diego Museum of Man, winds through the iconic Balboa Park and ends in a post race festival with live music, a beer garden and a costume contest. Don't forget to pick up one of the famous Father Joe's Thanksgiving pies at the race as they sell out quickly! The race begins at 7:45 a.m. 1549 El Prado, Balboa Park. Register today >>