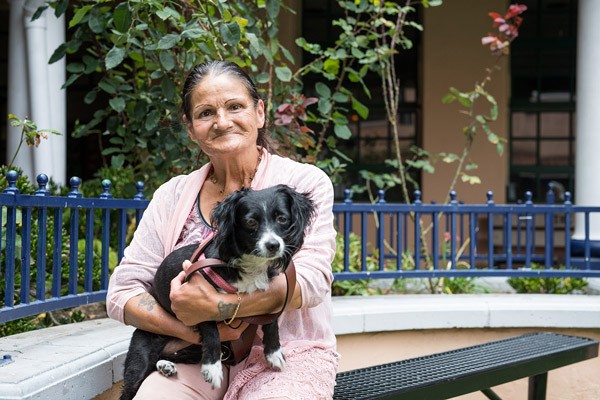 No one imagines spending their retirement years homeless and consumed with hunger. For Pamela, however, this became the reality when she could no longer afford her apartment on her fixed income. With no place else to go, Pamela and her dog, Molly, were forced to move into a tent in an empty field.
Cold and hungry, Pamela was never sure when she might eat her next meal. At 59 years old, she spent the entirety of her days searching for food and hauling heavy buckets of water to her tent.
"Being homeless was such a horrifying experience for me— especially becoming homeless in my late 50's," Pamela explained through tears. "You're starving all the time. Everything is hard when you're homeless."
When the pandemic began, Pamela feared for her health and decided to seek shelter with Father Joe's Villages. Within emergency shelter, Pamela was overjoyed to be offered a warm bed and three healthy meals each day prepared by Father Joe's Villages' Food Services program.
"It was a blessing to have shelter. After living in a tent for three years, I felt very lucky to have three good meals a day and not have to deal with hunger pains all the time," said Pamela.
After having her essential needs met by Father Joe's Villages, Pamela was able to focus on overcoming homelessness. Proudly, she has secured employment, moved into an apartment of her own, and found peace after years of fear, desperation and hunger while living on the streets. This Thanksgiving, she will enjoy cooking her own fresh meal in her new kitchen.
With 1 in 3 people in San Diego experiencing food insecurity, Father Joe's Villages' Food Services program is a critical lifeline for homeless men, women and children in need. To combat hunger among homeless neighbors like Pamela, we serve hot, nourishing meals 365 days a year to people who are most vulnerable in the community.
For a hungry neighbor in need, a healthy meal can be the difference between merely surviving and truly thriving.
Help Father Joe's Villages provide nutrition, sustenance and hope to people experiencing homelessness by donating today.