The State of Homelessness in San Diego and Solutions at Work
Father Joe's Villages shares the unique challenges facing our community and the solutions that we believe will make a lasting difference in the lives of people experiencing homelessness. Read more about the state of homelessness in our report.
FATHER JOE'S VILLAGES REPORTS
Father Joe's Villages Compassion in Action Report
Dive into the heart of our mission with Father Joe's Villages Compassion in Action Report: Our Neighbors in Numbers. This comprehensive document reveals the impactful services and support we provide to individuals and families experiencing homelessness and poverty in our community. Explore the diverse range of programs, from housing assistance to healthcare access and mental health services designed to empower lives and foster self-sufficiency. Discover the stories of resilience and transformation as we share the progress made by our clients on their journey to stability and hope. Together, we're making a difference, one person at a time.
Father Joe's Villages Blue Book Report
Introducing the Father Joe's Villages Blue Book, your guide to understanding our organization's mission, values, and the comprehensive services we provide to individuals experiencing homelessness and poverty. Delve into the pages of this insightful resource to learn about our history, community impact, and vision for a brighter future. Explore our collaborative approach to ending homelessness and discover the numerous ways you can make a difference. Whether you're a supporter, volunteer, or community partner, this Blue Book is a compass for compassion, guiding us all toward a more compassionate and inclusive society. Join us on this transformative journey today.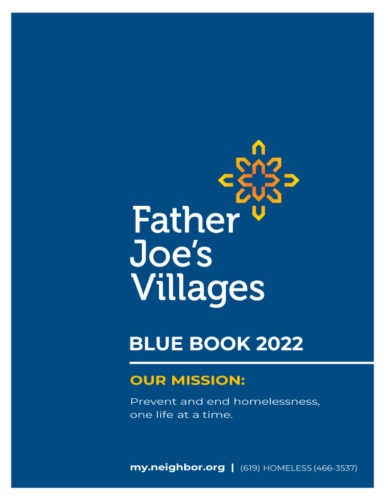 2023 Investor Call
Join us for an insightful Investor Call hosted by Father Joe's Villages, where we delved into the transformative work being done to combat homelessness and poverty in our community. Explore our financial performance, strategic initiatives, and the measurable impact of investments in our organization. Review the exclusive opportunity to engage with our leadership team, and discover how your partnership drives positive change. Together, we're not just changing lives; we're changing the future. If you missed the original call, relisten here of a conversation that matters.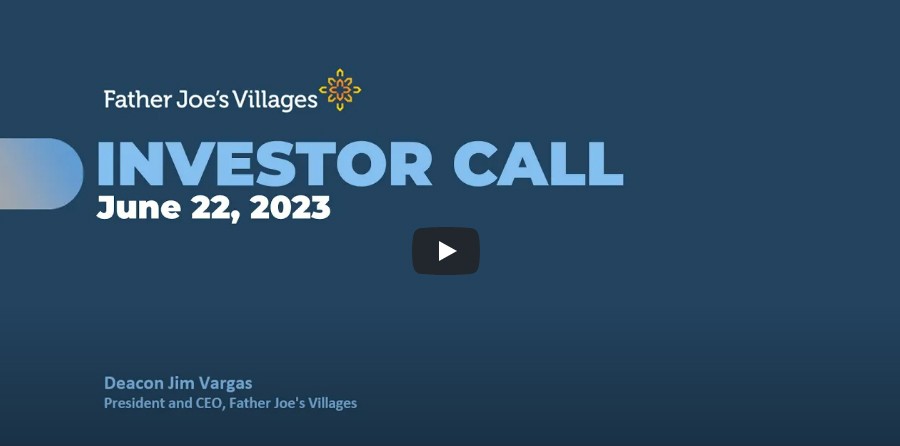 Annual Reports
Discover the incredible impact of Father Joe's Villages in our latest Annual Report. Join us on a journey through the past year as we highlight the inspiring stories, achievements, and milestones that have made a difference in the lives of homeless individuals and families in our community. From housing initiatives and job training programs to healthcare services and compassionate outreach, our report showcases how your support has transformed adversity into hope. Together, we continue to build a brighter future for those in need, one life at a time.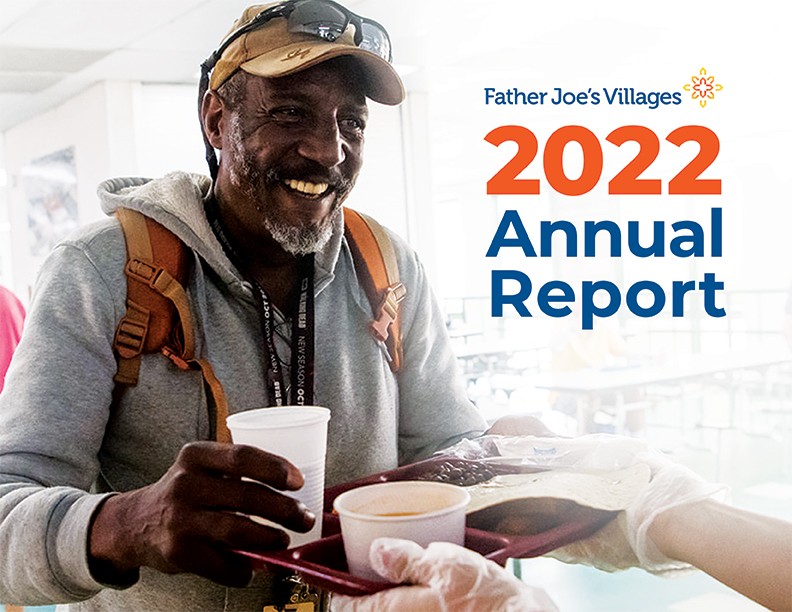 "We must work together to invest in the future of San Diego. Donations from local businesses, foundations and individuals are the only way to make these critical programs possible."