After decades of drug use and 15 years living on the streets barely managing to survive, Sebastian, age 65, finally took control of his life and got the help he needed. With apartment rents at an all-time high, Father Joe's Village Rapid Rehousing program was able to help Sebastian get into an apartment and establish himself in his new home.

---
Father Joe's Villages Housing Programs offer Stability to Homeless Neighbors in Need
15 years. That's how long Sebastian lived on the streets before getting the help he needed at Father Joe's Villages.
Sebastian, age 66, struggled with addiction for decades, alienating his friends and family along the way.
Before homelessness, Sebastian had a well-paying job as a truck driver in Los Angeles. However, as he fell deeper into his addiction, he gave up his apartment to use that money on narcotics. Despite the drug-use, Sebastian was able to hold on to his job and even came to San Diego for an even higher-paying job.
In San Diego, he continued living on the streets to feed his addiction. Over the next couple of years, he managed to survive but was often hungry, alone and anxious.
"It was hard trying to find shelter and something to eat. I'd wait in line at churches and by the time I'd get there the food would be out."
Eventually, Sebastian stopped working and lost his income. Every day, he continued to struggle to find food and a safe place to sleep on the streets. At 65 years old, Sebastian finally had had enough. "I didn't want to live in fear anymore," Sebastian said. He was admitted to an inpatient drug treatment program and reemerged sober—ready to start again.
The Rapid Rehousing Program Finds Homes for Neighbors in Need
He was referred to Father Joe's Villages' Rapid Rehousing program where clients are provided short-term rental assistance and support from a Case Manager.
Father Joe's Villages helped Sebastian find an apartment that worked for him and that he would be able to afford. According to the National Coalition for the Homeless, "There are at least nine seniors waiting for every one occupied unit of affordable elderly housing nation-wide. Furthermore, the waiting list for affordable senior housing is often three to five years."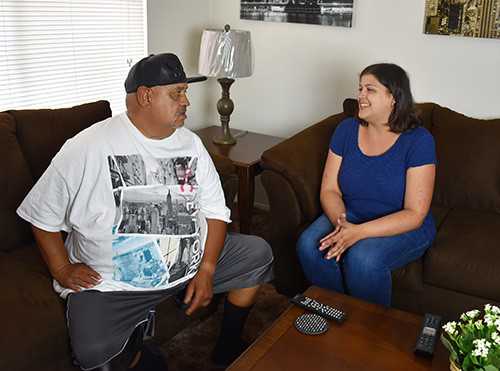 Father Joe's Villages' Case Managers and Housing Specialists work to form special relationships with landlords and property managers in order to overcome this difficulty.
Sebastian is a Marine Corps Veteran, so his Case Manager Deanna was also able to help him obtain benefits from the U.S. Department of Veteran Affairs. She also worked with him to settle into his new place and connect with services, including recovery support, near his apartment.
"They cared for me. No one else had cared for me," Sebastian said.
A Home of His Own After 15 Years
Today, thanks to Father Joe's Villages, Sebastian not only has a place to live but a true home of his own. He finally has peace after years of fear and desperation living on the streets.
His case manager continues to work with him to ensure that he keeps his housing for years to come.
"Looking out for the people; watching them; being broke— Father Joe's helped me with my change in life. Without them, I'd probably be on the streets or dead."
Sebastian is now working on rebuilding relationships with his family and giving back to help people experiencing homelessness. His children are happy to have the opportunity to reconnect with their father. They have visited him in his new home and held a barbecue for him.
"For the first time, my brother said, 'I'm proud of you for what you accomplished.' If it weren't for Father Joe's Villages, I wouldn't have my family. That's very important for homeless people because they lose that relationship, and no one cares for them."
Sebastian is especially inspired by the donors who care for people like him.
Sebastian's Christmas Magic
Sebastian was so thankful that Father Joe's Villages Rapid Rehousing program was able to help him establish an apartment, he wanted to give back. On Christmas day, Sebastian set up outside the Neil Good Day Center and gave out 200 pieces of fried chicken to his neighbors in need. After 15 years living on the streets, Sebastian now has a home and has never been late on his rent. He remembers the hardships of homelessness and wanted to help others who may be struggling. "They had a great Christmas breakfast," he said. "There were a lot of smiles!"
"I want to thank the community for all their donations to Father Joe's Villages, helping homeless individuals get their own apartments and being able to succeed in life! Now I'm feeding homeless individuals on Christmas day. All I want for Christmas is a smile! That's my Christmas present."
Donate Today to Support Father Joe's Villages Housing Programs >>