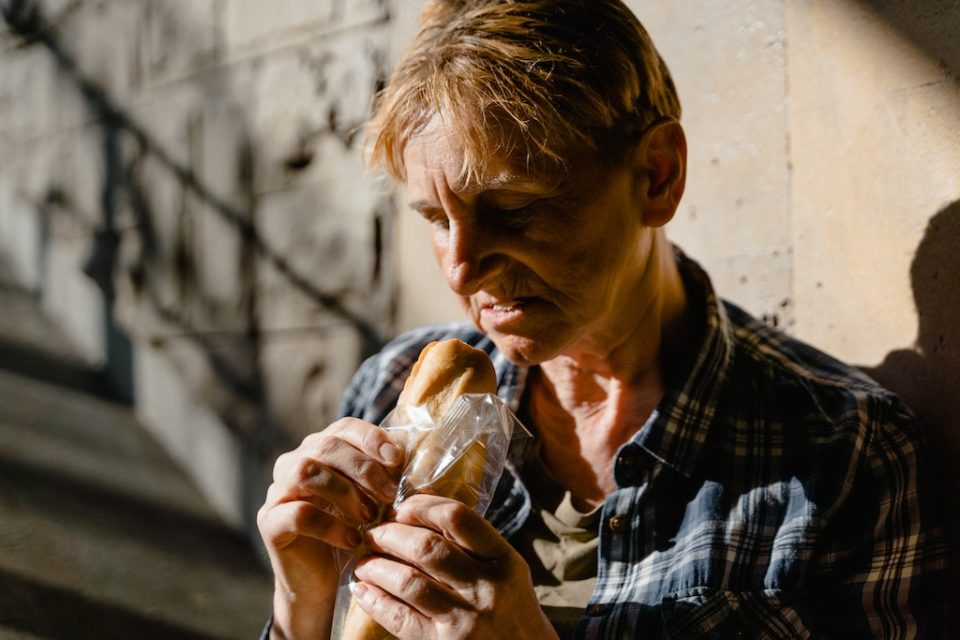 Homelessness and Dental Health Care
Dental health issues are prevalent among individuals experiencing homelessness, who often don't have the resources to contribute to proper dental health care.
Without access to oral hygiene products and regular trips to the dentist, some neighbors lose more than just their teeth—they can lose the ability to find work, struggle to eat solid food, and suffer from pain and chronic disease caused by poor dental health.
An Individual's Overall Health Depends on a Healthy Mouth

Oral health is about much more than a winning smile. It's about preventing dental problems that can lead to serious illness and chronic dental pain.
A growing body of research indicates that poor oral health care is a significant factor in an individual's overall health and well-being. If problems like cavities or gum disease go untreated, they can get worse and have long-term consequences. According to The National Library of Medicine, the presence of periodontal disease has been linked to respiratory problems, diabetes and heart disease.
There is a strong correlation between having poor dental health and being at risk of malnutrition:
Oral health problems can significantly impact a person's ability to eat
People with poor dental health often avoid certain foods or stop eating altogether due to tooth, jaw and gum pain. Imagine ceasing to eat because of the excruciating agony you feel with each bite.
Not only that, but your mouth is home to an entire system that works together to help you eat, swallow, talk and breathe. In healthy mouths, the oral microbiome strikes a balance with the body's overall system by keeping harmful bacteria at bay while maintaining essential nutrients.
Psychological Impacts of Poor Dental Care
A smile is how you present yourself to the world. Good dental health is a basic part of feeling positive about yourself.
Poor dental health and bad breath affects a person's self-esteem. It can affect their social life, cause isolation and make people feel embarrassed and anxious. Kay, a patient of Father Joe's Villages Dental Clinic, experienced this self-consciousness firsthand.

After losing her job during the pandemic and fleeing an abusive relationship, Kay began living out of her car. What little money she did make went to basic necessities to get her through each day. When her dentures broke she decided she couldn't afford a Dental appointment, much less the cost of new dentures.
For five years, Kay was unable to eat solid foods and struggled with her self-esteem because of her dental issues.
"Having bad teeth tore up my self-esteem. I wouldn't go out. I wouldn't be social. I used to smile with my hands covering my mouth because I didn't want anyone to know I didn't have teeth," Kay explained.
Even if an individual is struggling to find a place to sleep, get healthy food to eat, or cope with severe mental illness, providing dental care can help them feel better about themselves. Research shows that individuals who are well cared for feel more capable and confident. This leads to improved well-being and recovery from other health challenges.
Societal Impacts of Poor Dental Health
A smile is an asset when it comes to first impressions and dental problems can have a negative effect on an individual's social and professional life. According to a study developed by Kelton Research, "45% more likely than those with crooked teeth to get a job when competing with someone who has a similar skill set and experience."
Having good teeth could make the difference for landing a job. In today's competitive job market, a potential employer could determine whether or not you have a chance of getting the job by your appearance alone.
A 2016 survey by the British Dental Association (BDA) shows that "77% of respondents felt that decayed teeth or bad breath would hinder a candidate's chances of securing employment in public or client-facing roles."
An individual with missing or decaying teeth could be overlooked for employment no matter how qualified for the job they may be which in turn continues a cycle of poverty and homelessness.
How Does Homelessness Affect Dental Hygiene
The homeless community has a significantly higher rate of dental issues than the general population. Sadly, according to the National Maternal and Child Oral Health Resource Center, people experiencing homelessness are 12 times more likely than individuals with housing to have dental problems.
Furthermore, "Among homeless children ages 5 to 9 years, 96 percent required dental care and 44 percent had pain or infection."
There are many factors that make it difficult for people who are experiencing homelessness to take care of their dental health.
Individuals who are homeless rarely have access to dental hygiene products
Many don't have health insurance and can't afford the cost of a dental visit.
The cost of transportation is another reason why people living on the streets can't afford to see a dentist
There are also some who just don't want to go to the dentist because of fear or embarrassment.
How Father Joe's Villages Dental Clinic Helps
At Father Joe's Villages, we know that getting back on the road to sustainability can have many steps for people experiencing homelessness.
Often it involves putting your best smile front and center. That is why our Dental Clinic works to restore dignity and self-confidence and increase a neighbor's chances of securing a job or an apartment through free dental care.
In a national survey, ninety-eight percent of staff operating shelters said that dental services are important in helping neighbors overcome homelessness.
Father Joe's Villages Dental Clinic provides comprehensive medical care to neighbors experiencing poverty and homelessness. General Dentists, Prosthodontist, Registered Dental Hygienists, and Registered or Certified Dental Assistants work to prevent and eliminate dental disease while promoting good oral health and dental treatment for patients of all income brackets.