Father Joe's Villages uses the Harm Reduction Model to empower those experiencing homelessness to reach their goals.
According to the National Center for Drug Abuse Statistic, there are thousands of substance abuse related deaths in the United States each year—and the numbers are continuing to rise. Since the year 2000, there have been 700,000 deaths from drug overdoses in the United States.

In just the last ten years, San Diego County has seen major increases in substance abuse related fatalities. San Diego County officials reported a record number of deaths due to substance abuse in 2020. In fact, prescription drug and opioid deaths reported in San Diego in 2020 more than doubled the 275 fatalities reported in 2019.
How can we prevent homelessness?
There are many methods in which together, as a society, we can prevent people from ever having to experience homelessness.
First, we can work to create a more equitable society where some groups of people do not experience extreme levels of poverty and all people have access to housing they can afford and job opportunities with adequate pay.
This enables families and individuals to be able to fund the housing, food, and other basic necessities they need to survive, as well as additional room in the budget to save for emergencies.
Secondly, we can create a safety net for individuals and families who do find themselves at risk of homelessness by providing temporary support through diversion, financial assistance, counseling or other services that prevent individuals and families from entering into homelessness.
Preventing Homelessness Once Individual/Family Falls into Risk of Homelessness
Homeless Prevention
As evident in the name, homeless prevention works with people before they lose housing.
It is an approach to solving possible homelessness by empowering a person to identify safe, immediate, and appropriate alternatives to entering the homeless services system, such as shelters.
An organization helping with diversion will work alongside a person or to family brainstorm possible solutions to the issue(s) threatening their housing stability, with an emphasis on trusting the person to be an expert in their own solution as they regain control over their housing crisis.
Homeless Prevention strategies range from connecting a neighbor to rental support available in the community, helping a neighbor apply for social support like disability, medicare, or food stamps to help them meet their budgetary needs, or helping them connect with family or friends who can provide them a place to stay while they back on their feet.
Sometimes an organization works with a landlord to ensure that a neighbor can stay where they are currently residing, to work through any issues that could result in eviction, or organize a payment plan for repayment of missed rent.
The organization can then act as a mediator to develop a resolution that will allow the household to stay in their current housing. The goal of diversion is the lightest touch possible so community resources are available to those who need them most.
Homeless prevention is often a preferable approach to immediately placing someone in a shelter because it can be more cost-effective, it can ensure necessary shelter beds are available for those who need them most, but most of all, it prevents an individual or family from experiencing the trauma of homelessness.
Employment & Education Services
Job readiness training and job-seeking support offered to people at risk of homelessness can help neighbors achieve higher wages and higher quality jobs.
When a person is working one or two minimum wage jobs, they often have little leftover in the monthly budget (after rent, food, utilities) for emergencies or rental increases.
That's why employment services can be a critical tool for helping people compete in the modern job market and obtain jobs that pay above minimum wage.
People experiencing poverty and homelessness can encounter a number of factors that can prevent them from gaining quality employment including ​​limited education and skills, varied job histories, misplaced legal documents, limited access to transportation, cosmetic difficulties, such as missing teeth, and physical and behavioral health conditions.
According to San Diego's Point-in-Time count report (2018), 30% of individuals polled reported a loss of job as the primary cause of homelessness.
Through hands-on training, education, and job development, employment programs, such as Father Joe's Villages Employment & Education Center, foster empowerment and provide tools for facing the complicated, competitive world of employment.
Preventing Homelessness by Creating Housing
There are thousands of organizations across the world implementing solutions to alleviate poverty and inequality.
At Father Joe's Villages, we help to reduce and prevent extreme poverty by working to expand affordable and supportive housing opportunities in our community.
Affordable Housing
Housing becomes less affordable when the housing supply cannot keep up with the demand for housing in a region.
When housing becomes less affordable, the budgets of low-income families and individuals are squeezed, leaving little room for anything but survival. In fact, half of all San Diego homeowners don't make enough money to meet the region's cost of living, with 60% of local renters falling short by thousands of dollars per year.
By building more affordable housing in the community, organizations help to reduce the pressure on low-income neighbors and provide more affordable options for those that need it most.
Affordable housing enables folks to maintain housing long-term because the housing stays within a price range that is proportional to their income bracket.
Through the Turning the Key initiative, Father Joe's Villages committed to adding 2,000 units of affordable housing dedicated to neighbors overcoming homelessness, on top of the over 400 affordable units already offered by the organization. Learn more here.
Supportive Housing
Supportive Housing, sometimes referred to as Permanent Supportive Housing, is housing that is reserved for people with a physical disability, mental illness or long-term substance use disorder who need regular support to maintain housing stability.
While Supportive Housing is provided to people who have been homeless, this type of program prevents ongoing and future homelessness for at-risk individuals with a history of chronic homelessness.
Residents of supportive housing communities receive a long-term rental subsidy that is sensitive to their income and ongoing support services to help them maintain their housing.
At Father Joe's Villages, for example, Case Managers help clients set and achieve goals and get connected to resources, while Tenant Services Coordinators teach life skills and host social activities that build community.
A Registered Nurse provides wound care, patient education, and medication management.
Supportive housing is a compassionate and dignified solution to homelessness for people who would otherwise struggle to maintain housing on their own. Often, supportive housing is the best solution for addressing or preventing chronic homelessness amongst people with severe mental illness and debilitating disabilities.
However, communities often don't have the resources to provide supportive housing to all the individuals who may benefit from it.
For that reason, building and raising funding for new supportive housing communities can be critical for preventing homelessness for people most in need.
In Conclusion
Homelessness prevention programs and associated initiatives are often a cost-effective and compassionate approach to preventing individuals and families from living without shelter on the streets and entering into the cycle of homelessness.
Substance Abuse in San Diego
Long before the 2017 hepatitis A outbreak began its assault on homeless people in San Diego, there was another scourge waging battle: substance abuse. Both situations are complexly intertwined with homelessness and both disproportionately affect individuals experiencing homelessness.
As we detailed in our blog about hep A, older people who contract Hepatitis A have a higher frequency of symptoms and tend to get a more severe illness. Death, from Hep A, while rare, most commonly occurs in persons over 50 years old and those with chronic liver disease. Heavy drug or alcohol use can weaken the immune system and cause liver damage leading to chronic liver disease.
Additionally, substance abuse often occurs alongside other illnesses. As UC San Diego psychiatrist and professor Dr. Carla Marienfeld recently said in a Union-Tribune commentary:
"People who have active substance use disorder, a clinical condition that affects millions of Americans, often have high rates of co-morbid depression, anxiety or severe mental illness. Conversely, those with mental health struggles are at higher risk for misusing substances."
According to the San Diego Medical Examiner, there are hundreds of reported unintentional drug/alcohol related deaths each year. In 2016, the Central San Diego area had one the highest drug/medication related death rates in San Diego County.
Homeless individuals, in particular, suffer from substance use disorders at disproportionate rates. Although accurate numbers are difficult to obtain, a report on Substance Abuse and Homelessness by the National Coalition for the Homeless cites one study that found "38% of [the] homeless people [who participated in their study] were dependent on alcohol and 26% abused other drugs." An analysis of Father Joe's Villages data shows that of 5,728 single adults who exited any Father Joe's Villages' Transitional Housing program from 1/1/2010 to 12/31/2014, 46% reported Substance Abuse issues.
There are many reasons that might contribute to the high rate of use among individuals who are homeless including the stress of being homeless, mental illness, self-medication for health conditions, prioritizing basic survival over recovery, trauma and more.
Addressing Substance Abuse Among the Homeless
Homeless individuals, in particular, suffer from substance use disorders at disproportionate rates. Although accurate numbers are difficult to obtain, a report on Substance Abuse and Homelessness by the National Coalition for the Homeless cites one study that found "38% of [the] homeless people [who participated in their study] were dependent on alcohol and 26% abused other drugs."
Even worse, the Substance Abuse and Mental Health Services Administration states that people who are homeless have a higher risk of overdose from illicit substances.
There are many reasons that might contribute to the high rate of substance use among individuals who are homeless including the stress of being homeless, mental illness, self-medication for health conditions, prioritizing basic survival over recovery, trauma and more.
At Father Joe's Villages, we know that with the right tools and support, individuals living with addiction can live happy, healthy, and self-sufficient lives. That's why, in our efforts to end homelessness in San Diego, Father Joe's Villages offers integrated services catered to the individual situations and goals of our clients. We work to address an array of complex barriers that people experiencing homelessness face.
We use the Harm Reduction Model in response to substance abuse issues.
In accordance with the Harm Reduction Model, the specialized programs offered through our Village Health Center, such as Behavioral Health, Substance Use Disorder Treatment and Psychiatric services, can help provide the resources individuals need to manage their mental health symptoms instead of having their symptoms manage them.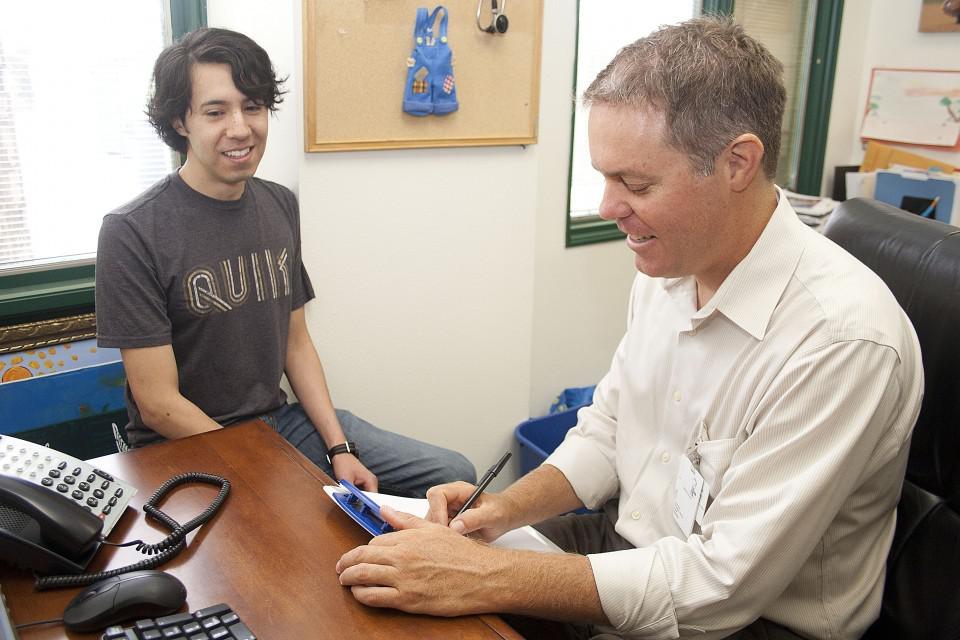 What is Harm Reduction?
Harm reduction, also known as Harm Minimization, is a set of evidence-based public health strategies that work to meet people struggling with addiction where they are at by providing safer use options and/or medication-assisted treatments. The purpose of the Harm Reduction Model is to reduce the negative consequences of drug or alcohol use and have a positive impact on individual and community health.
Harmreduction.org defines Harm Reduction as "a set of practical strategies and ideas aimed at reducing negative consequences associated with drug use."
Harm Reduction incorporates a range of health and social services and practices that include:
Drug consumption rooms
Clean needle and syringe programs
Medication Assisted Treatment
Drug checking
Overdose prevention and reversal
Harm reduction "does not attempt to minimize or ignore the real and tragic harm and danger associated with licit and illicit drug use" but works to offer a "non-judgmental, non-coercive provision of services and resources" (source). It is a best practice approach which empowers people to make their own goals and gives them access to the tools they need to achieve those goals.
At the core of the Harm Reduction model is the idea that people with substance use disorders have rights and deserve services that promote health. It encourages us to see the human behind the addiction and tailor solutions to each individual's needs.
Harm Reduction Testimonial: Jake's Story
Our Addiction Treatment and Education (ATEC) counselors have seen many clients successfully obtain their goals by practicing harm reduction—like Jake, who was drinking three bottles of vodka every day.
His body had become so accustomed to the alcohol, he had to drink just to keep his body functioning.

Eventually, Jake sought treatment through Father Joe's Villages' state-certified Addiction Treatment & Education Center (ATEC), a program dedicated to helping individuals struggling with substance use disorders and homelessness achieve their goals. With the help of ATEC's knowledgeable Certified Alcohol and Other Drug Counselors, Jake created a plan to help him move toward sobriety.
Jake began attending group therapy sessions and other addiction treatment classes offered through ATEC. With a lot of hard work and the support of his Counselors, Jake was eventually able to reduce his intake of alcohol to one bottle a day. Then, in order to prevent the life-threatening symptoms that can arise from quitting, he attended a two-week detox program.
Jake has now been sober from alcohol for years. "His life has improved to the point where he's taking college classes, he's taking golf lessons, he's taking pottery lessons. So, he's functioning a lot better," his ATEC counselor said.
Integrated Services & Harm Reduction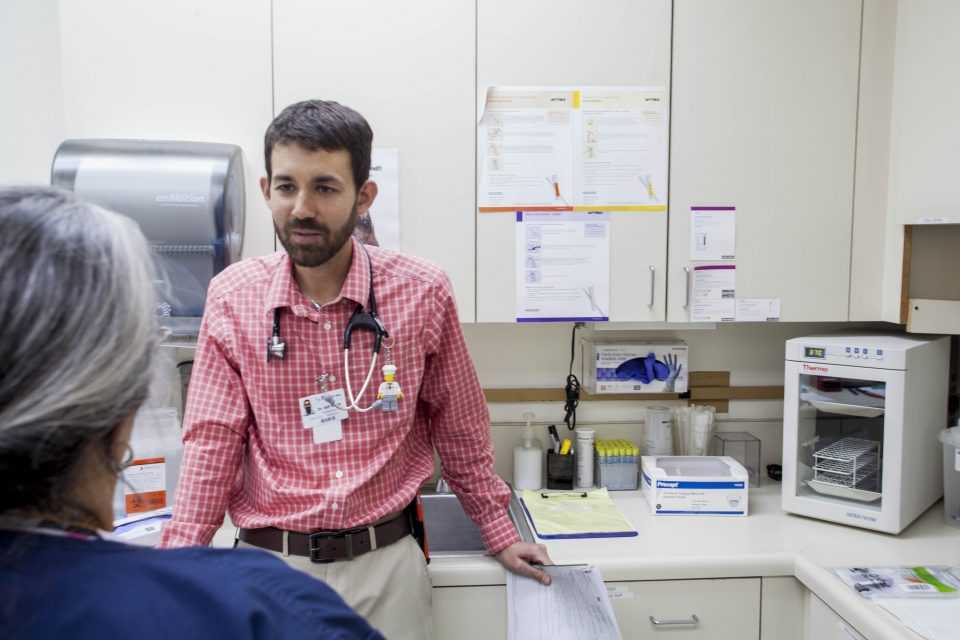 Father Joe's Villages offers a whole range of services all aimed toward helping clients accomplish their goals, including housing, mental health services, therapeutic childcare, employment and education services, medical and dental services and more.
The depth and breadth of our services gives clients the tools to face the many complexities and barriers that might be preventing them from gaining employment, housing and other objectives.