A Door to Hope
At Father Joe's Villages, a meal is not only a means of survival. It is a door to hope and overcoming homelessness.
Eddie, who was homeless for months before finding Father Joe's Villages, knows the difficulties of food scarcity firsthand. While living on the streets, Eddie suffered from Sciatica that caused him intense pain in his leg. He remembers how his immobility made finding food a near impossible task.
"There were days I couldn't move from my spot on the sidewalk at all. I couldn't walk around the entire city looking for food. I didn't know where I was going to get my next meal. Then I heard about the food program at Father Joe's Villages."
The Franklin Antonio Public Lunch program at Father Joe's Villages served as a lifeline—enabling Eddie to always find a meal, even on the darkest of days. It also gave him energy to focus on finding his way out of homelessness.
"Hunger brings weakness and sickness— even death. It's hard to help yourself or work for a better life when all you can think about is how hungry you are," Eddie said of this time.
Father Joe's Villages' Crucial Food Services Program
Father Joe's Villages' Food Services program provides hundreds of meals each day to hungry people like Eddie who are living on the streets. These meals provide more than just a basic means of survival. Access to nutritious meals can enable neighbors to focus less on hunger and more on creating a better life.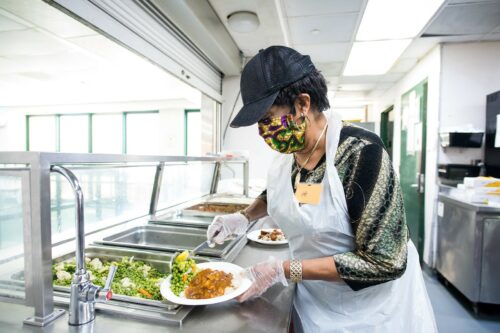 Receiving meals through the lunch program introduced Eddie to Father Joe's Villages' many other comprehensive programs serving our homeless neighbors. Eddie soon moved into emergency shelter and joined Father Joe's Villages' Culinary Arts Program (CAP). This extensive 14-week culinary vocational training program teaches students the skills needed to work as cooks in the food services industry.
Through CAP, Eddie found a new career path to building a better future for himself. After graduating, Eddie was hired on as a cook in a local kitchen. With a stable job, he was able to secure a home of his own. Eddie went from living on the streets to a successful life outside of homelessness—and it all started with a meal through Father Joe's Villages' Food Services program.
How YOU Can Help Support Hungry Neighbors in Need
Father Joe's Villages' Thanksgiving Day 5K is imperative to ensuring hungry San Diegans can continue to receive warm meals 365 days a year. This annual San Diego tradition brings thousands of people together to raise critical funds for the organization's Food Services program. The funds raised through the Thanksgiving Day 5K are especially crucial now, when food insecurity in the community is at an all-time high due to COVID-19.
Although the Thanksgiving Day 5K will look differently this year, its mission remains the same: To alleviate hunger for people experiencing homelessness in San Diego. Help Father Joe's Villages continue to serve those in need, especially during these unprecedented times of uncertainty.
During this season of giving, make an impact on those most in need in our community. Visit www.thanksgivingrun.org to register, donate, or for more information.