Though these are difficult times, it is often during unprecedented crisis that heroes are made. In the face of a pandemic, Father Joe's Villages' dedicated staff remain on the frontlines, continuing to provide critical services such as shelter, health care, meals and hygiene services to people living on the street 
Keeping the Village Running
Father Joe's Villages could not succeed in providing a brighter future to those struggling through homelessness without the help of our Custodial & Maintenance team. The Custodial & Maintenance teams at Father Joe's Villages are essential to ensuring the entire East Village campus and other scattered-site locations stay clean, orderly and functional seven days a week.  
Every day, the Custodial team works tirelessly to tidy the interior and exterior of Father Joe's Villages' premises, from 17th street to 14th street and from Commercial Street to Imperial Avenue.  
"It takes a dedicated and hardworking team to do what we do," Custodial Supervisor Ana Lisjuan explained. "Everything we do for the clients is so they can be better for themselves." 
At the same time, the Maintenance crew inspects and makes repairs on Father Joe's Villages shelters and buildings across scattered-site locations. 
Joseph "Joe" Ryan, the Maintenace Technician Lead, highlights how crucial his team is to Father Joe's Villages' mission to end homelessness for neighbors in need.  
"We fix and repair anything and everything they need done here at Father Joe's Villages. Without our team, [our buildings] wouldn't continue to function. Father Joe's Villages wouldn't be able to continue with all of their wonderful work for all these people who are down on their luck."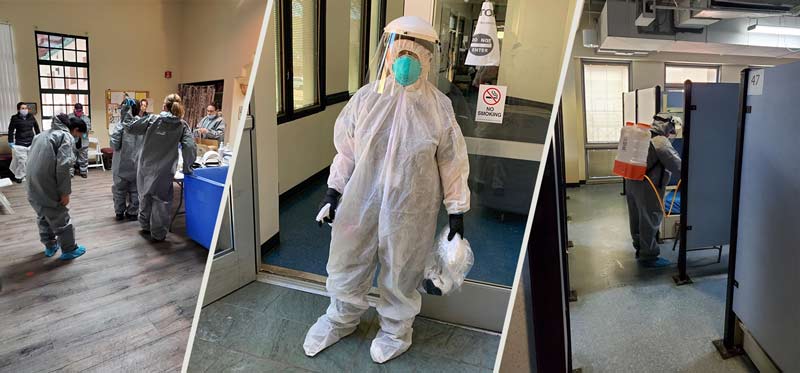 Protecting Health & Safety
During the COVID-19 crisis, the work of Maintenance and Custodial is even more essential to mitigating risk of exposure for staff and the neighbors we serve. To ensure the health and safety of all of Father Joe's Villages' team members and residents, the Custodial Department increased the frequency and intensity of cleaning efforts, including disinfecting common areas, countertops, rails, handles and other surfaces every 30 minutes using cleaners that kill the COVID-19 virus. 
"We are more carefully disinfecting literally almost anything that can be touched," said Ana.  "We are taking care of knobs, windows, buttons to elevator—spraying them down with materials that will kill coronavirus. We are wiping down everything that you can think of with peroxide which kills the Coronavirus. We have been disinfecting everything and anything." 
Additionally, the Custodial team have made daily adjustments to protect against the spread of COVID-19. They wear facemasks and gloves and maintain six feet of distance at all times during their work. 
"I express to my team to always wear PPE, to do things carefully, to think before we actually do anything because we always have to be safe. Safety is my number one concern for my team," said Ana. 
The Maintenance team is taking the same precautions and always wear PPE on duty. They have implemented ways to make frontline staff safer, as well. They built transparent shields for staff at the front desk of the Joan Kroc Center and Day Center, which connects neighbors in need to essential resources. These shields minimize risk against transmittable diseases while staff work to assist our neighbors in need. 
Ultimately, Maintenance Technicians and Custodians make Father Joe's Villages' emergency response efforts possible. Not only that, they embody Father Joe's Villages' CREED of Compassion, Respect, Empathy, Empowerment and Dignity. These guiding principles are even more important during these uncertain times. 
"I enjoy what I do," said Ana. "I love the mission and what Father Joe's Villages represents. I try to encourage my staff and remind them that we do this for a reason, and that's to get our clients back on their feet. Doing that makes us better people, too." 
Joe agrees. "I enjoy my work because it's helping people. I get to do all kinds of different jobs and that's a challenge to me and I enjoy a challenge." 
"I'm part of a team of people that is helping other people in need of help. It's a privilege for me to be able to do this to help people–the lord has given me this talent and I get to use it to help other people." 
From all of us at Father Joe's Villages, thank you to the Custodial and Maintenance Teams for being such an integral part of our mission to help our neighbors in need. We appreciate the hard work you do to better the lives of not only individuals and families experiencing homelessness, but also your fellow Father Joe's Villages' team members.