Emergency Services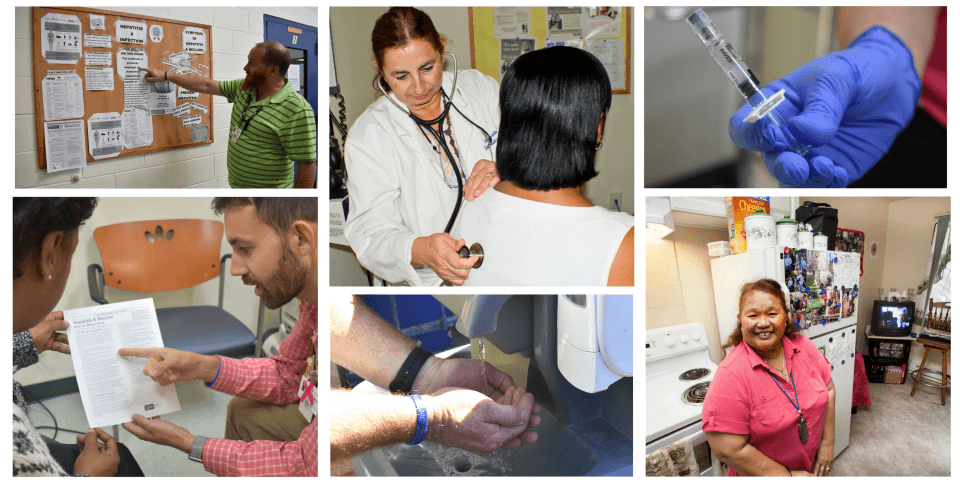 ---

---
For more than 67 years, Father Joe's Villages has been in the forefront of providing emergency services to people living on the streets of San Diego. Our shelter, meals, medical care, showers and bathrooms have been a beacon of hope for people in need since St. Mary of the Wayside Chapel, Father Joe's Villages' legacy program, opened in April 1950 in downtown San Diego.
On September 1, 2017, city health officials declared a state of emergency in the County of San Diego. By November 8, 2017 546 people had contracted hepatitis A.  70% of those diagnosed were hospitalized. The large majority of people impacted by the outbreak were people who are homeless and living on the streets.
Father Joe's Villages responded to the outbreak by enhancing and expanding upon existing emergency services. You can learn more about our Emergency Services below.
Emergency Shelter
Also known as Interim Housing, Father Joe's Villages operates two Emergency Shelters on our St. Vincent de Paul Village campus in the East Village. Both provide 24-hour shelter, 365 days a year. The single adult program, in partnership with the City of San Diego and San Diego Housing Commission, has 350 beds. Our family program has 138 beds for parents/guardians and their children that is funded solely by private donations.
Everyone who stays in emergency shelter receives a warm bed, clean linens, storage for their belonging, hot meals and access to the wide range of supportive services available on the St. Vincent de Paul Village campus. Interim housing gets people off the streets and provides a safe, sanitary and supportive place to stay.
Working with the City of San Diego, Father Joe's Villages will erect a short-term shelter on our campus at 14th and Commercial Streets. The facility will be housed in a large industrial tent and will have up to 150 beds with restrooms, showers, meals and 24-hour security. The shelter will not only provide homeless San Diegans with a safe and sanitary refuge but also bring them closer to life-saving resources that are already on our East Village campus, such as health care, substance abuse treatment, job training and more. We are working closely with the City of San Diego and are on track to open by December 1st.
---

---
Day Center
In partnership with the City of San Diego and the San Diego Housing Commission, the San Diego Day Center for Homeless Adults offers a haven to those who spend the night on the streets by providing a safe place to rest during the day, along with restrooms, laundry, storage, showers, computer lab, phones, fax and a critical mailing address.
Day Center staff play a critical role in curbing the hep A crisis. These dedicated and trained professionals educate, encourage and motivate countless clients each day about the health crisis and what should be done to combat it. Staff are distributing hygiene kits. Vaccination clinics are held on-site several times a week and clients can visit St. Vincent de Paul Village Family Health Center just down the street when on-site vaccines are not available. Staff spend time personally talking to clients about vaccinations, how to recognize hep A symptoms and the importance of good hygiene.
Located at 299 17th St. the Day Center also provides case management and access to an array of support from local service providers and volunteers.
In 2016, the Day Center provided services to close to 6,800 people, 30% of whom were women. The program provided more than 31,000 showers and did close to 4,000 loads of laundry.
Village Family Health Center
Our Village Family Health Center (VFHC) is a Health Care for the Homeless Federally Qualified Health Center, designating us as one of approximately 208 community clinics nationwide providing multi-disciplinary approaches to delivering health care to individuals experiencing homelessness. VFHC integrates medical, dental, and behavioral health care, along with addiction treatment —caring for people of all ages—and collaborates with UC San Diego Medical Center's Combined Residency Training program; physicians train in family medicine and psychiatry at the VFHC and exclusively serve our patients. We leverage our housing expertise and partnerships to address the full complexity of patients' medical, housing, and psycho-social needs.
VFHC staff have been working diligently to keep our homeless neighbors and our entire community as safe and healthy as possible. The Health Center offers vaccines to ALL patients who come to our clinic and the County is on-site several a week to provide further vaccines to individuals. Staff also constantly monitor patients for symptoms of hep A in order to provide immediate medical care and prevent further infection.
Bathrooms
We continue to offer access to restrooms 24 hours a day, 7 days a week. We began doing so as a service to our community in East Village and because we felt it was important to preserve the most basic of human dignities for our neighbors. But now more than ever, access to restrooms is an issue of public health. Operating these facilities presents considerable challenges for us but for the sake of those who are homeless and for the broader community, we feel it is an indispensable amenity that must be available to people. Earlier this year we implemented the policy of cleaning our bathrooms every two hours to maintain sanitation. We continually pursue improvements to the bathrooms to ensure that they are safe and accessible as hygiene facilities.
---

---
Hot, Nutritious Meals
Numerous studies have found that lack of food is associated with significantly greater odds of hospitalization, high Emergency Department utilization, and both short- and long-term health problems, such as iron deficiency, osteoporosis, delayed cognitive development, and increased risk of cancer.
Our meals help address this health crisis by providing an average of 1 million meals to homeless men, women and children living in San Diego. We provide three daily meals to people living in Interim Housing/Emergency Shelter and Transitional Housing and The Franklin Antonio Community Lunch Line  provides a nutritious daily lunch for community members in need. Each year, we provide meals to an average of 7,000 people living on the streets. Many people use our public lunch line as a gateway to learn about our housing and supportive services.
Project 25
Project 25 is a groundbreaking Permanent Supportive Housing program that provides people who are chronically homeless and frequent users of emergency services with the personalized, comprehensive support they need to move off the streets, achieve long-term housing stability and normalize their use of healthcare systems.
Project 25 clients often move straight from the streets of San Diego into an apartment of their own. The program relies on the strong foundation of team-based case management, with a "whatever it takes" attitude to helping regardless of convenience (for staff) or compliance (by clients).
"With Project 25, what is so nice is that they take the hardest people out there, the most difficult ones that if they weren't here, they'd be on the street, a radio call two or three times a day. They'd be going to the hospital over and over again, the community would be screaming, they'd be dying on the street. What they need is that constant person there."     ~ San Diego Police Officer speaking about Project 25
Since Project 25 began, it has saved the community more than $5.3 million, because participants have reduced or eliminated their dependence on hospital emergency beds, ambulance services and public services.
Affordable Housing
Father Joe's Villages is steadfast in our commitment to providing the emergency services that save people's lives. We are equally committed to solutions that will end homelessness, once and for all, in our city.
San Diego's lowest-income renters spend more than two thirds of their income on rent, leaving little left for food, transportation, health expenses and other fundamental needs. Combined with a rental vacancy rate of nearly zero, it is clear that a lack of affordable housing is the largest barrier to solving homelessness in San Diego.
An extensive body of evidence supports that affordable housing coupled with supportive services saves the community money and improves housing, healthcare and quality life outcomes for people who are both homeless and disabled.
We announced our Turning the Key initiative in April 2017. This initiative will address the housing crisis by creating 2,000 new apartments for people who are homeless.
---

---