With the help of our donors, the children in our care will wake up on Christmas morning to find that Santa was able to find them—even without a home of their own. This moment of finding beautifully wrapped packages and a stocking full of treats, made possible only with donor support, will not be forgotten.
---
For decades, Father Joe's Villages has been making Christmas special for children experiencing homelessness.
Just take it from Oliver. Over 20 years ago, Oliver was homeless with his family for more than two years.
Many of Oliver's childhood memories consist of moving from one apartment and hotel room to another, sleeping in the car or on a friend's couch, and getting picked on at school because he was homeless.
His father was a self-employed contractor who struggled with alcoholism and his mother was a stay-at-home mom who was unable to work due to her health. As their financial insecurity worsened, eventually, Oliver's family ended up living out of their van. It was Thanksgiving night when the family first came to Father Joe's Villages.
Oliver remembers his dad sounding hopeful because he had gotten into a program that provided three hot meals a day, a secure and warm place for the family to sleep, a playground for the children and supportive staff ready to help them get back on their feet.
"From my experience as a kid, it was a safe place to be. Even the security guard treated everybody with kindness," Oliver said.
Due to the positive, dependable living environment, Oliver finally felt like a normal kid. This feeling carried into the Christmas season, when Father Joe's Villages gave him a Christmas he hasn't forgotten.
"Father Joe's Villages made sure Christmas felt like Christmas. They made sure everyone had a Christmas stocking and presents."
Every year, the staff and volunteers at Father Joe's Villages work hard to ensure that families and their children have the opportunity to experience the magic of the season including receiving festive presents, chosen by their parents, on Christmas morning.
Oliver remembers that his mom was so excited to be able to give a Star Wars Lego set to Oliver's brother. To this day, his brother remembers it as one of the best gifts he had ever received. "He kept that Lego set until just recently – all those years. It meant that much to him."
Eventually, with the help of Father Joe's Villages supportive services, Oliver's family got back on track. His father found a steady job and the family moved on to a place of their own, but Oliver has never forgotten the kindness he experienced.
"I learned a lot during our time at Father Joe's. I learned the difference between right and wrong and that you are responsible for your own actions," said Oliver. "It is the people who really made a difference. They showed me compassion and that sometimes in darkness, there is light."
Today, Oliver has given his children the life he never had growing up. He is proud of his 18-year career as a UPS driver, his marriage and his four beautiful children.
Best of all, he is able to create a magical Christmas morning for his own children each year in the safety and comfort of his own home.
Sadly, today there are hundreds of families in San Diego struggling to keep a roof over their heads just like Oliver's parents once did.
This Christmas, give the gift that will never be forgotten and help us break the cycle of homelessness. Donate now >>
A gift of any amount will make a lasting difference in the lives of the children.
Wishing you and your family the many blessings of the holiday season.
Yours in God's service to our neighbors in need,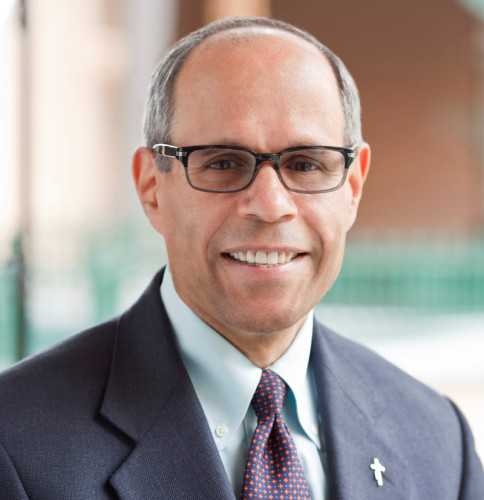 Deacon Jim F. Vargas, OFS
President & CEO