On May 5th, the Children's Charity Gala will honor individuals and organizations whose services have lifted up neighbors experiencing poverty and homelessness. Read more to learn about our 2018 Children's Charity Gala Honorees.
---
Up, Up & Away
Did you know that children who are homeless are four times as likely to have delays and twice as likely to repeat a grade in school?
That's why Father Joe's Villages Annual Children's Charity Gala is dedicated to lifting children experiencing homelessness up and into a future of success. On May 5th, hundreds of guests will join Father Joe's Villages at the historic US Grant Hotel to enjoy a night of food, drinks, entertainment and philanthropy.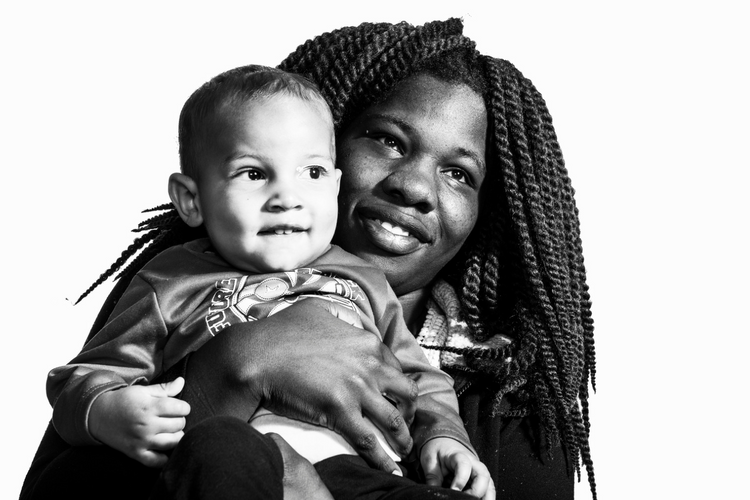 This year's theme, Up, Up & Away, is dedicated to the incredible ways in which children who receive the right support can break the cycle of homelessness. Proceeds from the gala go toward providing comprehensive programs and services to children and families in need, giving them the tools necessary to build a brighter future.
Not only does the gala raise funds and awareness for families overcoming homelessness, but it also highlights the incredible accomplishments and commitment of community leaders dedicated to our cause in San Diego.
At the event, Father Joe's Villages will honor individuals and organizations whose services have lifted up neighbors experiencing poverty and homelessness. Honorees will receive awards recognizing their contributions to Father Joe's Villages' mission to end homelessness, one life at a time. We're proud to present this year's incredible honorees.
Franklin Antonio
Receiving the Father Joe's Villages Award
The Father Joe's Villages Award acknowledges those who exemplify our message that all neighbors, especially those in need, should be treated with compassion, respect, empathy, empowerment and dignity.
Franklin Antonio grew up in the vineyards of central California. He graduated from UC San Diego in 1974. He then co-founded Qualcomm with six friends in 1985. Qualcomm has subsequently grown to employ more than 34,000 people, mostly in the San Diego area. Qualcomm technology is now the basis for most mobile communications worldwide. He holds 378 patents worldwide.
Franklin Antonio has been a regular supporter of Father Joe's Villages for nearly 20 years, providing assistance to our neighbors most in need. In 2014, Father Joe's Villages renamed our daily lunch service for San Diegans living on the streets to the Franklin Antonio Public Lunch Program. Franklin's funding of our Food Services program grants our neighbors access to warm, nutritious meals each and every day—sustaining lives and alleviating suffering amongst people experiencing poverty and homelessness. Last year alone, Father Joe's Villages served more than one million meals to people in need. His long-standing dedication to Father Joe's Villages demonstrates his compassion, respect and empathy for the people we serve and underlines his belief in supporting their dignity and empowerment. We extend our deepest gratitude to Franklin for his support.
Cathedral Catholic High School
Receiving the Bishop Maher Award
The Bishop Maher Award is presented to honorees, who, like the late San Diego Bishop Leo T. Maher, puts the needs of the poor first. Through his leadership, Bishop Maher helped mobilize assistance for homeless neighbors in San Diego and encouraged Father Joe to create a "preferential option for the poor."
Cathedral Catholic High School's mission is to serve as "an innovative academic community of lifelong learners grounded in the Catholic faith that prepares graduates to live God's call and build the Kingdom."
Cathedral Catholic High School is a leader in Catholic, college preparatory education. Their rigorous, innovative education program is offered in a nurturing community, based on teachings of Jesus Christ and traditions of the Catholic Church. They are also a collaborative community, dedicated to lifelong learning and teaching students to assume responsibility for their own educational and spiritual growth.
Cathedral Catholic High School's partnership with Father Joe's Villages goes back many decades, with involvement from the student body as well as the Dons Alumni Association. Within the last seven years, over 2,700 students have volunteered over 14,000 hours serving people who are homeless. The Dons Alumni Association also participates at Father Joe's Villages Annual Thanksgiving Day 5K—in 2017, they organized the second largest team in the race with 20 participants!
When asked about their work with Father Joe's Villages, a Cathedral representative said, "Although Father Joe's Villages benefits from our student volunteers, our students may have benefited the most in their faith, knowledge, character and responsibility." Father Joe's Villages thanks Cathedral Catholic High School for their service and looks forward to continuing our partnership well into the future.
St. Augustine High School
Receiving the Bishop Maher Award
As Bishop Maher said when he dedicated the St. Vincent de Paul Center in 1981, "Lift up the downhearted and cheer them with new hope; keep them from being discouraged as they see the charity of your people." And that is exactly what St. Augustine students and staff aim to do when they volunteer at Father Joe's Villages.
St. Augustine High School (Saints) is a private Augustinian Catholic school for young men that has been enriching students in mind, heart and body since 1922. Saints high school offers a variety of courses, activities and programs that challenge and nurture each student as he journeys to become a Christian gentleman. Christian service is a cornerstone of the students' educational experience at Saints.
Saints has been one of Father Joe's Villages longest-serving and most dedicated volunteer groups, contributing countless hours of service over the course of more than 15 years. When asked about why they serve, a Saints' representative said:
"Our connection with Father Joe's Villages helps us in our mission to cultivate healthy and resourceful young men who are empowered to use their God-given talents to make a difference in the world. When Saintsmen get a chance to serve families and children at the Village it brings the Corporal Works of Mercy to life. The spiritual development and faith of the young men who enter Saints is enriched as they greet Jesus in His distressing disguise as the poor, the hungry and the homeless."
Father Joe's Villages offers special gratitude to Saints' Chaplain, Father Kirk Davis, their Campus Minister, Ms. Nicole Quirk, and their Director of Christian Service, Mr. Dominic Sanfilippo. All three, alongside the entire Saints student body and staff, have participated in making their volunteer service with Father Joe's Villages a success. Thank you St. Augustine High School!
Mulvaney Family
Receiving the Founder's Award
The Founders Award recognizes individuals whose longstanding commitment to the mission of Father Joe's Villages is truly exemplary and has helped make the agency what it is today. One individual who stands out in Father Joe's Villages' history is Jim Mulvaney Sr.
James Francis Mulvaney Sr. was born on November 2, 1922 in Chicago, Illinois. He graduated from Loyola University in 1942. In World War II he served as a Lieutenant Commander of the USS Kyne, a Destroyer Escort and served as a JAG Officer in the Korean War. In 1955, he and his lifelong love and wife Ruth, along with their children, moved to San Diego. Jim began work for the Westgate Corporation, where he was involved in running several of his business operations, including the San Diego Padres from 1955-68. Jim played a major role in the Padres becoming a National League team. Over those years, the Mulvaney family grew to include seven children: Melinda, Thomas, Robert, Lawrence, Jim Jr., David and Brian.
Early in his career, Jim became involved in countless charities, including Father Joe's Villages, earning him the title of Mr. San Diego in 1991. Jim passed away on October 10, 2010 and his legacy lives on through his charity work and contributions to San Diego, including his longstanding dedication to Father Joe's Villages.
Jim served as the first Chairman of the Board for Father Joe's Villages when the agency first incorporated as its own non-profit corporation. He donated consistently throughout his life and he encouraged a new generation of philanthropists, engaging his entire family in his charity work. Several of his children remain involved with Father Joe's Villages, including Jim Mulvaney, Jr. who currently serves on our Board of Directors. Jim Mulvaney Sr. was an exceptionally altruistic individual who tirelessly worked in service to others and endeavored to make the world a better place. We are proud to be honoring his family and his legacy at our Children's Charity Gala on May 5th.