This week, President & CEO Deacon Jim Vargas meets new people and discovers a hostel sharing the name "St. Vincent De Paul" on the Camino de Santiago.
---
Part 2: Deacon Jim Meets a Woman Working to Make Her City Shine
Today on El Camino, we met Helen and Madeline, mother and daughter from Denmark. As part of her University studies in Denmark, Madeline devoted a number of weeks to study the effects of gentrification on the poor in the Flatbush section of Brooklyn, New York.
Brooklyn has been experiencing gentrification in many neighborhoods over the course of 50 years. Many people experiencing poverty have been displaced over this period.
It brings to mind the gentrification that San Diego has been experiencing in our own Downtown area. Development continues to produce a beautiful downtown neighborhood with its many communities. The resulting high prices and low vacancy levels have negatively affected the poor, especially those who have fallen into homelessness. This outcome challenges us as a community to address the issue of affordable housing.
We need to build the necessary permanent housing and services to ensure that everyone has an opportunity to thrive so that our fine city can truly 'Shine'.
---
Part 3: Deacon Jim Visits the St. Vincent de Paul Hostel
Upon crossing from Valença, Portugal over the Ponte (bridge) de Minho to Tui in Spain, we came across the Albergue (hostel) of St. Vincent de Paul.
The staff and management welcome and give refuge to the pilgrims on their way to Santiago de Compostela. The stop offers a respite from the heat of the day and provides the opportunity to care for one's aching feet and sore back.
At our St. Vincent de Paul Village, we provide more than just a safe haven for the many who come to us from the bitterness of the streets.
Our Village Family Health Clinic providers are able to assess each individual's situation and address any physical and mental health conditions. The Employment and Education Center professionals prepare participants to secure employment. Furthermore, our Housing Navigators work with clients to maneuver through the difficult process of locating housing.
At Father Joe's Villages, we realize that permanent housing coupled with supportive services can break the cycle of homelessness.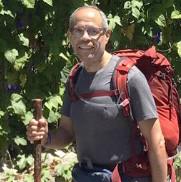 Ultimately, we offer our neighbors more than a respite. We also provide them with the tools and resources they need to permanently end their homelessness.
Yours in God's Service to our Neighbors in Need,
---