Ian, Kevin and James are three talented St. Vincent de Paul Village residents who get together every week to play their music picks.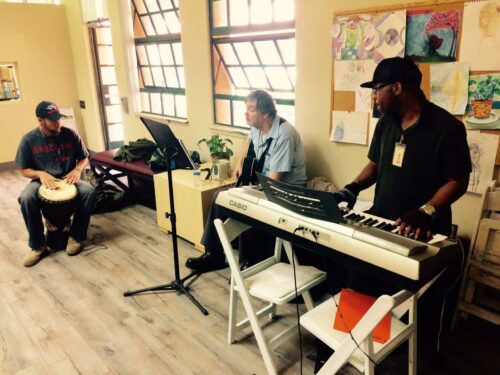 Along with receiving our housing, employment and case management services, the trio uses their free time to experience the healing effects of music, camaraderie and creativity.
Joined by staff and a four-legged fan, the band gets together every Friday from 8:30 a.m. – 10 a.m. to play their favorite instruments.
The Friday morning sessions are always a good time for the Village staff and the trio. Now, the three-piece band is looking to polish their skills and start writing their own music.
If you would like to help Ian, Kevin and James expand their creativity, we invite you to become a volunteer and lead the group every Friday from 8:30 a.m. – 10 a.m. With a good ear for music and skills, you can help these residents find their path out of homelessness through the healing effects of music.
We are also looking to gather instruments to help the band with their new music ventures. Bass drum stabilizers, tambourines, hi-hat hardware, bass drum pedal, cymbal stands, keyboard stand, guitar picks, bass guitar, sitar and any other instruments can help the trio find their muse.
Please contact Keiara Allen if you would like to become a volunteer or donate any of the above items.