No Hero Left Behind Luncheon
June 28, 2019 | Sheraton Hotel & Marina Bay Tower | 11:30 AM
Keynote Speaker, Mary Jean Eisenhower
Special Guest, RADM Richard Rodriguez

The No Hero Left Behind luncheon supports the Father Joe's Villages' programs that serve San Diego's homeless Veteran community. San Diego has one of the largest populations of Veterans in the country. At Father Joe's, we are dedicated to serving our nation's heroes with programs tailored to the specific needs of Veterans experiencing homelessness.
To address the distinct issues facing Veterans who are homeless, Father Joe's Villages offers our heroes an array of specialized services, including housing, case management, behavioral and physical healthcare, and education and employment services. Learn more here >>
Join Father Joe's Villages, keynote speaker Mary Jean Eisenhower, and special guest Rear Admiral Richard Rodriguez to honor our nation's military and raise funds to support veterans experiencing homelessness.
This event has passed. If you have any questions, please contact our events team.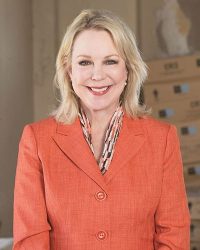 KEYNOTE SPEAKER
Mary Jean
Eisenhower
Mary Jean Eisenhower, granddaughter of President Dwight D. Eisenhower, will share lessons learned growing up in one of America's most decorated military families. As a champion for service men and women worldwide, Ms. Eisenhower brings a unique perspective on the sacrifices of those who serve our country and its lasting impact on their lives.
Additionally, Ms. Eisenhower is President and Chief Executive Officer of People to People International, which was founded September 11, 1956 by her grandfather, then US President Dwight D. Eisenhower. Ms. Eisenhower established the PTPI Friendship Fund in 1999 following an inspirational visit to an orphanage in Morocco. The fund is designed as a way for people to help the friends and facilities they visit throughout the world and to help the PTPI Chapter network assist each other in humanitarian and educational endeavors.
Following September 11, 2001, Ms. Eisenhower's focus intensified toward getting young people from around the world together to learn about each other and conflict management. Her vision resulted in "Peace Camp 2003: An Evolution of Thought and Action" and "The Global Peace Initiative." Both efforts have brought people from diverse areas, more than 30 nationalities, together in Egypt, Jordan and Turkey, to discuss issues, how each are affected and reach a better understanding of their unique and individual cultures.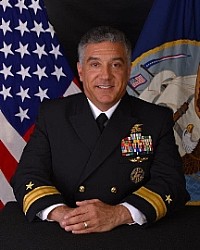 SPECIAL GUEST
Rear Admiral
Richard Rodriguez
Rear Adm. Richard A. Rodriguez, Deputy Commander of the Navy Special Warfare Command based out of Coronado, California, has served his country honorably throughout his storied career.
After receiving an extensive education, including a Bachelor of Science in Political Science from the U.S. Naval Academy and a Master of Business Administration from Xavier University, Cincinnati, Ohio, Rodriguez completed SEAL training in 1989.
Over his career, Rodriquez executed tours at Naval Special Warfare Group One, Naval Special Warfare Command, NR Special Boat Team Twenty, NR Naval Special Warfare Unit Ten, NR Naval Special Warfare Group Three, and completed a deployment tour at U.S. Naval Forces Europe, London, England. His service overseas includes Operations Desert Shield, Desert Storm, Iraqi Freedom and Enduring Freedom.
As a civilian, Rodriguez has served as a senior executive of several homebuilding and real estate development companies, including his role as CEO of Emaar Properties and as President of Dunhill Homes, which developed homes for families in the Dallas Metro area. Now, Rodriquez is the Executive Vice President of Operations at Amherst Residential & Mainstreet Renewal & Amherst Construction Services.