Spend your Thanksgiving morning giving back! Join participants of all ages on November 28, 2019 as they follow the iconic, dog-friendly route through Balboa Park to reach a family-friendly festival at the finish line. Help support our mission to provide #1MillionMeals to thousands of neighbors experiencing homelessness in San Diego. 
1. You Can Bring the Whole Family.
Father Joe's Villages' Thanksgiving Day 5K is one of the only pet-friendly 5K's in San Diego. Bring your canine companion along for the fun. This is the perfect opportunity to get your pup some exercise—maybe they'll even be too tired to beg for that leftover turkey bone.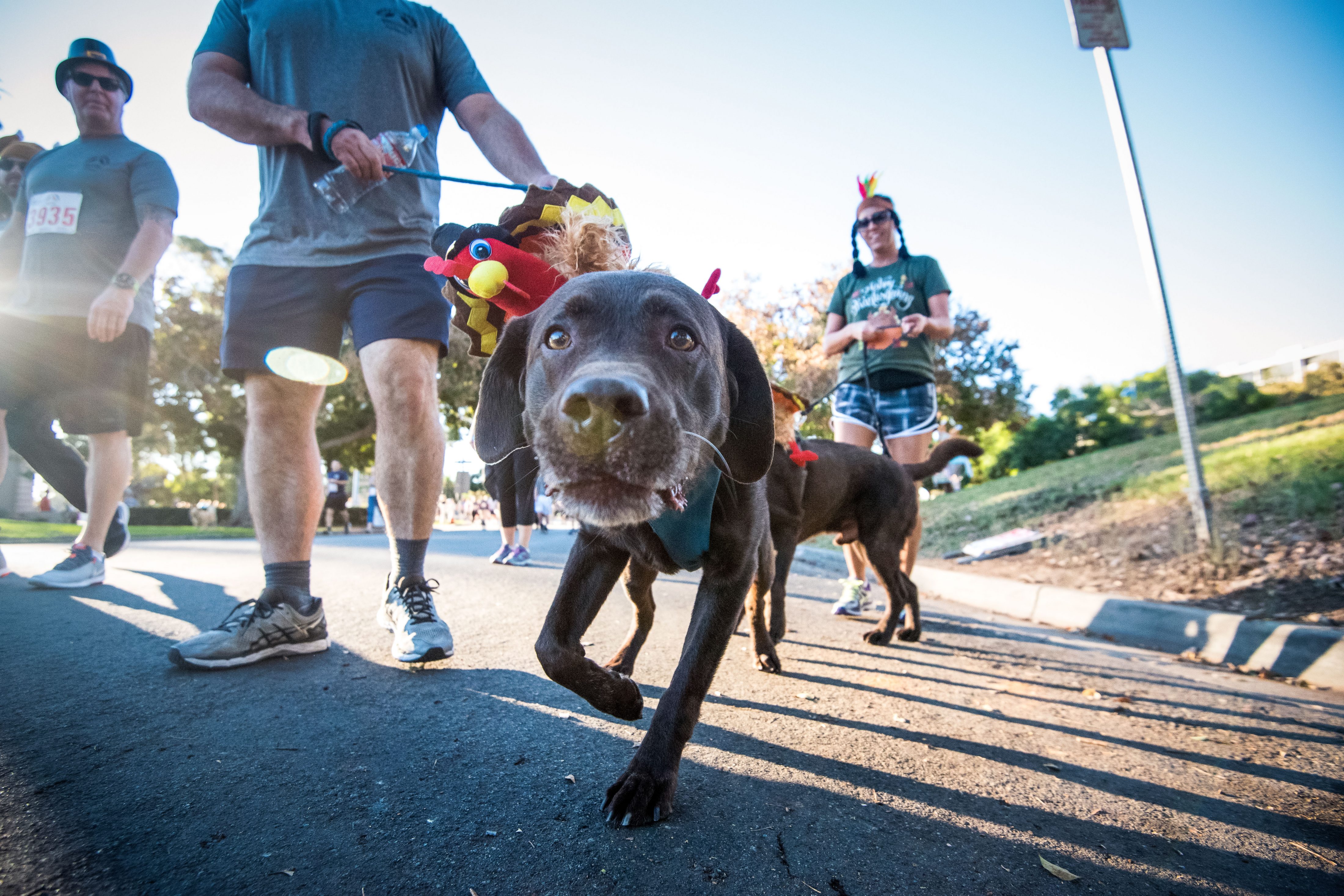 2. Diversify Your Desserts.
Everyone has different pie preferences—especially the little ones! But who has time to bake 4 kinds of pie, plus a turkey and sides? Our Culinary Arts Program does! Our students prepare hundreds of pies so you don't have to. In fact, Father Joe's Villages' Thanksgiving pies are so delicious, they're now a San Diego tradition! You can get a scrumptious, freshly baked pie to bring home for Thanksgiving dessert. Pick them up at the Thanksgiving Day 5K!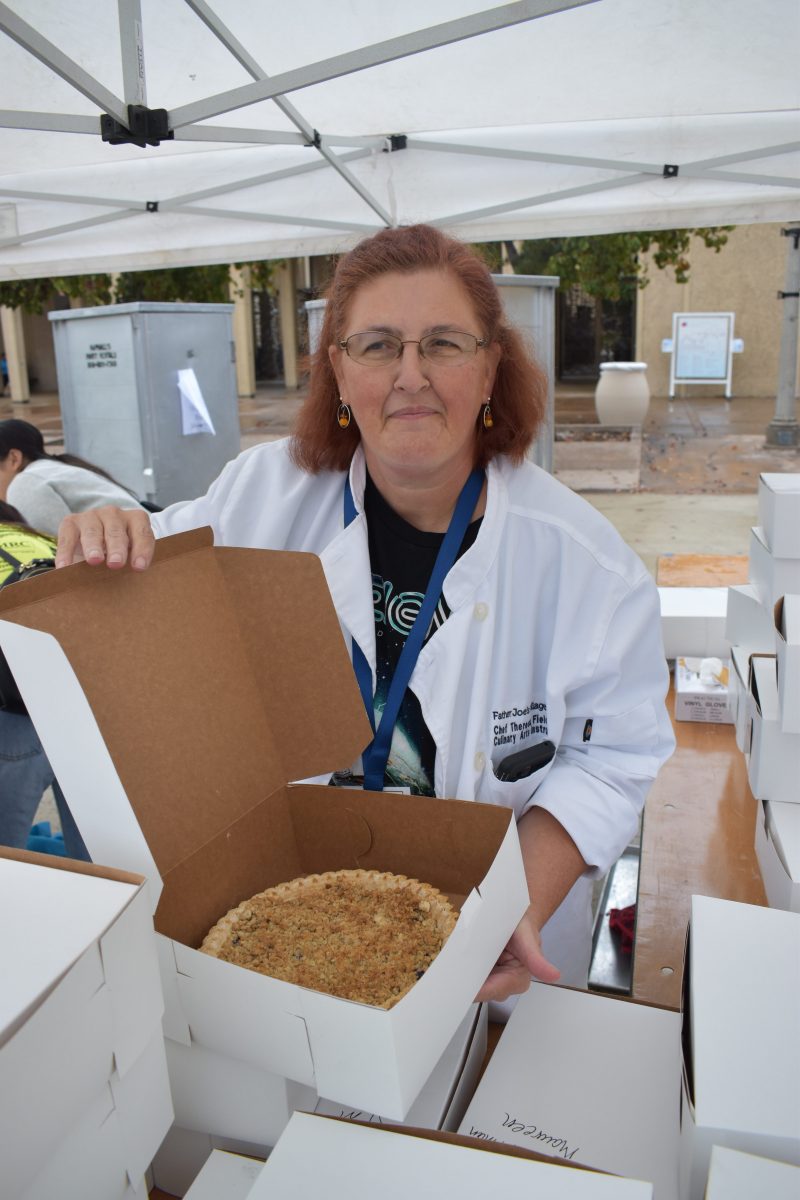 3. It's a Place Where Childhood Dreams Come True.
Not everyone wants to make the trek to the Magic Kingdom on Thanksgiving Day. If you want to avoid the traffic and crowds, bring your kids to our Post-Race Festival to meet their favorite Disney-inspired characters—not to mention they can also enjoy face painting, games, crafts and more.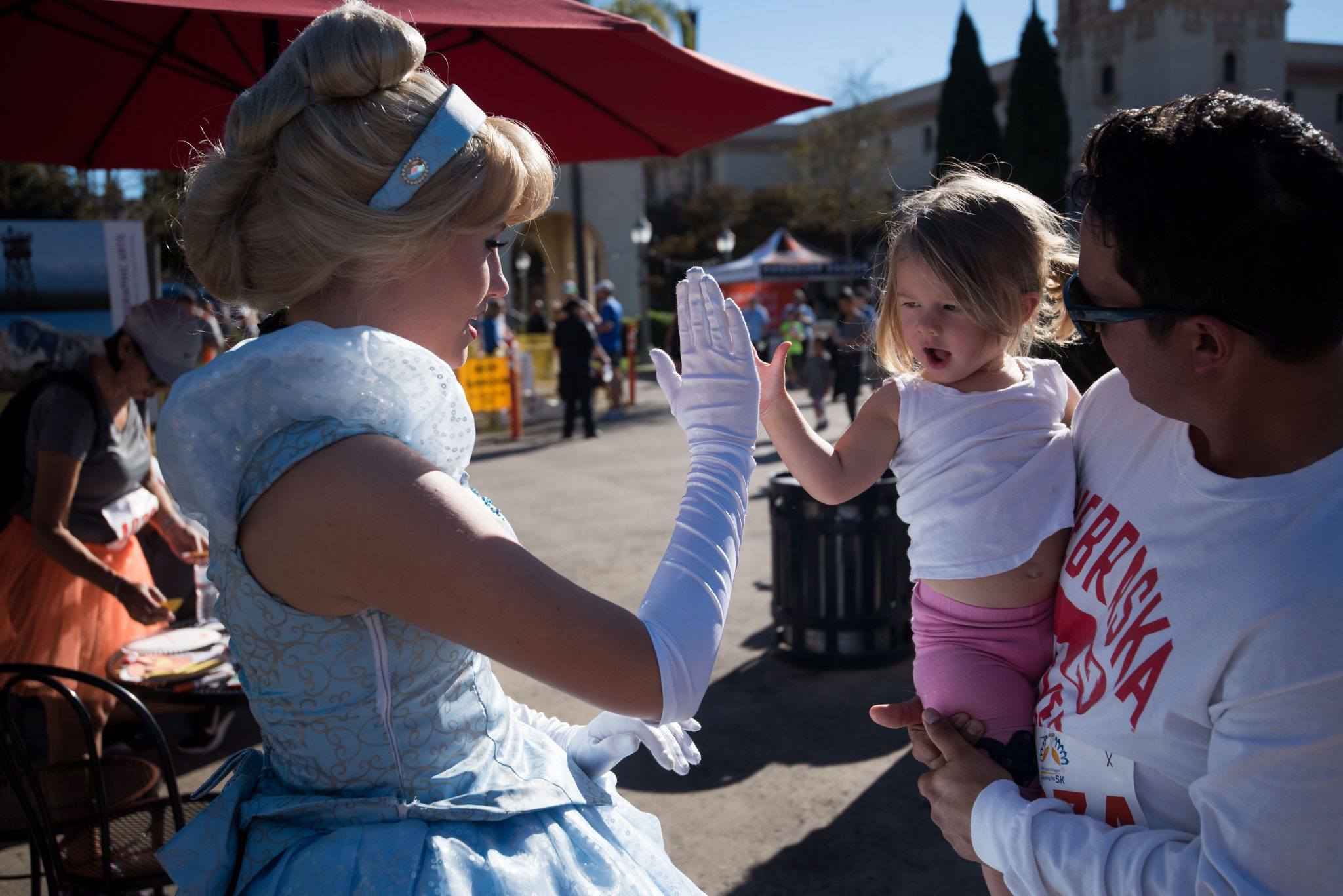 4. There's Something For Everybody.
How do you plan family activities when your aunt is a health nut, your cousins want to sip on brews and your grandpa would never leave his beloved dog at home? At Father Joe's Villages' Thanksgiving Day 5K, everyone can find something fun to do—whether it's competing for a race medal, enjoying our beer garden or hanging with their furry friend.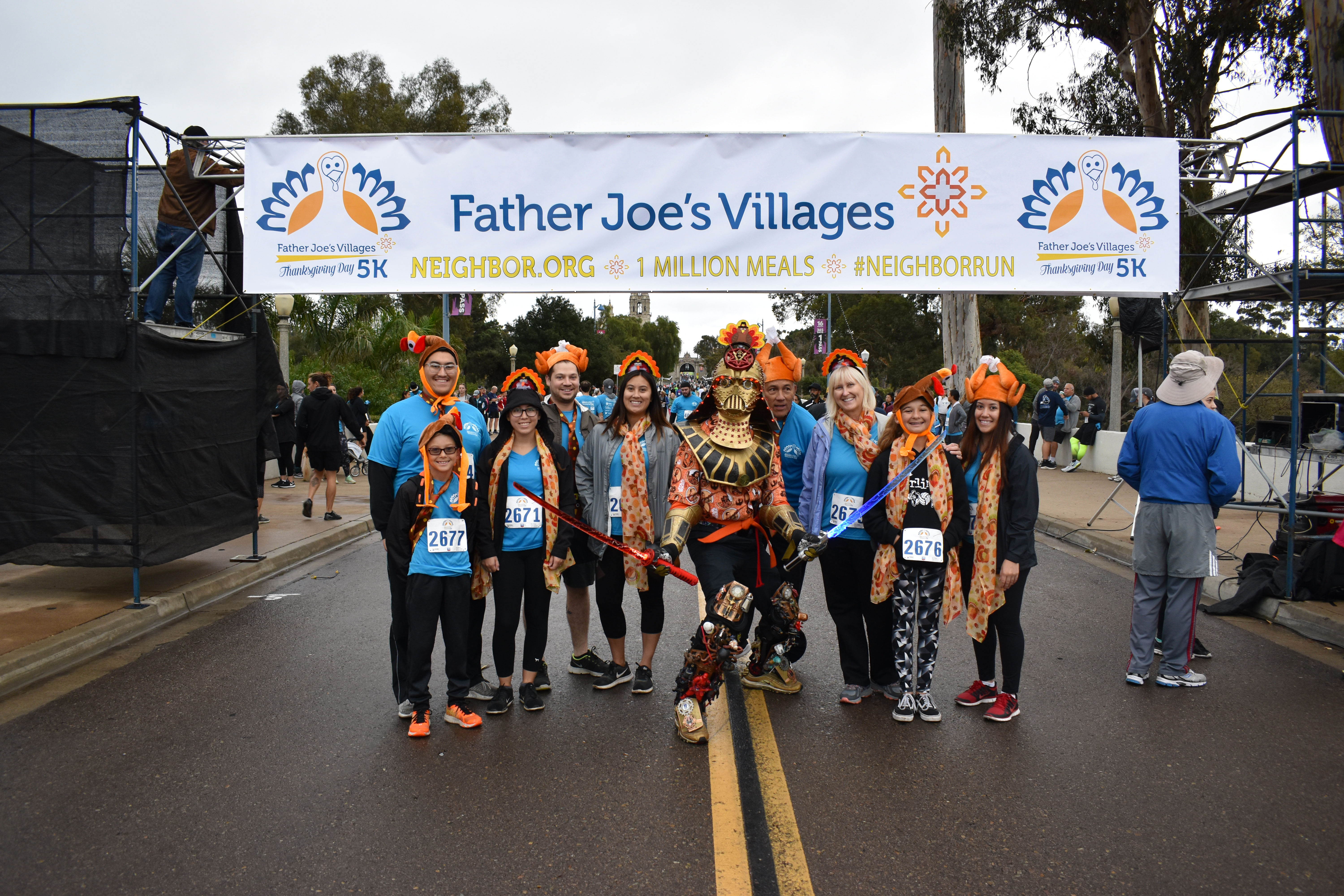 5. Athletes and the Rest of us Can Coexist
Some people have a need for speed. Others have a need for speed-watching their favorite Netflix series. Father Joe's Villages' Thanksgiving Day 5K offers the opportunity for the more athletic among us to time their race, or you can walk or jog at your own pace. Then, everyone can cool-down together at our Post-Race Festival.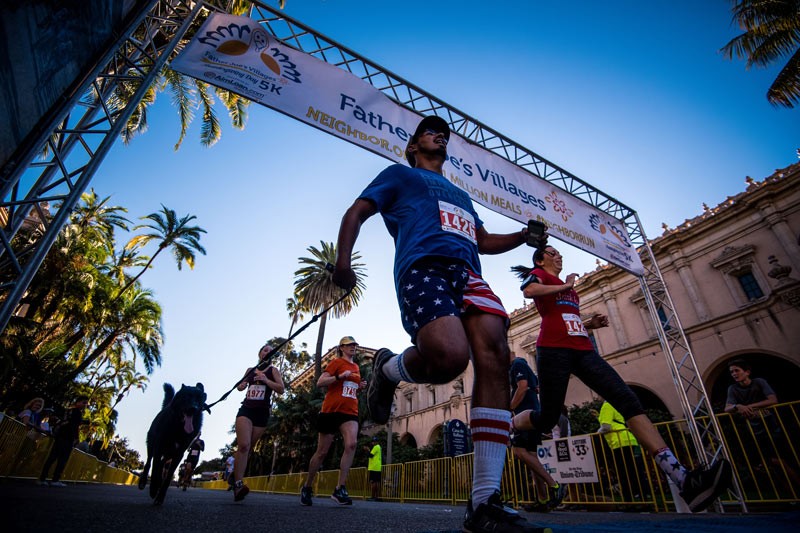 6. Help Us Serve Over #1MillionMeals to Homeless Neighbors
Most importantly, Father Joe's Villages' Thanksgiving Day 5K gives you the opportunity to give back. While many of us will be enjoying a warm meal with our loved ones on Thanksgiving, others are struggling to provide food and shelter for their family. Help Father Joe's Villages serve over one million meals to homeless individuals and families in San Diego.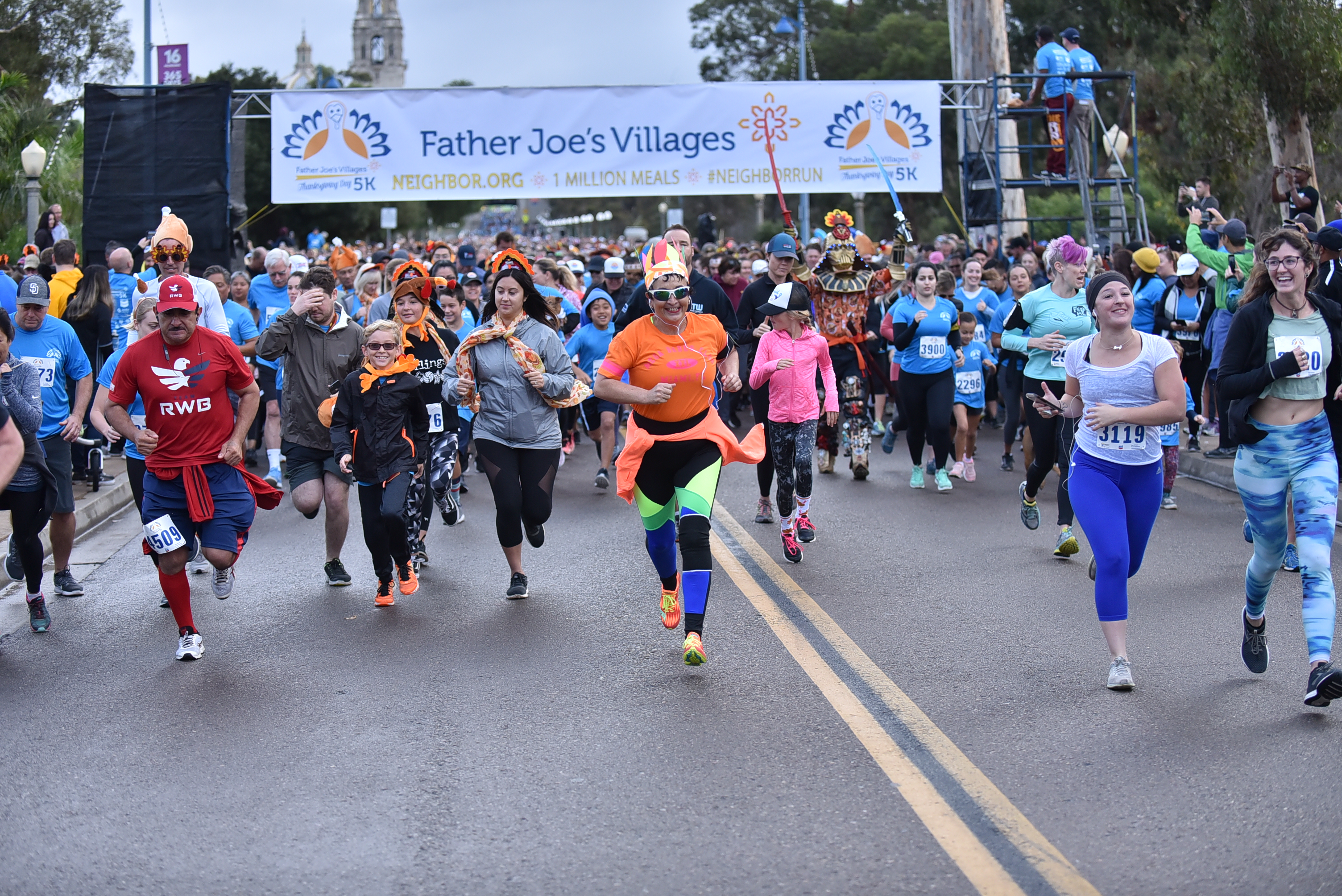 About the Thanksgiving Day 5K
Over 7,500 participants and spectators for the 18th annual Thanksgiving Day run through Balboa Park on November 28, 2019. The course winds through the iconic Balboa Park and ends in a post race festival with live music, a beer garden and a costume contest. Don't forget to pick up one of the famous Father Joe's Thanksgiving pies at the race as they sell out quickly! The race begins at 6:30 a.m. 1549 El Prado, Balboa Park.
Father Joe's Villages' Thanksgiving Day 5K is more than just an investment in family fun. It's an investment in the future of San Diego. All proceeds go to help your homeless neighbors in need—from children and families to adults and veterans.