Bridge shelters are an innovative approach to helping the most vulnerable members of the homeless population. Our bridge shelter provides families and women temporary relief from the streets with a stable environment and supportive services, with the goal of helping people find permanent housing.
---
What is the Bridge Shelter operated by Father Joe's Villages?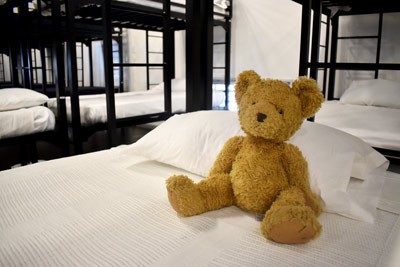 Father Joe's Villages Bridge Shelter is a housing facility that provides homeless San Diegans with a safe and sanitary refuge from life on the streets. The Bridge Shelter, which opened in 2017, accommodates up to 150 individuals (including men, women and children who are part of a family), as well as single women.
At the Bridge Shelter, women and families can receive access to a range of services that help them permanently end their homelessness, including Therapeutic Childcare, our Village Health Center, Substance Use Disorder Treatment, Employment & Education Services, Chaplaincy and more. They also have access to basic needs such as restrooms, showers, meals and 24-hour security.
 "I have been homeless for five years with my five kids," said Ashley Baker, a mom served by the Bridge Shelter. "It has been hard to keep my kids together and stay strong. This shelter is a new start for me. It has given me hope."
The Father Joe's Villages' Bridge Shelter is one of three bridge shelters approved by Mayor Faulconer and the San Diego City Council.
Father Joe's Villages Bridge Shelter Transitions to Golden Hall
Originally located in a large tent on Father Joe's Villages property on the corner of 14th and Commercial Streets, the Bridge Shelter transitioned to the 2nd floor of Golden Hall at Civic Center Plaza, a city-owned building in downtown San Diego, in April.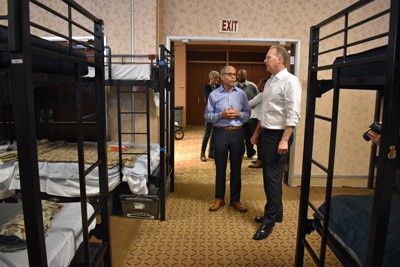 Golden Hall has provided residents some unique opportunities including regular conversations with city staff who work in the building, murals painted around the outdoor playground by the staff of San Diego Opera and a partnership with Transendance to provide activities for our children and families.
The comprehensive resources offered at our campus in the East Village are a critical part of each person's journey out of homelessness. Each person staying at Golden Hall receives a monthly bus pass to make it easier to access these important services.
How Does the Bridge Shelter Correlate with Our Turning the Key Initiative?
When we first agreed to host the Bridge shelter for families and single women on our property at 14th and Commercial in East Village, we knew that it would be a temporary location as this lot was already designated as a site where we would build affordable housing as a part of our Turning the Key initiative. In October 2019, we will break ground on the 407 unit project and bring desperately needed affordable housing to the community.
Father Joe's Villages anticipates that people will begin moving into the new affordable housing at this location as early as the first part of 2021. Out of more than 400 housing units at the site, 270 units will be reserved for individuals who are chronically homeless, while the remaining units will go to formerly homeless veterans, individuals and families.
At its core, San Diego's homelessness crisis is a housing crisis. We see the potential for motels to transform info affordable apartments for those that need them most – just as we see the potential in each and every one of the men, women and children who are homeless in San Diego. Until that housing is built, Bridge Shelters and other Emergency Shelters will continue providing safety and security that for our neighbors struggling with homelessness.