This Father's Day, some dads will be struggling to provide food and shelter for their families. For Preston, the ultimate Father's Day gift is to be a beacon of hope for his wife and children.
---
Fathers are called in a special way to sacrifice for their families, providing care and support and leading with courage and accountability.
Preston, his partner Kendra and the family's four children – 3 year-old James, twin 6 year-olds Trevor and Tenise, and 14 year-old Christian – came to Father Joe's Villages to find a new beginning. Because of the support of our incredible donors, they were able to find it.
"Father Joe's Villages is a nice place to start your life over again," Preston shared.

When Preston lost his job of 14 years, he wasn't prepared for the difficulty of finding another job, nor did he have enough savings to sustain his family for a long period of time. "Money got tight. We tried to find housing, but no one could take us in."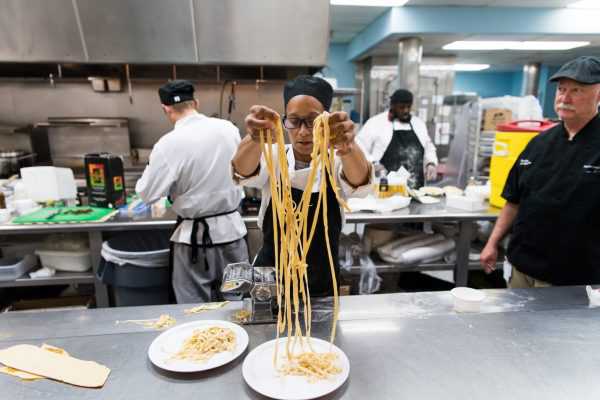 The family arrived at Father Joe's Villages unemployed, depressed and hopeless. Now, however, Preston feels motivated to start again. "Every time I look into my kids' eyes—I know I can't mess up again. I can't be a failure for my kids."
His commitment to being a good father is what motivated Preston to enroll in our Culinary Arts Program (CAP) immediately after moving in. Preston has had an interest in cooking since he was a child. It is a passion he learned from his own father. "My dad was in the military and used to cook for thousands of sailors. When I was a kid, I used to watch him cook for his friends. When I had kids, I began to love cooking for them."
Father Joe's Villages' sector-based job training programs, including Culinary Arts, not only teach the skills needed to work in sought-after industries, but also the expertise required to apply for jobs and succeed in today's competitive job market.
Preston says, "At Culinary Arts, I learned certain techniques I didn't know before: knife skills, cuts of meat, but also being on time, treating people with respect. The program helped me with interviews and speaking in front of a group. Chef allowed me to be myself. I appreciate everything he taught me about life, not just cooking."

After Preston enrolled in CAP, he quickly found a job at a busy restaurant in downtown San Diego. The Culinary Arts Program made such an impact on the family that his partner, Kendra, decided to enroll as well. Kendra will graduate from CAP next month.
Preston, Kendra and their four children will be moving out to their own housing as soon as they've saved enough to guarantee their security. Preston says that the experience being homeless and his time at Father Joe's Villages has changed his outlook.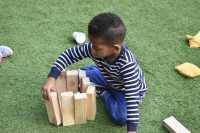 "Now I know: working [to support] myself is one thing and working for my kids is another. They make me want to work hard."
Like all fathers, Preston wants to be a role model for his children, a beacon of light and hope and person they can rely on to protect them and keep them safe. Preston says that his time at Father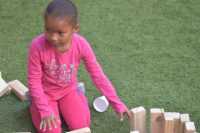 Joe's Villages has reminded him that he can be the father he wants to be.
"Being a father…It's the best feeling in the world to me. I love looking after my kids. Teaching them the best I know really puts a smile on their face and mine also."
The generosity of donors like you has allowed Preston to gain the tools he needed to be the best father he could be. Soon, your generosity will allow him and his family to gain independence once again–the best Father's gift of all.

As we celebrate Father's Day this month, let us be grateful for fathers who love and support our nation's children—especially those facing homelessness. Show them your appreciation.
A monthly donation of only $24 can help a father like Preston meet their employment goals and take a step toward self-sufficiency.
This Father's Day, Father Joe's Villages will be grateful for the support you provide our programs, to help people like Preston when they need a guiding hand.
Yours in God's Service to our Neighbors in Need,


P.S. If you'd like to give a tribute gift to your father as a Father's Day gift, just let us know when you make your donation so we can honor him with a special tribute letter.